When The Rigid Justice System Gives A Bit
Aaron Taylor's life was almost derailed for having a gun. But his story doesn't end with him sitting in prison.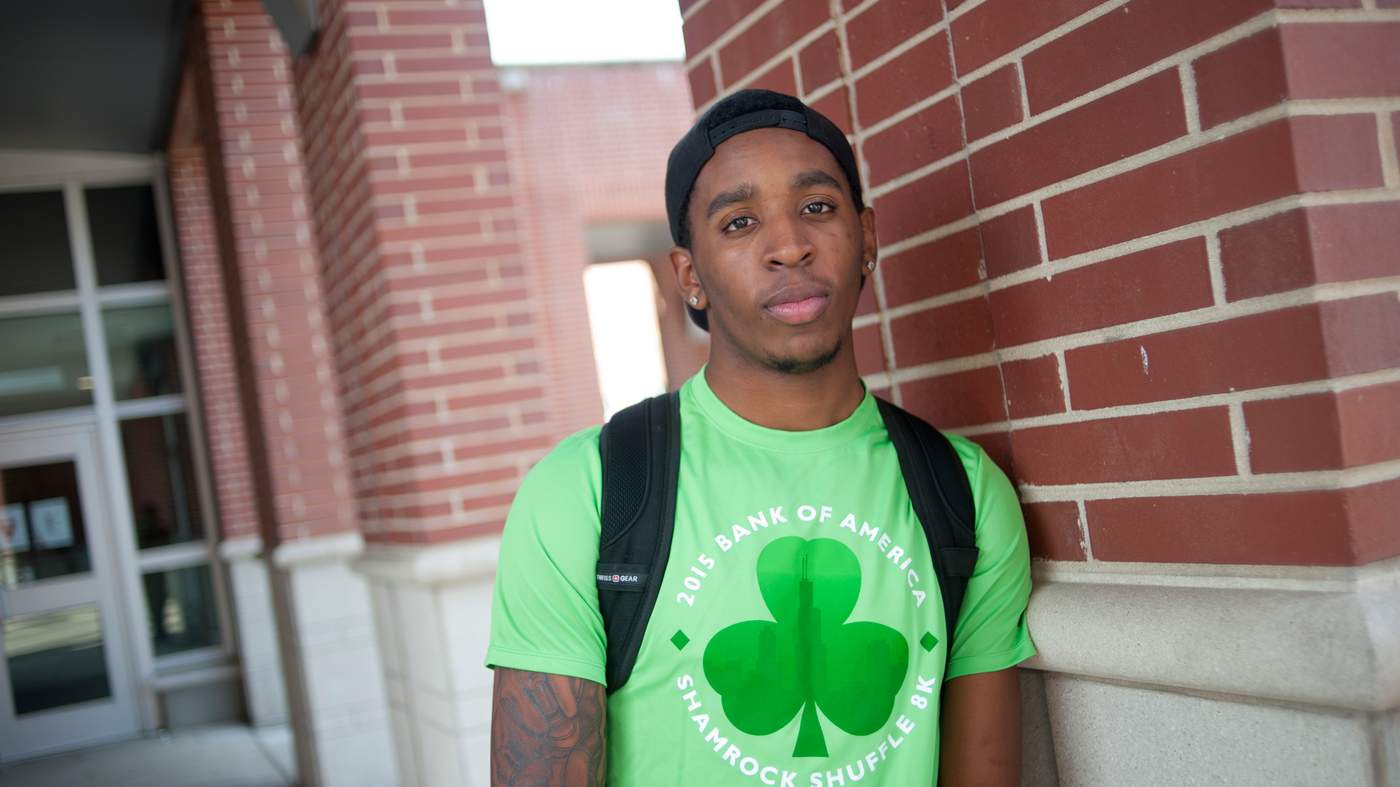 On New Year's Eve, Aaron Taylor and his two teenage cousins walked from their aunt's house in Chicago's West Pullman neighborhood to a nearby gas station for a late-night fix of gummy worms.
As they approached the store, Taylor said he noticed a gun on his 14-year-old cousin's hip. It wasn't just any gun; it was their grandfather's new .25 caliber semi-automatic handgun. Taylor said his cousin told him that he took the gun without their grandfather's permission because he wanted it for protection. According to city data, there were 78 shootings in the neighborhood last year that left at least one person dead or wounded.
Taylor, then 20 years old, said he panicked.
"I did the stupid thing by taking it from him and trying to get it back to the house as safely as I can because I can run faster than them other two," Taylor said.
But he had on flip flops. He said when he saw a police car around 11 p.m. he tossed the loaded gun near a garbage can. The officers saw him. He said he put in his headphones and "tried to play stupid in front of the officers." But the officers grabbed him for questioning.
"Honestly, that night I actually thought I was going to die because they literally pointed their guns at [me] as they're running toward [me]," Taylor said. "That's why I didn't run. I thought about running — leaving those flip flops right where they at and running barefoot — just to get the gun back to the house."
According to a police report, patrol officers drove toward the three because it was after curfew. The officers noted they saw Taylor throw a chrome handgun to the ground and walk away. The report stated that Taylor told detectives he took the gun from his grandfather because he planned on "shooting a few off" at midnight. Taylor adamantly denied that he ever said that, and police did not respond to a request for comment on the discrepancy.
Taylor faced eight counts of aggravated unlawful use of a weapon, including for having a loaded gun and not having a Firearm Owner's Identification Card. He started 2017 in Cook County Jail, unable to pay $10,000 get out. He said he spent New Year's Day thinking about his mother's words just 15 minutes prior to his late-night gas station jaunt: She said she didn't want to get a call saying he was either dead or in jail.
Last year, police made nearly 4,000 gun arrests for "weapons violations" — not including arrests for violent crimes where a gun was used, according to a report from the University of Chicago Crime Lab, which studies violence in the city. The Cook County Clerk of the Circuit Court's office did not make available information about how many people, like Taylor, were charged with felony aggravated unlawful use of a weapon last year.
For Taylor, being caught with an illegal gun meant he faced between one and three years behind bars. But Taylor didn't go to prison. Now, instead of sitting in a cell, Taylor is sitting in a classroom. Many who study the criminal justice system say Taylor's case illustrates why it's important for judges and prosecutors to have flexibility when doling out punishments.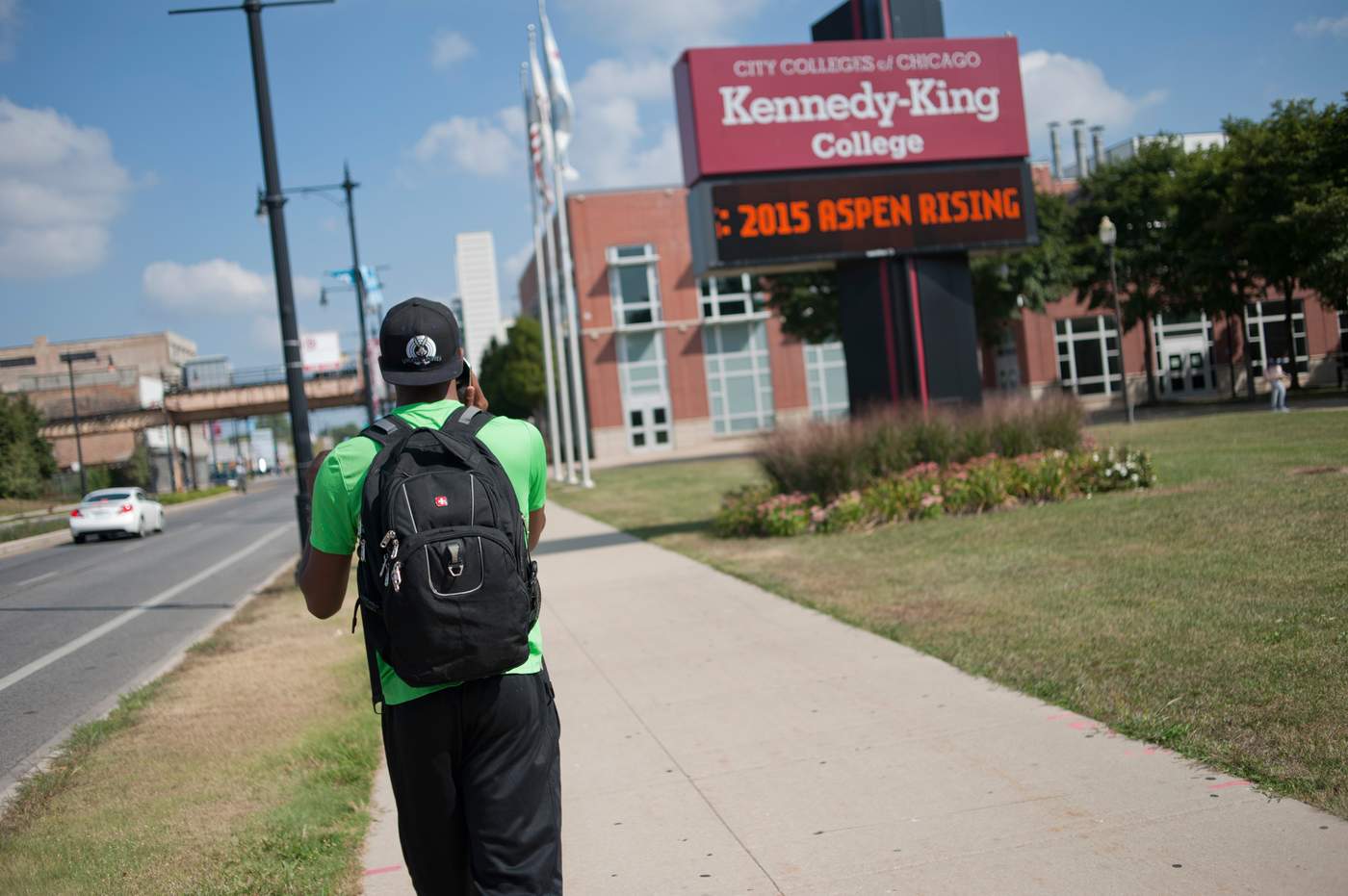 'When you get a gun case, that doesn't sit so well with a jury.'
At the time of his arrest, Taylor was a student at Kennedy-King College. The second youngest of five children, he lived at home with his mother in the Roseland neighborhood. He had never been charged with a crime before.
"He was very concerned about this going on his record and what it would mean for his future," said Kristine Neal, Taylor's public defender.
Neal thought the felony charges were excessive because there was no video evidence and no shots were fired. Plus, she said, Taylor had no gang affiliation and this was his first time in the criminal justice system. The Cook County State's Attorney's office would not comment on the charges specific to Taylor.
But Neal said there are two forces playing out in the criminal justice system: The reality of gun violence in Chicago and the pushback against the school-to-prison pipeline.
"When you open up the newspaper, or turn on the TV every day, you see 73 people shot in Chicago this weekend," Neal said. "When you get a gun case, that doesn't sit so well with a jury. People are scared."
Despite the risk of going to trial, Taylor was determined to fight the charges and initially refused to take a plea deal.
After a month in jail, he got a bail review hearing and a judge allowed him to go home to his mother on house arrest with electronic monitoring. Taylor couldn't leave the house to take out the garbage. He even had to get special approval to attend his father's funeral.
Then, Neal said, a new assistant state's attorney was assigned to the case. Someone who was willing to work with the public defender's office.
Neal compiled a file with letters of support and proof he had been enrolled at Kennedy-King College. Neal said this is the reason she was able to work a deal. In May, he pleaded guilty to a Class A misdemeanor, which meant no prison time and 30 days of community service.
In her five years in the public defender's office, Neal said she's only been able to get two gun charges dropped to a misdemeanor.
Harold Pollack, co-director of the University of Chicago Crime Lab, said Taylor's case "illustrates why we can never have an entirely algorithmic approach to criminal justice."
Pollack, who has never met Taylor, said circumstance should matter.
"Prosecutors and judges have to have an ability to respond to the granular human reality of particular cases — otherwise serious injustices can occur," Pollack said. "When you have mandatory minimums, particularly when they're high mandatory minimums, there's a risk that that won't happen — or won't happen as often as it should."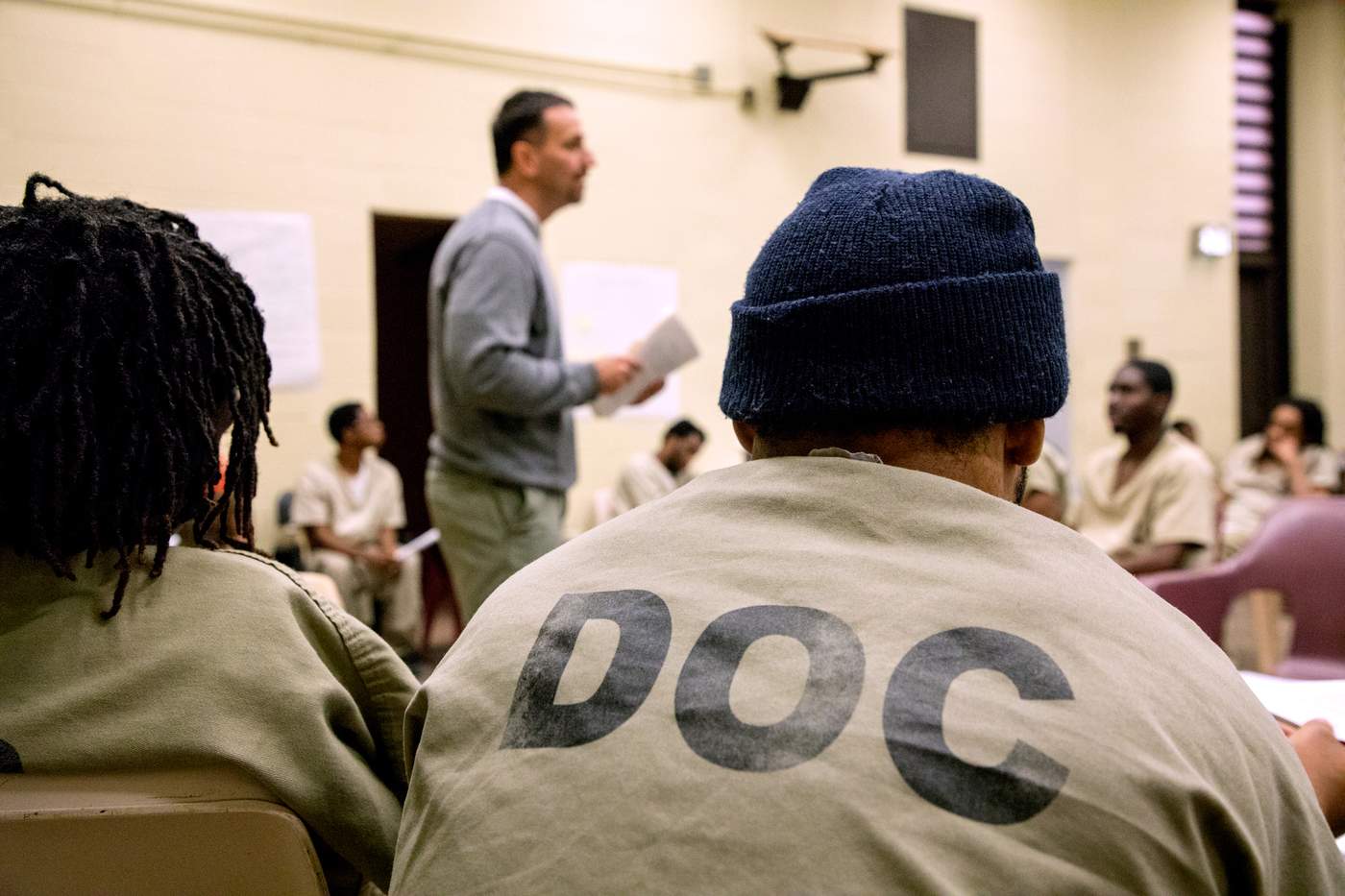 'I want to matter to the world'
Taylor has taken advantage of his second chance.
While in Cook County Jail, Taylor enrolled in the voluntary SAVE program, an anti-violence initiative for men ages 18 to 24 years old. The young men are in pretrial custody from areas with the highest violent-crime rates in Chicago. Taylor received daily lessons on life skills and the program helped him get a job with the Chicago Urban League. He said there he learned office work — and how to give a firm handshake.
"Everybody says they want to be successful. I want to matter to the world," Taylor said.
Young men in Taylor's age group have the highest unemployment in the city — 60 percent. Taylor said the job made him "a better person, better leader, [and] better speaker."
"Some people have a light and aura where people naturally gravitate toward that person," said Monique Shelton, senior program manager for the Urban League's Center for Workforce Development. "He stood out as a peer leader. He was not afraid to walk in my office and say this is what we need."
Shelton said social service agencies are key to helping young people, including those who have more trouble with the law than Taylor.
"When youth are engaged and are able to take pride and ownership within their communities, they are less likely to commit a violent crime," Shelton said. "Engagement, accountability, and social responsibility is key to deterring gun violence."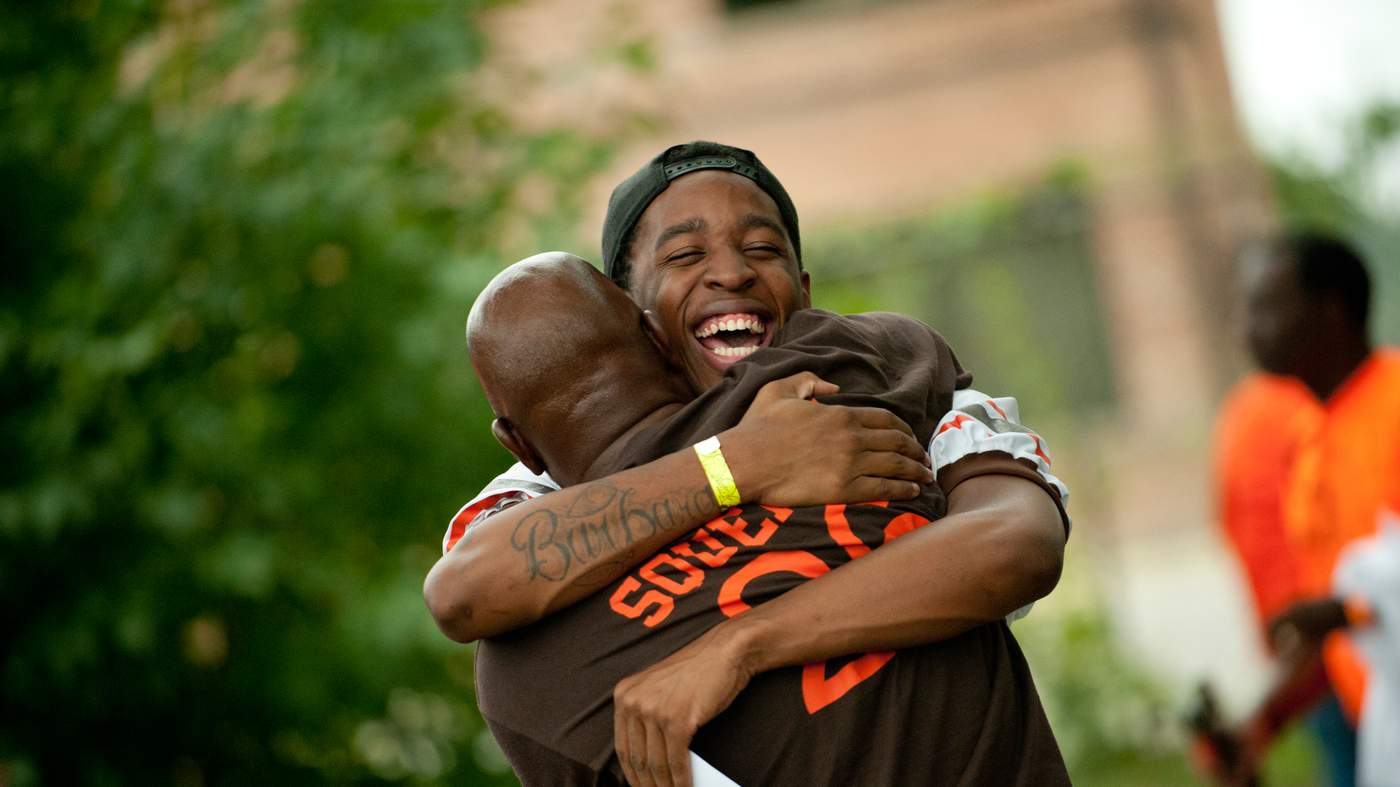 'I'm not depressed anymore'
Taylor said the job at the Chicago Urban League has also helped him emotionally.
"Emotionally, I'm not depressed anymore," he said. "I actually thought I wasn't going to get enrolled back in school or find a job because I know how serious gun cases are. But now I'm feeling great, happy. Grateful that I'm not back in jail. Mentally, I'm more focused than I've ever been."
Taylor's mother said she's seen a change in her son after his experiences in the past year. For one thing, the job forced him to take grooming more seriously and dress the part, with ironed shirts and creased pants.
"He is not as combative with me as he initially was before he got in trouble," his mother, Sandra Taylor, said. "He had all the answers. He always had the last word. Now, I can say something now and I can have the last word."
In late August, Taylor re-enrolled in as a fulltime business major at Kennedy-King College. His mother paid off his outstanding balance of $1,700.
She wants him to eventually go away to college after two years at Kennedy-King College. He must maintain a 3.0 GPA — and not go back to jail.
Taylor said his mother made a bet with him: $200 if he keeps a 3.0 GPA. He said he's ready to win.
Natalie Moore reports out of WBEZ's South Side studio. Follow her at @natalieymoore.
This story has been updated to reflect that the Cook County Clerk of the Circuit Court's office did not make available information about how many people were charged with felony aggravated unlawful use of a weapon in 2016.
This story is part of WBEZ's Every Other Hour project.
Criminal justice reporting and investigative journalism at WBEZ is supported in part by Doris and Howard Conant, The Joyce Foundation and the Robert R. McCormick Foundation.