Unanticipated Aftermath
Cleaning the scene, predatory funeral homes, and fear of retaliation — after a murder, families face a web of little-known problems.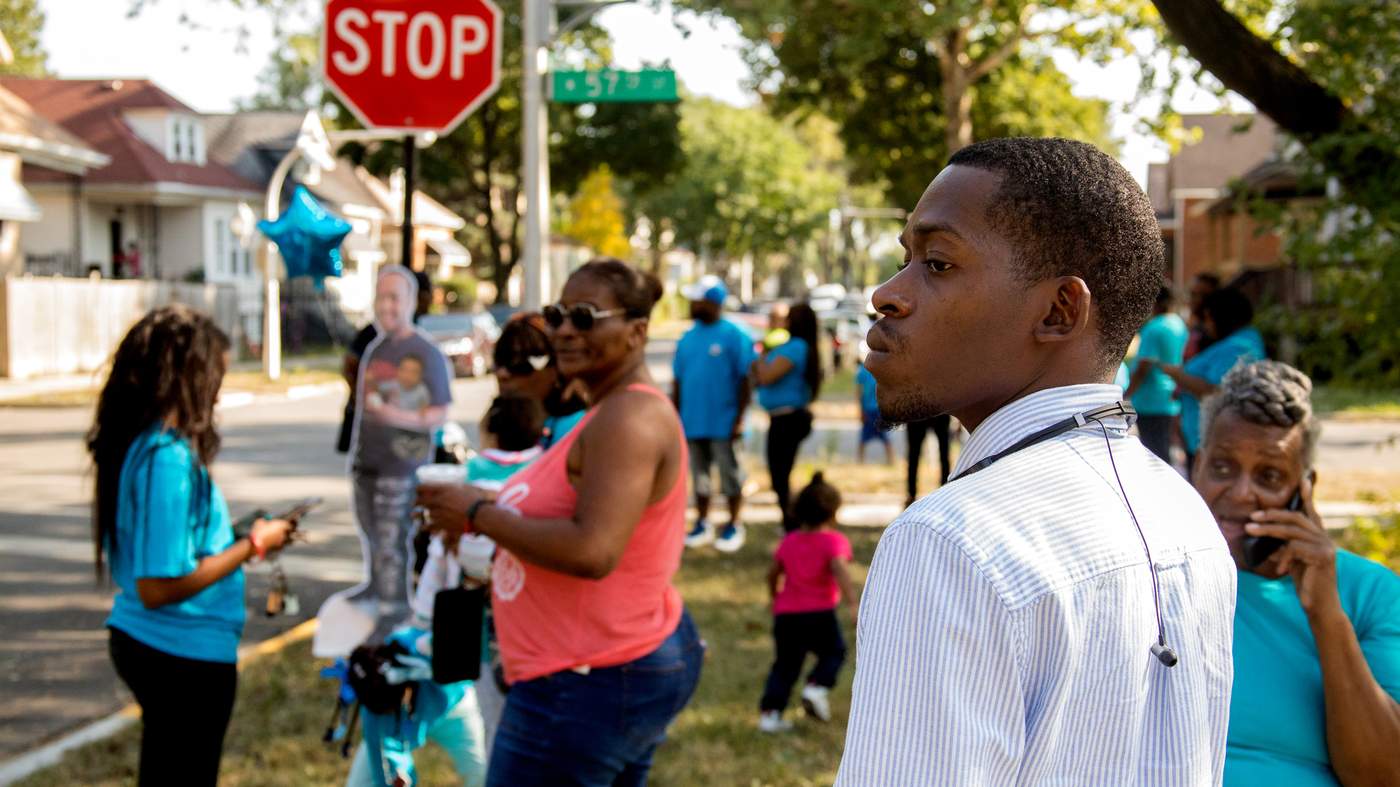 In the days after Kelxrandria Williams' 20-year-old son was shot to death at a Chicago party, the grief was so overwhelming that she struggled to get out of bed.
But there was so much to deal with — a body to identify, a funeral to plan, and police to meet with.
When someone is murdered, the victim's family must navigate a web of unfamiliar tasks and agencies — all while in the midst of sorrow and anger. But one Chicago group deals with those challenges hundreds of times every year.
Representatives from that group, Chicago Survivors, attempt to talk to the families of almost every homicide victim in the city within a few hours of the death. That is a large task for the four "crisis responders" at Chicago Survivors. This year, the Cook County medical examiner's office has already reported more than 500 homicides. Last year, they reported more than 800 killings, and Chicago Survivors said they talked with 687 of those families immediately after their loved one was murdered. One of those crisis responders, Andrew Holmes, has personally responded after more than 375 homicides since 2015.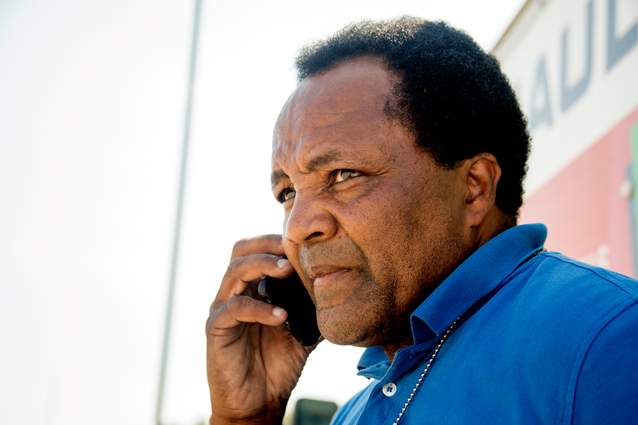 But the job of the Chicago Survivors doesn't end when the police tape comes down and the news crews pack up. The group, which is publicly and privately funded, helps families navigate the little-known problems that can arise after a homicide, such as how to clean a crime scene or how to document threats intended to keep them from talking to police.
"All the things that I have been doing, if I was doing all this by myself … I don't know where I'd be at right now," Williams said. "I thank [Chicago Survivors] a lot."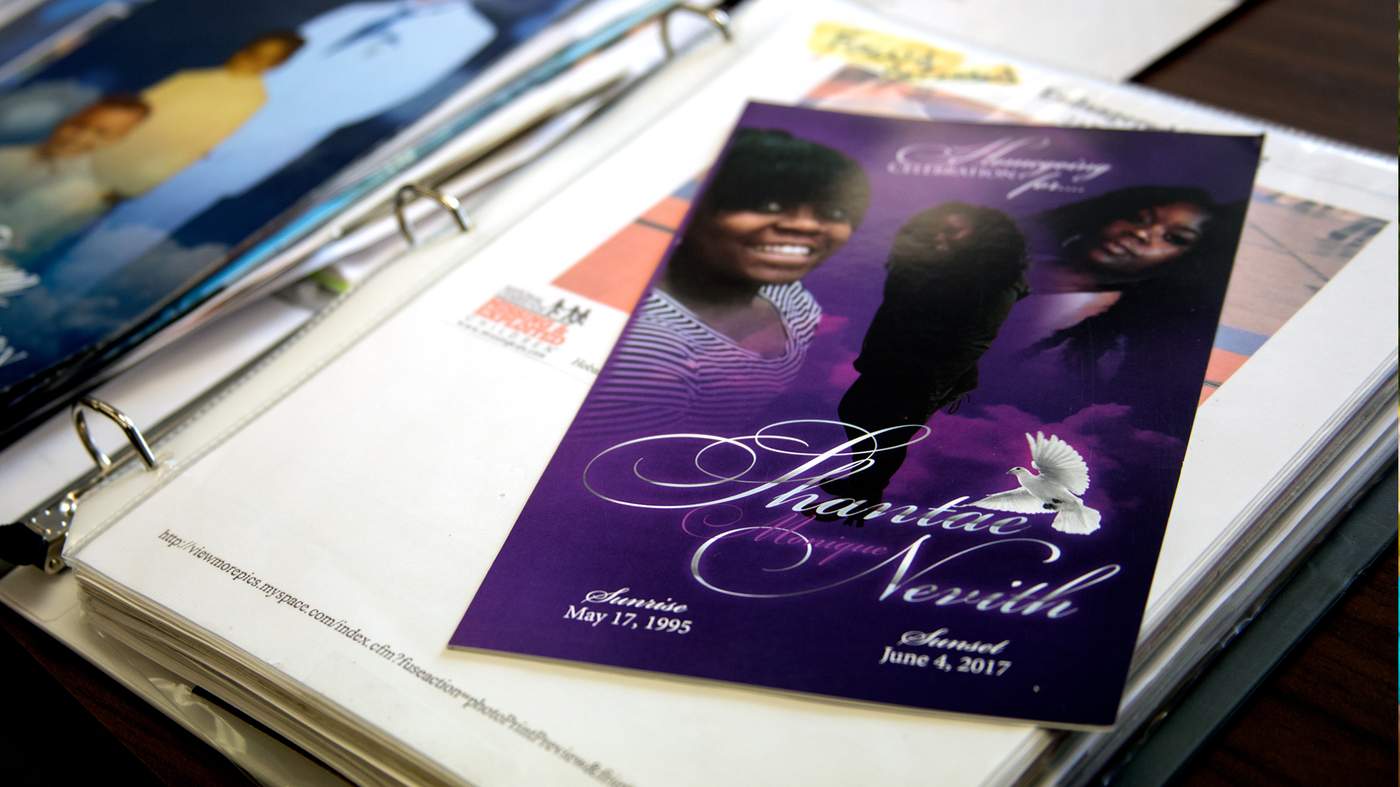 The crime scene: Shock and trauma
The first challenge many families face is the initial shock of learning a relative was murdered. After a homicide, relatives often gather near the body — sometimes that's at the hospital and sometimes that's on the street, Holmes said. Overwhelmed with trauma, family members sometimes attempt to disturb the crime scene or fight with police in an effort to get closer to the body.
Holmes recalled one time when he responded to a homicide in Englewood and the mother of the victim almost got arrested. He said she drove straight through the police tape and onto the crime scene. She nearly hit an officer before she got out of the car screaming: "Where's my baby?"
At first, police wanted to arrest the woman, but Holmes said he talked with both parties and police allowed the woman to identify the body and leave. They did, however, keep her car.
"I understand they want to get to their baby — they want to hug them, they want to touch them, they want to kiss them — they don't want them to be dead," Holmes said.
Identifying the body, cleaning up
There's more to navigate than the anger, sadness, and shock after a homicide — there are also practical matters that the family must attend to in the days after the death.
A relative must identify the body at the medical examiner's office at 2121 W. Harrison St. on the city's Near West Side. Typically, that process involves an employee at the medical examiner's office showing the relative a photo of the victim, usually the face.
And there are other tasks that a family might need to take on in the days after the death. If the victim was in the family car when killed, the vehicle may be impounded by police. If the crime is committed inside a home, the residence can often be left a mess.
Chicago Survivors helps prepare families for what they might see at the morgue, as well as help them get their car back and arrange professional cleanup services.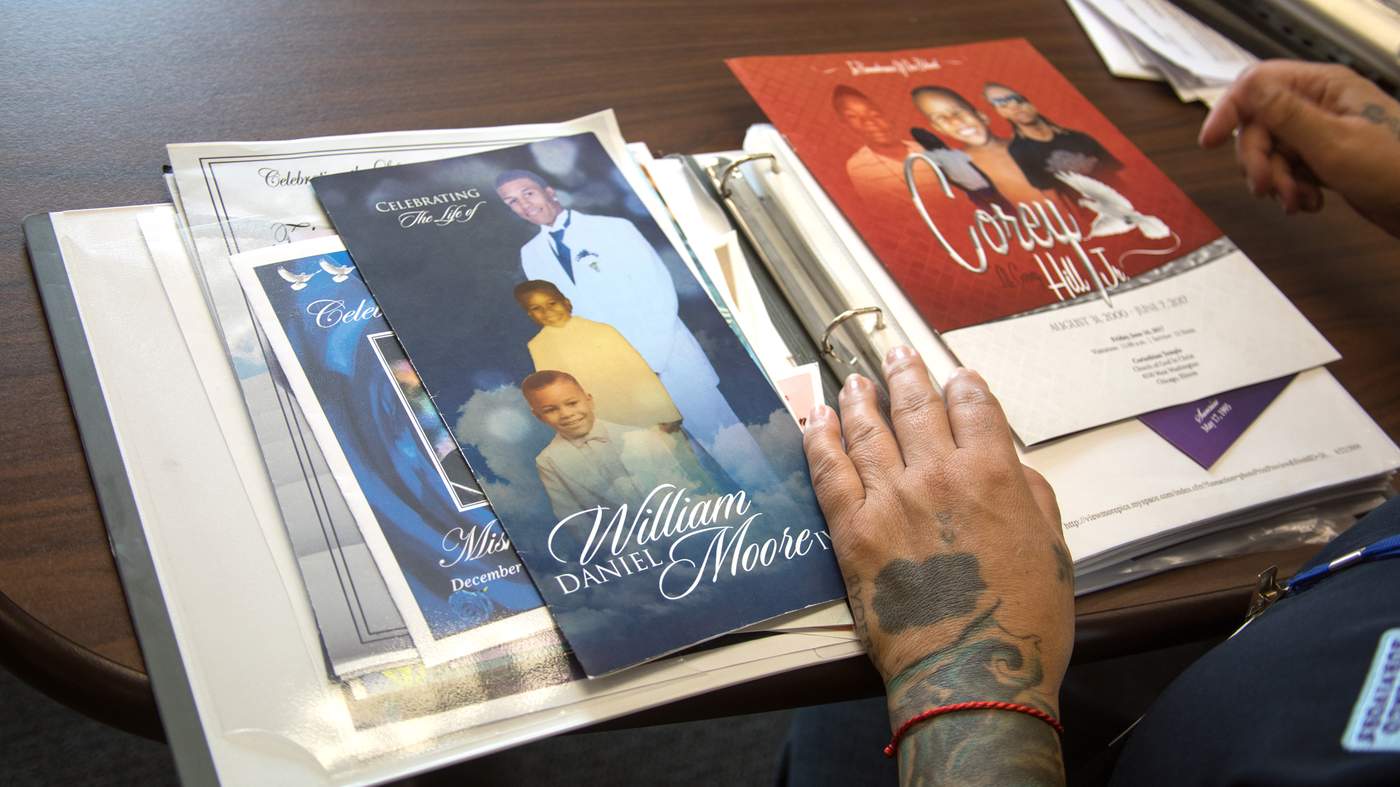 Making funeral arrangements
Arranging for a funeral can be a difficult task for any family. But homicides present a unique set of challenges when it comes to working with a funeral home.
For example, families of homicide victims in Illinois can apply for up to $7,500 from the state to pay for the funeral and burial. But filling out the application doesn't guarantee a family will get money. There are a range of reasons the state can deny the money, such as if the victim was involved in a crime that led to the homicide.
Susan Johnson, executive director of Chicago Survivors, said funeral homes sometimes take advantage of families by convincing them the state is sure to give them the money. If the state denies the request, the family can go into debt because of the funeral costs.
Johnson said most funeral homes treat families with respect, but Chicago Survivors keep their eyes out for red flags.
"We have had situations in which funeral directors tear up a contract they have with a family."
—Susan Johnson, Chicago Survivors executive director
"We're watching for funeral homes where everything costs $7,500 — no matter what," Johnson said. "We are watching for funeral homes that don't produce price lists, because that's a federal requirement. We are watching for funeral homes that misrepresent the family's eligibility [for burial and funeral funds from the state]."
Johnson said another big issue families might face at funeral homes is the stigma about the deceased being a shooting victim — especially if the funeral home director suspects gang involvement.
"Families may not be served as well as someone who dies of natural causes," Johnson said. "We have had situations in which funeral directors tear up a contract they have with a family. When the funeral director heard that police presence was requested, he canceled the viewing and the funeral. He also spoke to a colleague and had the cemetery do the same thing."
When situations like this come up, Johnson said she will confront the funeral home and try to get them to behave more ethically.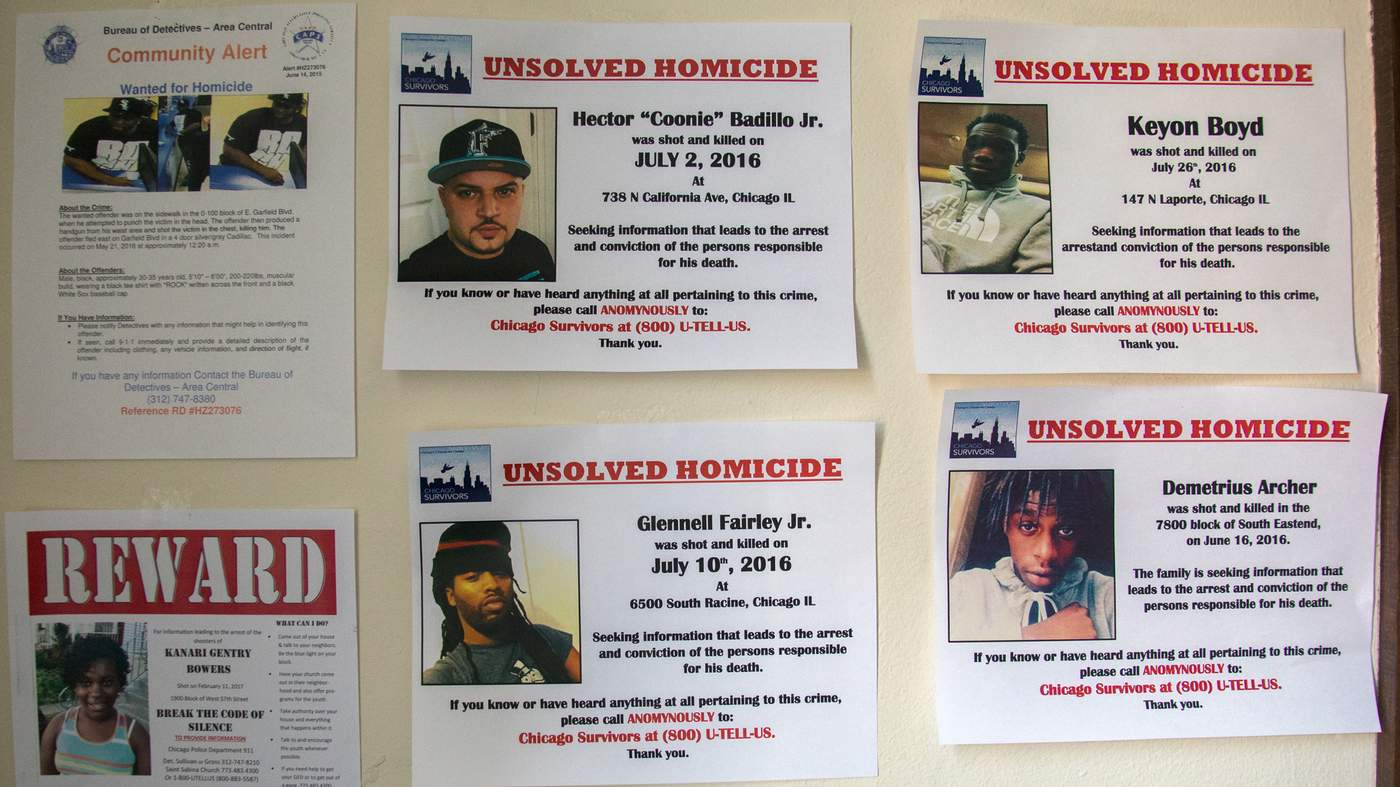 Communicating with police
Williams said she was having a hard time getting detectives on the phone after her son, Lance Jefferson, was fatally shot at a party in February of 2017. She said she wanted to get an update on the case — and sometimes pass along information to detectives.
Johnson, the executive director, said conflicts can arise between detectives and relatives. Families may be upset that certain leads aren't followed or frustrated with how a piece of evidence is handled. Relatives may call a detective repeatedly, relaying the same information, something Johnson described as a normal reaction to trauma, but this can also lead to detectives ignoring calls.
Johnson said the majority of these conflicts can be handled by improving communication between the two parties. When a detective has actually done something wrong, Johnson said she reports the mistake to police supervisors to make sure the problem gets documented.
In Williams' case, Tanue David, a family support specialist with Chicago Survivors, accompanied Williams to the police station and was able to immediately get a meeting with officers because he'd worked with them before.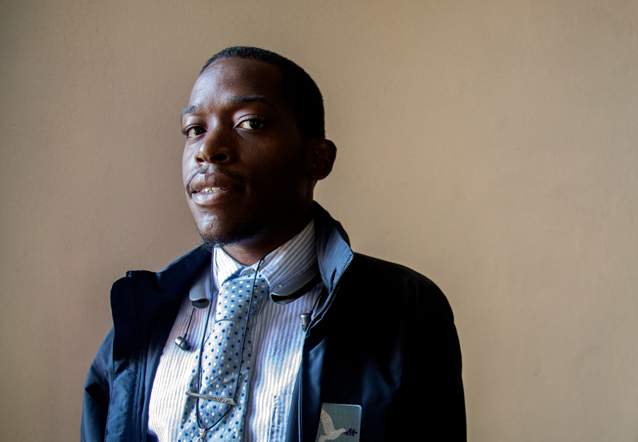 Williams said David was also able to act as a kind of translator between herself and the officers. He knew the right terms for the various parts of the investigation and knew how to figure out which shift a detective was on so Williams knew the right time to call or visit.
"[Chicago Survivors] are with you in the time of your dark hour," Williams said. "They are right there with you to help you out."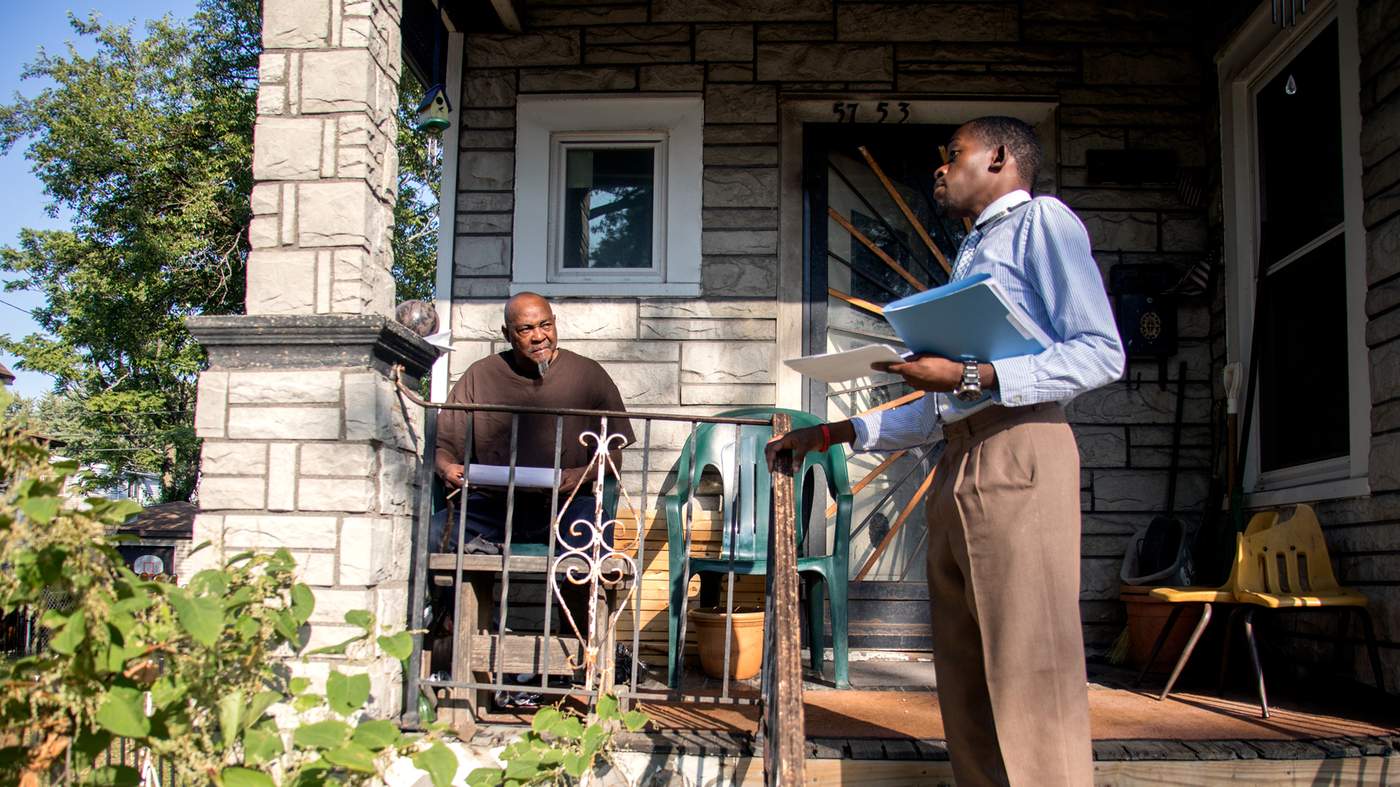 Finding witnesses
Williams believed there were many witnesses to her son's murder who weren't stepping forward.
"There was a house full of people there when [the shooter] murdered them, and he did it front of everyone," Williams said.
David said witnesses are sometimes more responsive to family than police, and suggested that Williams spend a day knocking doors and handing out fliers.
"You know they know something, but they afraid to talk and just nothing you can do."
—Kelxrandria Williams, mother of shooting victim
Williams and David said people either don't trust the police, or were scared of the person who did the shooting. Police have said the unwillingness of witnesses to talk to detectives have made it difficult to solve crimes. Last year, when the city saw a surge in gun violence, police closed a record-low 20 percent of killings before the end of the calendar year, according to a WBEZ analysis of police data.
After the flyering and door knocking, David said they were able to get information from at least one person. Williams said several people told her information — or said they were at the party — but none of them said they would go to detectives as a witness.
"It's really emotional out there, because you are talking to people and you know they know something, but they are afraid to talk and just nothing you can do," Williams said.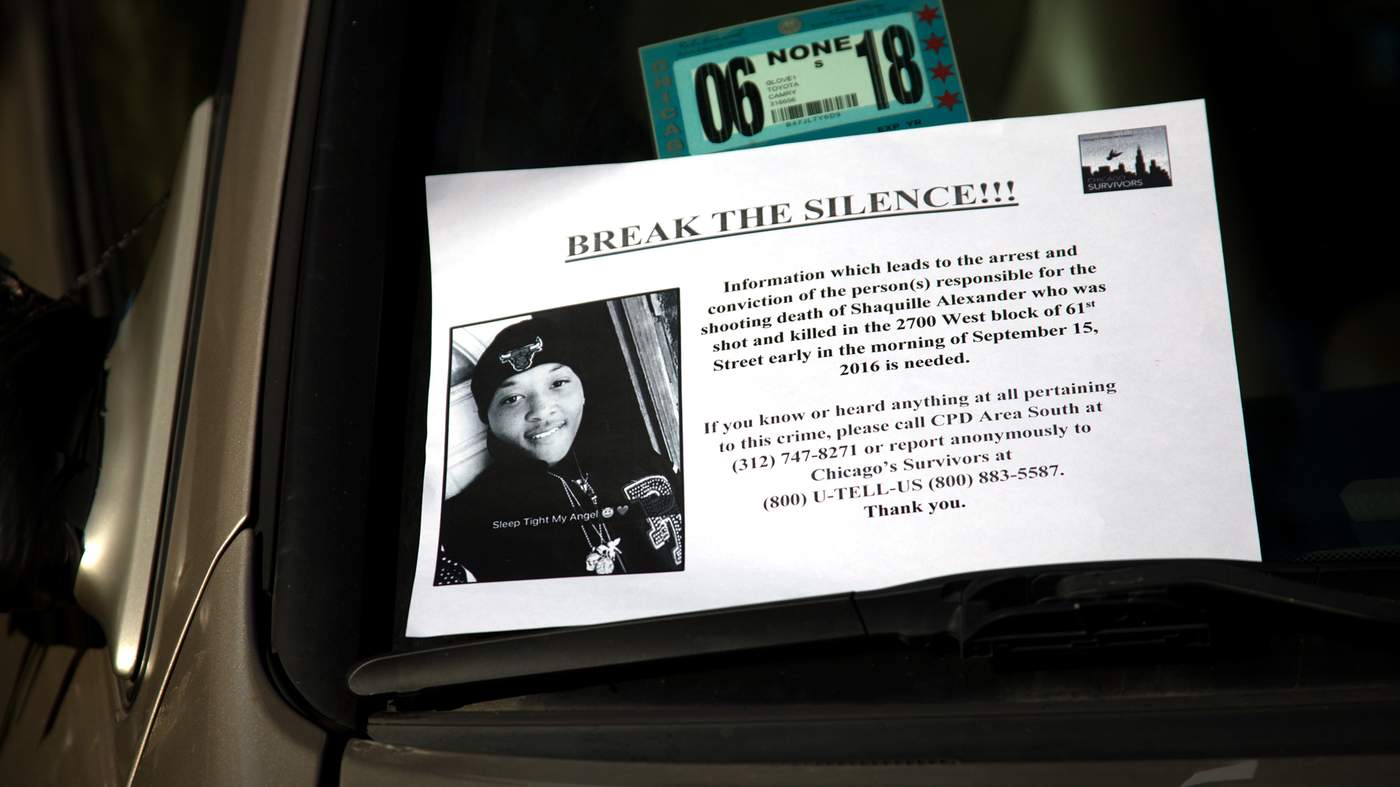 Being threatened
Williams said it's not just witnesses who are scared — she is scared too.
"Everyone knows where I live," she said. "I just didn't feel safe over there. I'm out flyering, and I'm out trying to get justice for my son. ... If you just murdered my son, I could be your next victim."
"There have been situations where ... the family has been told through social media that they were going to shoot up the home. I had to tell the family you should leave immediately and don't go back."
—Tanue David, Chicago Survivors family support specialist
That fear isn't just in Williams' head. David said sometimes relatives are threatened to keep them from talking to police.
"We will come up with a safety plan of what to do," David said. "There have been situations where ... the family has been told through social media that they were going to shoot up the home. I had to tell the family you should leave immediately and don't go back."
David said he sometimes has to help a family find a place to move and plan for how to afford it. Williams was able to make the move pretty much on her own, to a new home far away from her old neighborhood.
Court support and unsolved case meetings
If someone is charged in the killing, Chicago Survivors will accompany them to court. They will help navigate the trial emotionally and logistically.
But if the case remains unsolved after one year Chicago Survivors will get back in touch to see if the family wants to have a sit down meeting with detectives and their supervisors.
Johnson said the family has just under an hour to run the meeting however they see fit. They can ask any questions they still have about how the murder happened. They can give the detectives information they have. Or they can simply use the time to air any grievances they have about how the investigation has unfolded.
"When my staff comes in and responds to a specific homicide, the whole community is watching."
—Susan Johnson, Chicago Survivors executive director
Johnson helps coach the detectives in how to empathetically give information during these sessions. She teaches them to slow down, keep their sentences simple, and not to give potentially traumatizing details the family doesn't ask for.
The sessions can be helpful to detectives, as well as families, said Anthony Guglielmi, a Chicago police spokesman. He called Chicago Survivors "true partners to CPD and … vital in our efforts to help families manage through an immensely difficult tragedy."
Johnson added that the impact of these meetings, and the work Chicago Survivors does in general, is even broader — it's what public health professionals call "secondary violence prevention."
"When my staff comes in and responds to a specific homicide, the whole community is watching," she said.
Johnson said seeing the workers take action sends the message that no one deserves to die violently, but if they do, there will be a compassionate community response.
Shannon Heffernan is a reporter at WBEZ. Follow her @shannon_h.
This story is part of WBEZ's Every Other Hour project.
Criminal justice reporting and investigative journalism at WBEZ is supported in part by Doris and Howard Conant, The Joyce Foundation and the Robert R. McCormick Foundation.