Chicago's Hidden Indie Rock Archive
Over three decades, Aadam Jacobs obsessively documented Chicago's indie rock scene. Today, the future of his roughly 10,000 live recordings is unclear.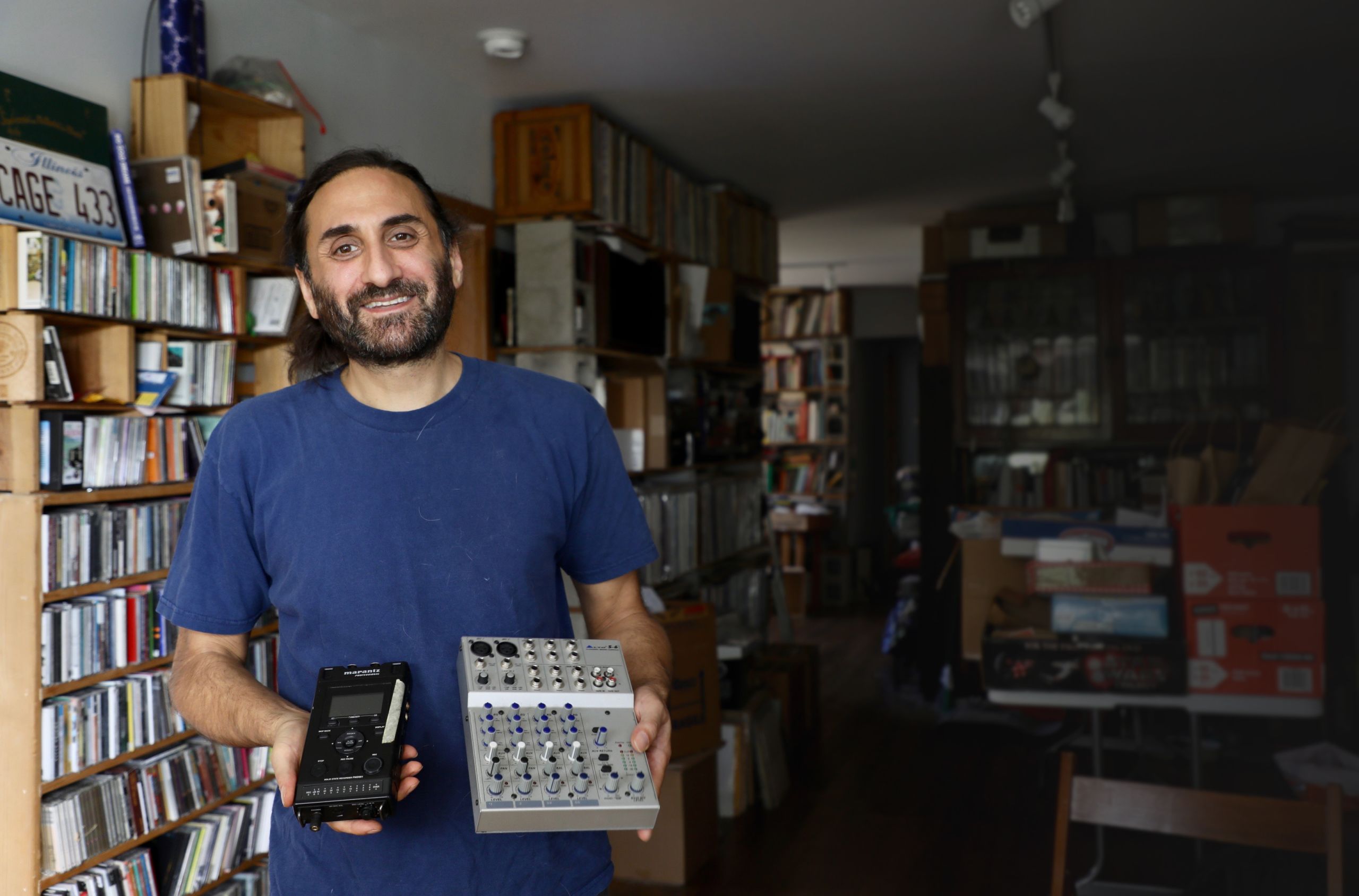 Reported by MONICA ENG | Photos by KATHERINE NAGASAWA
Edited by JESSICA PUPOVAC
September 29, 2019
Rae DeRose met her husband, Rob, in 2003 at a party in a Lincoln Park bar. 
"As we sat and talked, we realized we liked a lot of the same bands," she says, "and had even been to a lot of the same shows." 
Most of these shows were at North Side clubs like Metro, Schubas, The Empty Bottle and the erstwhile Lounge Ax and Double Door, where they recalled consistently seeing this one guy with long, wavy hair, chunky headphones and big tape recorder.
"There was this 'taping guy' who was at all of the shows we went to," Rae recalls. "And we  thought it was pretty cool that he was recording this special moment in Chicago music history." 
Rae and Rob DeRose at a 2016 Wilco show in Millennium Park, a year before Rob passed away. When the couple first met in 2003, they bonded over their mutual love for indie rock music and recollections of a local guy who taped many of the shows they attended. (Courtesy Rae DeRose)
Rae and Rob eventually got married and went to many more shows together before Rob passed away two years ago. But unbeknownst to his wife, Rob had sent in a question to Curious City asking:
Whatever happened to the "Taping Guy" who used to hang out and record at clubs like the Double Door, Metro and Lounge Ax in the '90s?   
We decided to take on this story because, it turns out, the "Taping Guy" is a familiar figure to pretty much everyone we talked to from Chicago's indie music scene at the time.
His name is Aadam Jacobs. And we learned that, over more than three decades, he has recorded, stored and catalogued about 10,000 live Chicago concerts on cassettes, CDs, and memory cards. His collection includes the early work of Liz Phair, Smashing Pumpkins, Jeff Tweedy, New Order, Stereolab, Flaming Lips, Yo La Tengo and much more.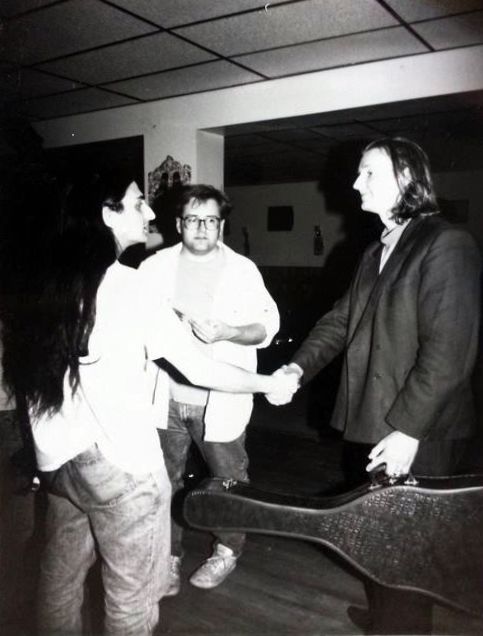 Aadam Jacobs (left) spent three decades recording audio of an estimated 10,000 live music shows in Chicago. Here, he's seen with Feel Good All Over Records manager John Henderson, and Young Marble Giants guitarist Stuart Moxham. (Courtesy Aadam Jacobs)
"What Aadam has is really, really priceless," says Susan Miller Tweedy, a veteran of the Chicago music scene who used to co-own Lounge Ax. "He's a living archive." 
We met up with Jacobs at his home on the Northwest Side and got a peek into this archive. He talked about the period in local music history he captured, but also the obsession that drove him to amass his collection — and the toll it took on different parts of his life.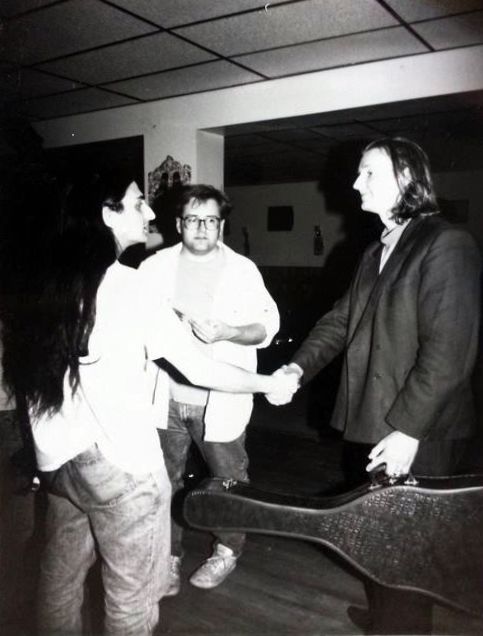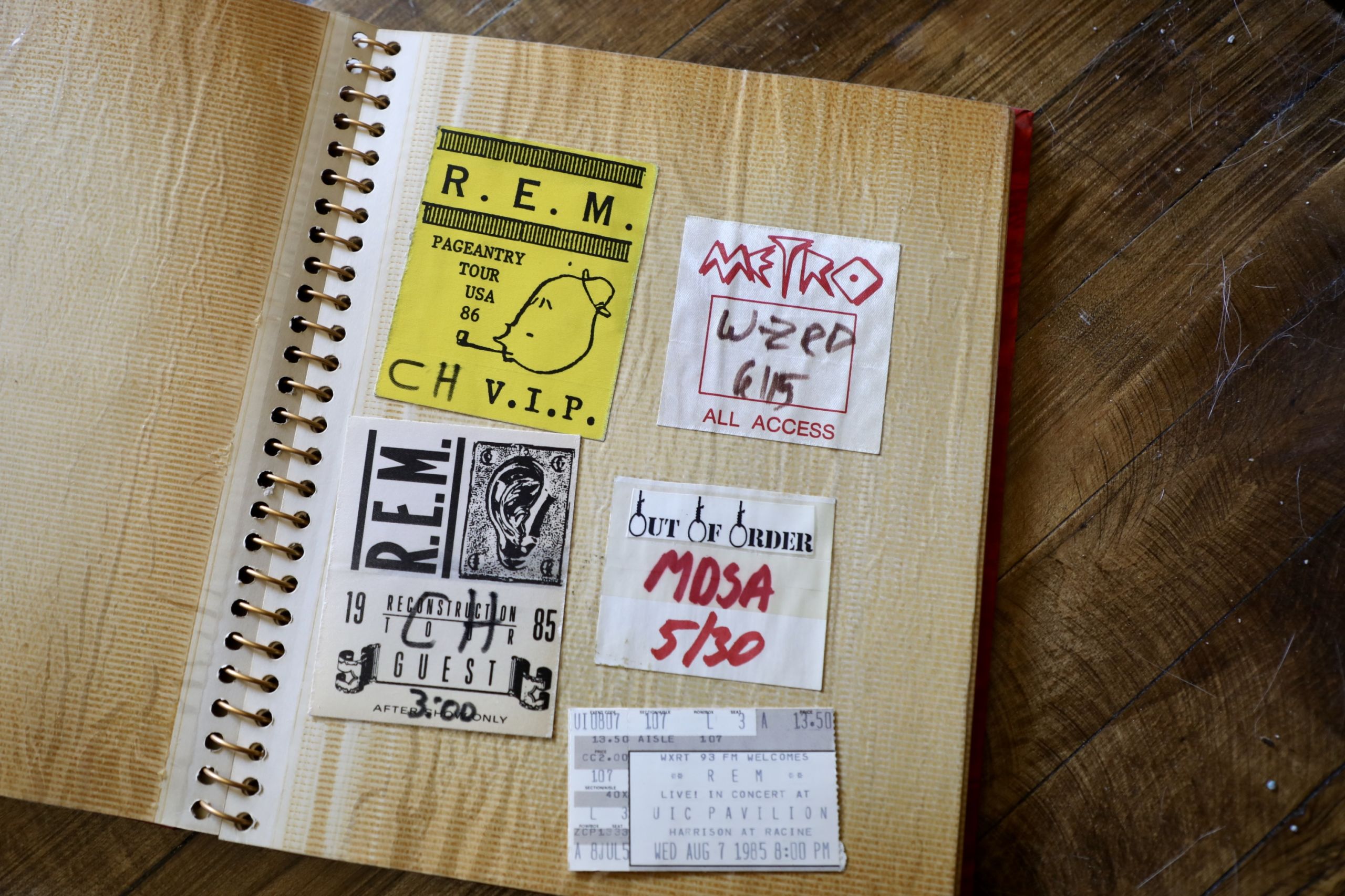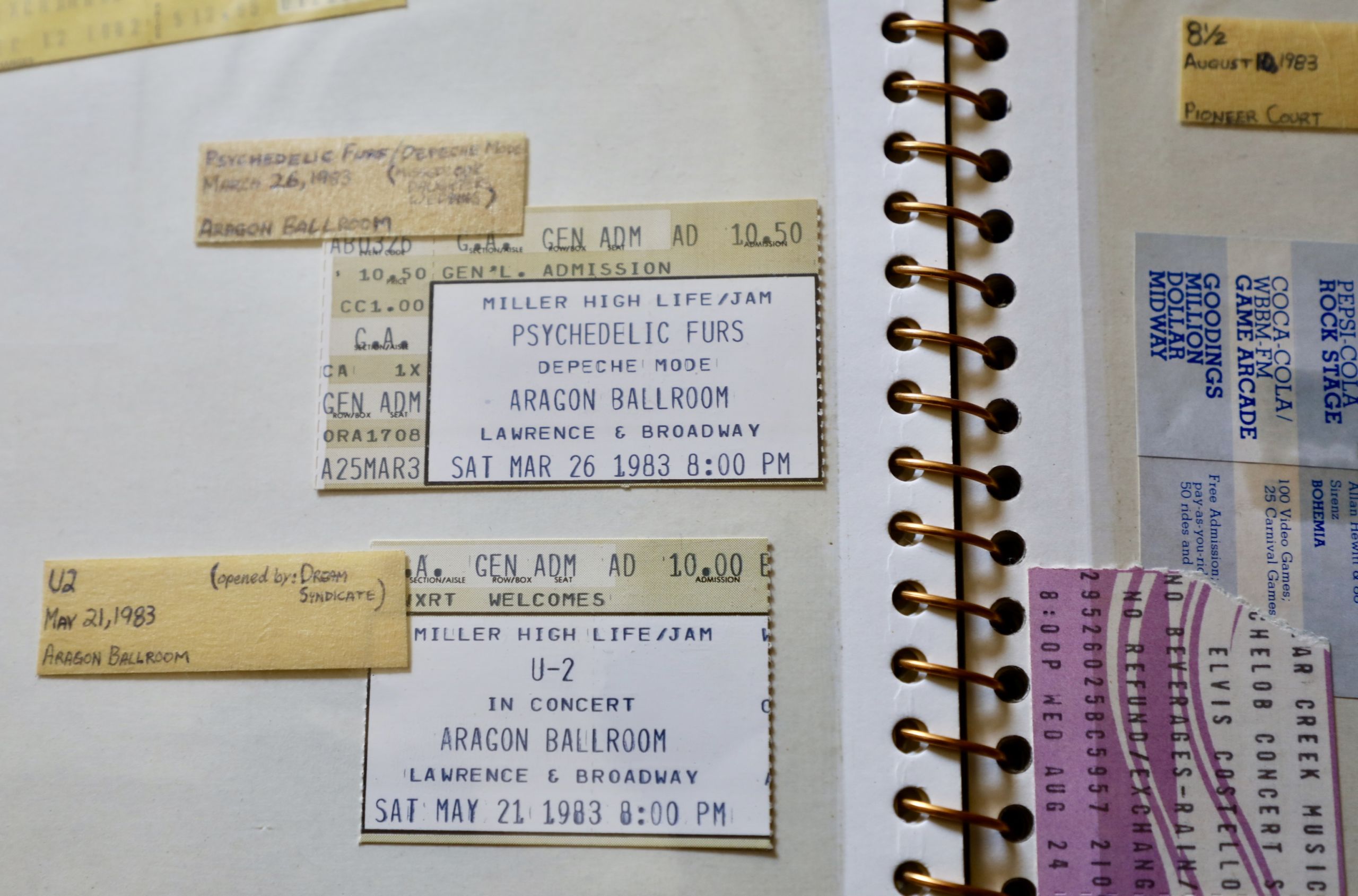 "The ultimate souvenir" 
Jacobs was born in 1967 and grew up in Evanston. He was a teenager when his mom started taking him to shows at the International Amphitheater and ChicagoFest on Navy Pier. Then one day, when he was 16 and a student at Evanston Township High School, a pal told him he could do more at concerts than just passively watch the show. 
"He told me that you could sneak a tape recorder into concerts and make recordings of the concerts you were attending," Jacobs remembers. "And so I tried it."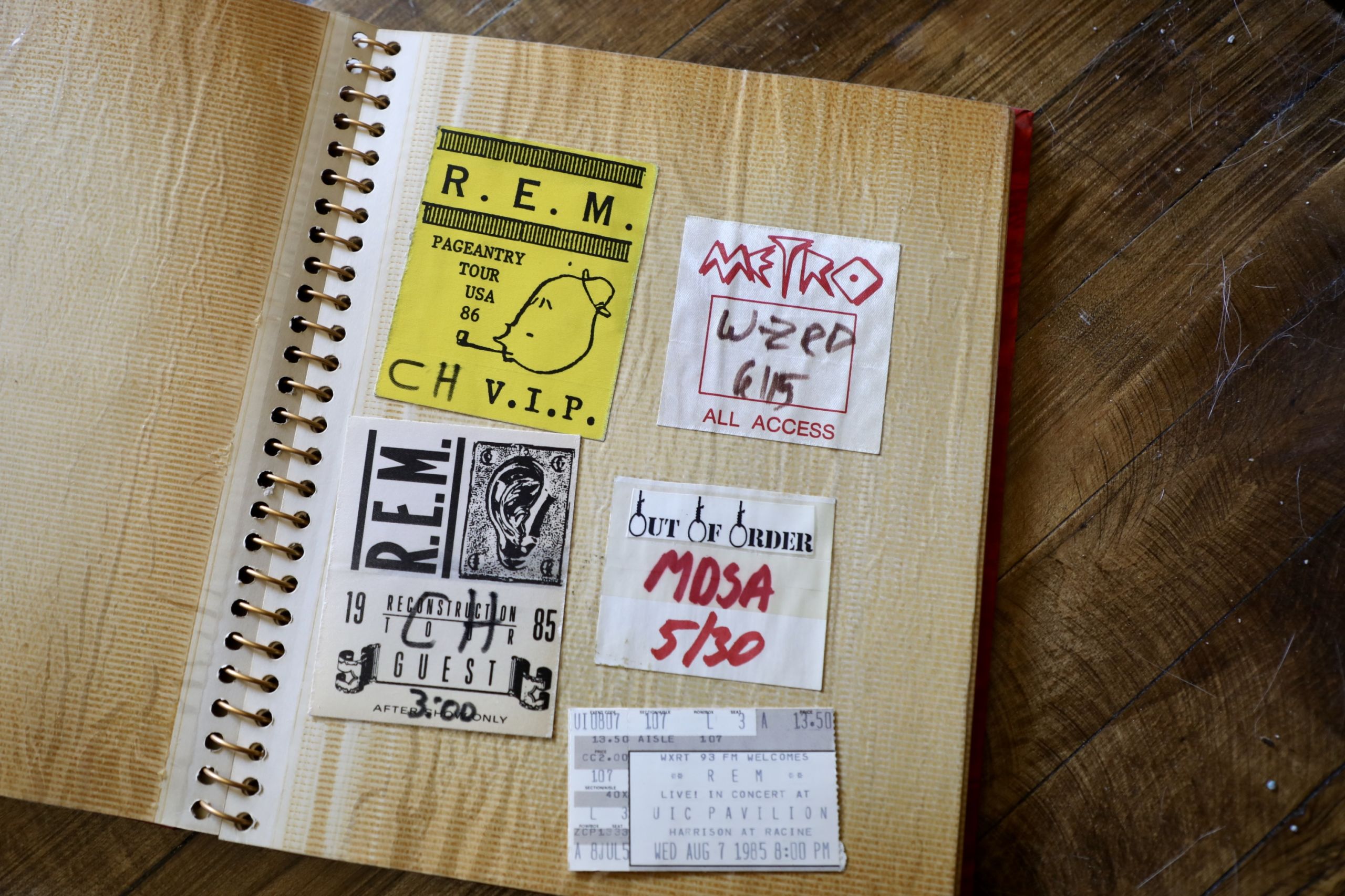 Jacobs kept ticket stubs from nearly every show he attended since the early '80s. (WBEZ/Katherine Nagasawa)
His early forays featured some pretty modest gear. 
"For the first few concerts I snuck my grandmother's mini tape recorder," he says. "And made fairly low-fi documentations of maybe a half a dozen shows before I bought something a little more decent."  
At first, this more decent equipment was an early Sony Walkman with a built in mic. He later upgraded to a home tape deck ⁠— a big chunky console that would have been part of a home stereo system back in the '80s. 
"It was pretty big," Jacobs says. "There were times when I was bringing that tape deck on the train in a suitcase ⁠— and it was quite heavy."
But Jacobs says hauling around heavy equipment was worth it for the end result: a document of the moment he could keep forever.  
"What's the ultimate souvenir of a concert?" he says. "I wanted to have a physical archive of the concerts I went to."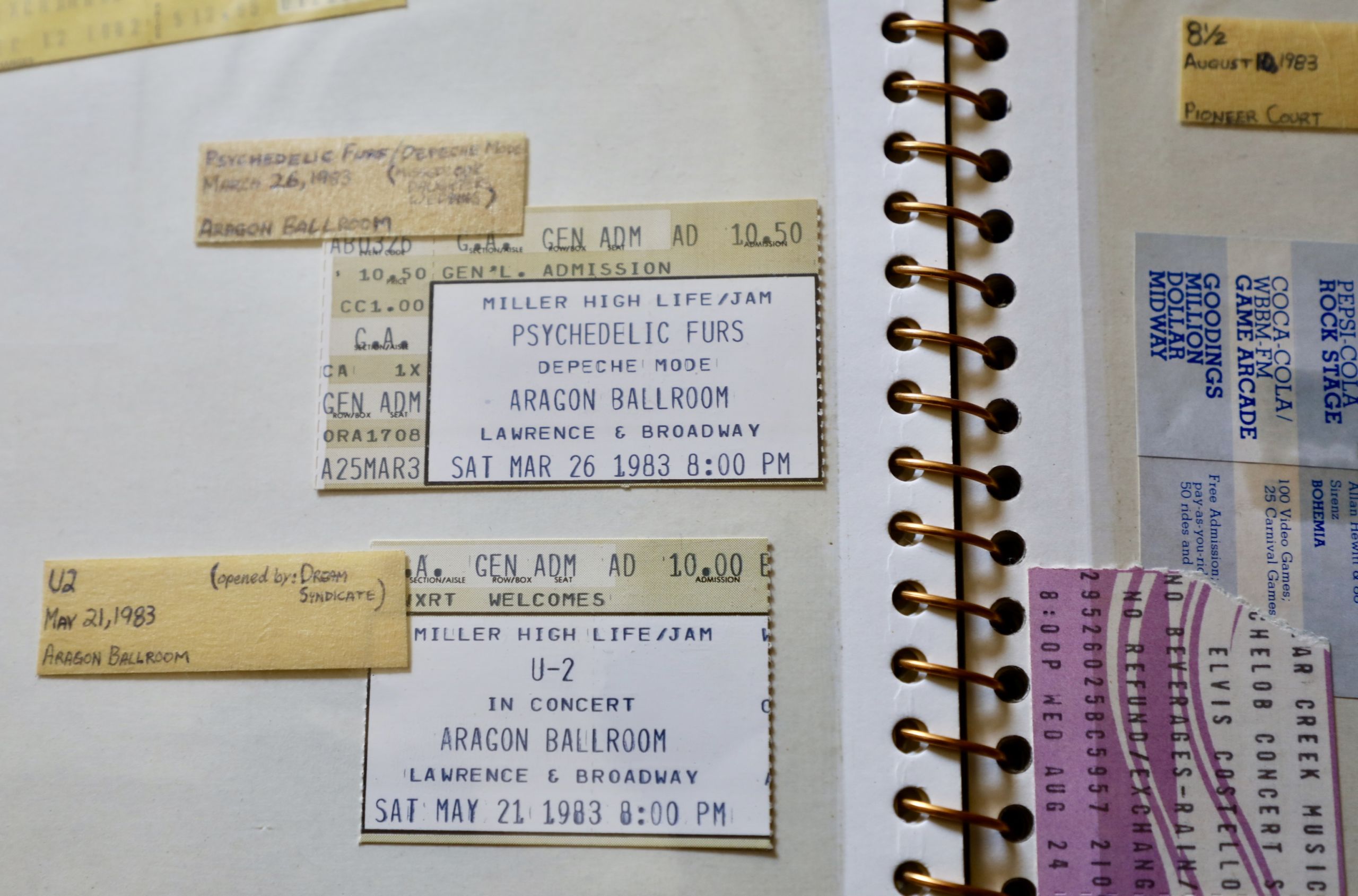 Jacobs kept ticket stubs from nearly every show he attended since the early '80s. (WBEZ/Katherine Nagasawa)
Becoming part of the furniture
So how exactly did Jacobs bring in all that equipment to shows where artists ostensibly wanted to sell their own recordings?
He says, at the time, "no one really cared what you walked in with, and I didn't make a whole lot of effort to hide things, either."
Plus, Sound Opinions co-host Jim DeRogatis says most musicians on the scene back then just appreciated the interest. 
"Who's gonna say no," says Derogatis, a long-time Chicago music critic and drummer.
"[It was] the indie rock '80s. Nobody cared. If you had a fanzine, if you were playing records on college radio, or just a fan, you were welcomed for your support and thanked."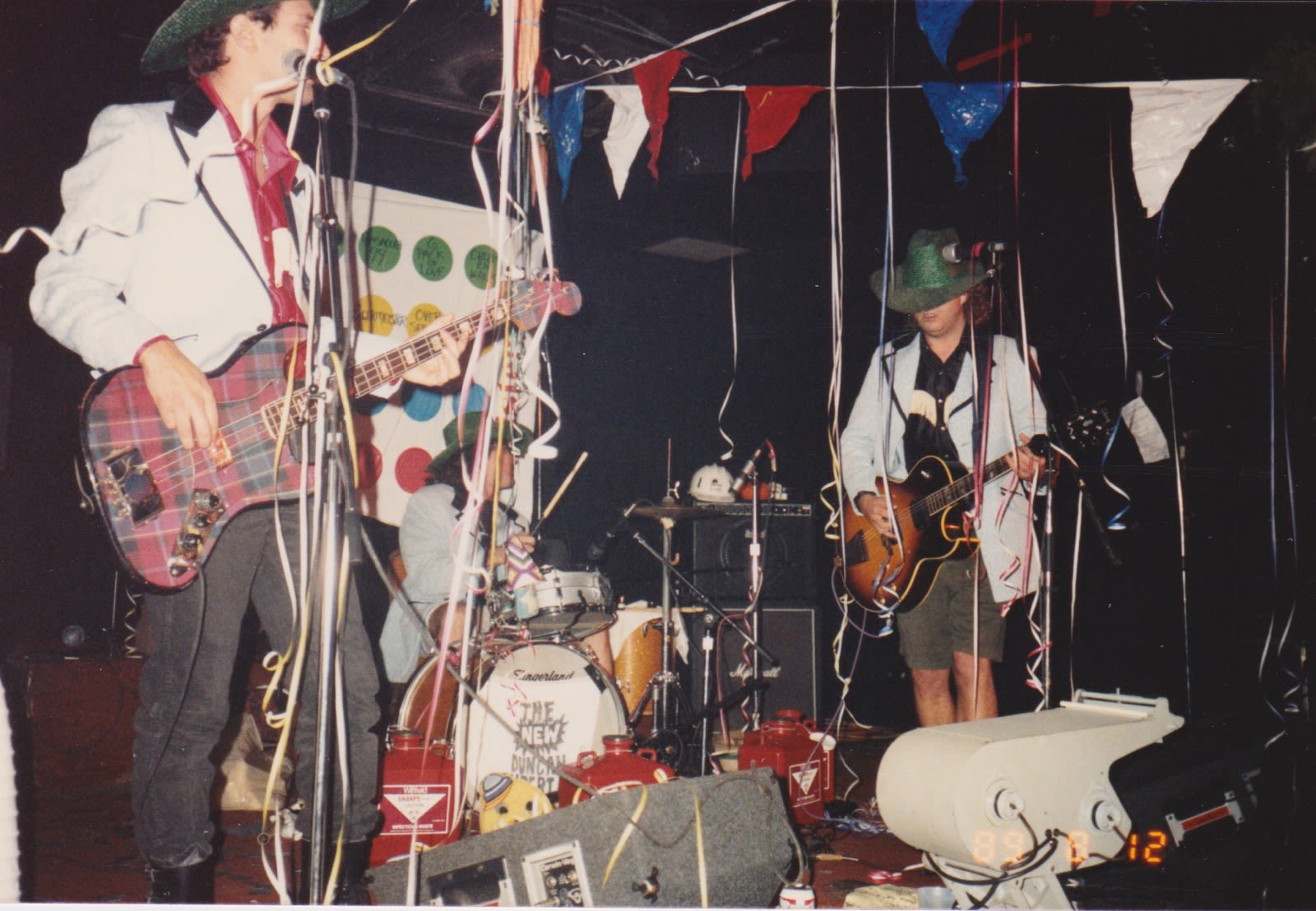 Local band New Duncan Imperials play at Cubby Bear in Wrigleyville in 1989. Jacobs recorded several of their early shows. (Courtesy Susan Miller Tweedy)
Jacobs said he often brought a second tape deck to concerts so he could give a copy of the recording to a band right after the show. He'd also occasionally let bands crash at his place if they didn't have a place to stay. 
But Jacobs befriended more than just musicians. He also charmed club owners, miraculously convincing them to let him into most any show for free, even as a teen. Former Lounge Ax co-owner Miller Tweedy says she first met Jacobs when she was booking shows at the West End in Lincoln Park in the mid-'80s.
"I let him in the club to tape the bands because he really wanted to," she recalls. "He was very, very enthusiastic and very into it. And yeah, I let him in ⁠— underage."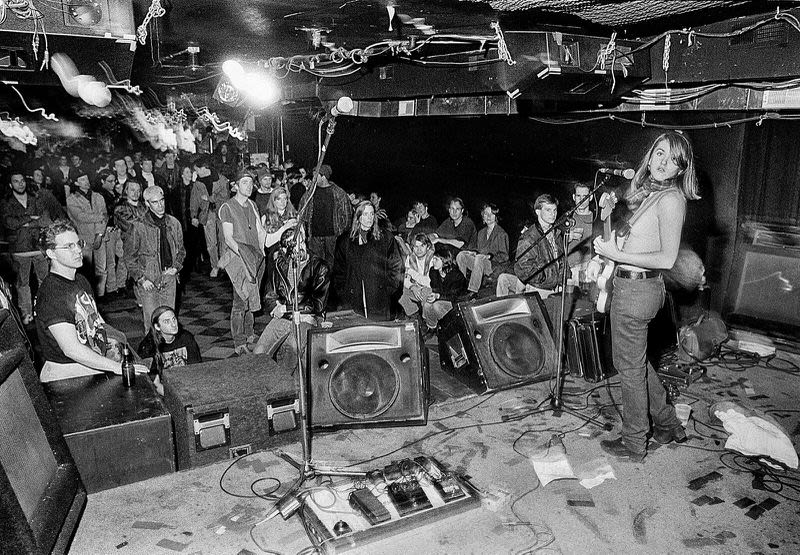 Indie rock artist Liz Phair plays a show at Lounge Ax in Lincoln Park in 1993. Jacobs is seated at the front right of the stage. (Courtesy Marty Perez, Matador Records)
That access continued when Miller Tweedy moved on to book at Wrigleyville's Cubby Bear. Jacobs remembers being there one night in 1987 when a band named Uncle Tupelo came up from Southern Illinois to make its Chicago debut. 
"That was Sue's birthday and the same night she met Jeff [Tweedy, her future husband and Wilco frontman]," he says. "I still have that tape somewhere." 
Later, Miller Tweedy moved to Lounge Ax in Lincoln Park, which she would co-own with Julia Adams. And it's there that most people, including our question asker, remember Jacobs as almost a part of the furniture. 
"It was mind-boggling to me that he taped shows at any other clubs because he was there every night," Miller Tweedy says.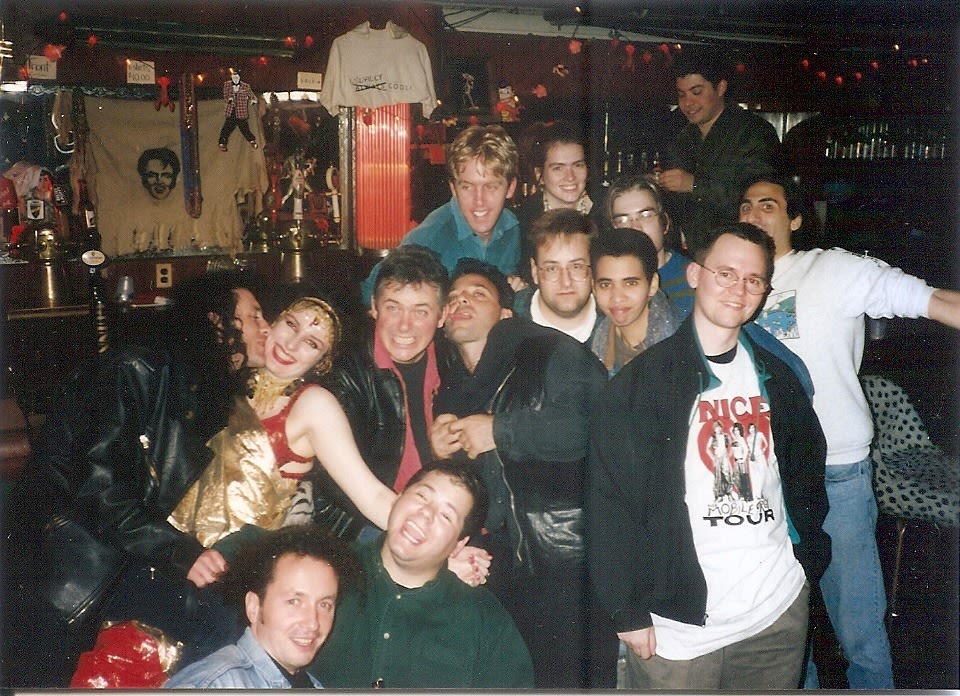 Jacobs (back right) became a regular presence at Lounge Ax. Here he's pictured with musicians and friends post-show in 1994. (Courtesy Aadam Jacobs)
But Jacobs did go to other clubs quite regularly. 
"Sometimes I would challenge myself and see if I could record a show at Lounge Ax and then Empty Bottle [in Ukrainian Village] in the same night, riding [my bike] with my equipment on my back," Jacobs says. "Nobody was giving me the challenge. I would just give it to myself." 
In the late '80s, Jacobs also became a regular at Metro in Wrigleyville, where he says he essentially learned the art of sound recording at the club's mixing board. He would often plug in his recorder, and staff would show him the ropes. Much of this access came from Metro owner Joe Shanahan, a fellow audio collector and friend. 
"I also was a fan," Shanahan says. "I received any tape he made at Metro. I thought he was a great kid and I loved the fact that he was documenting the scene, and he was this archivist."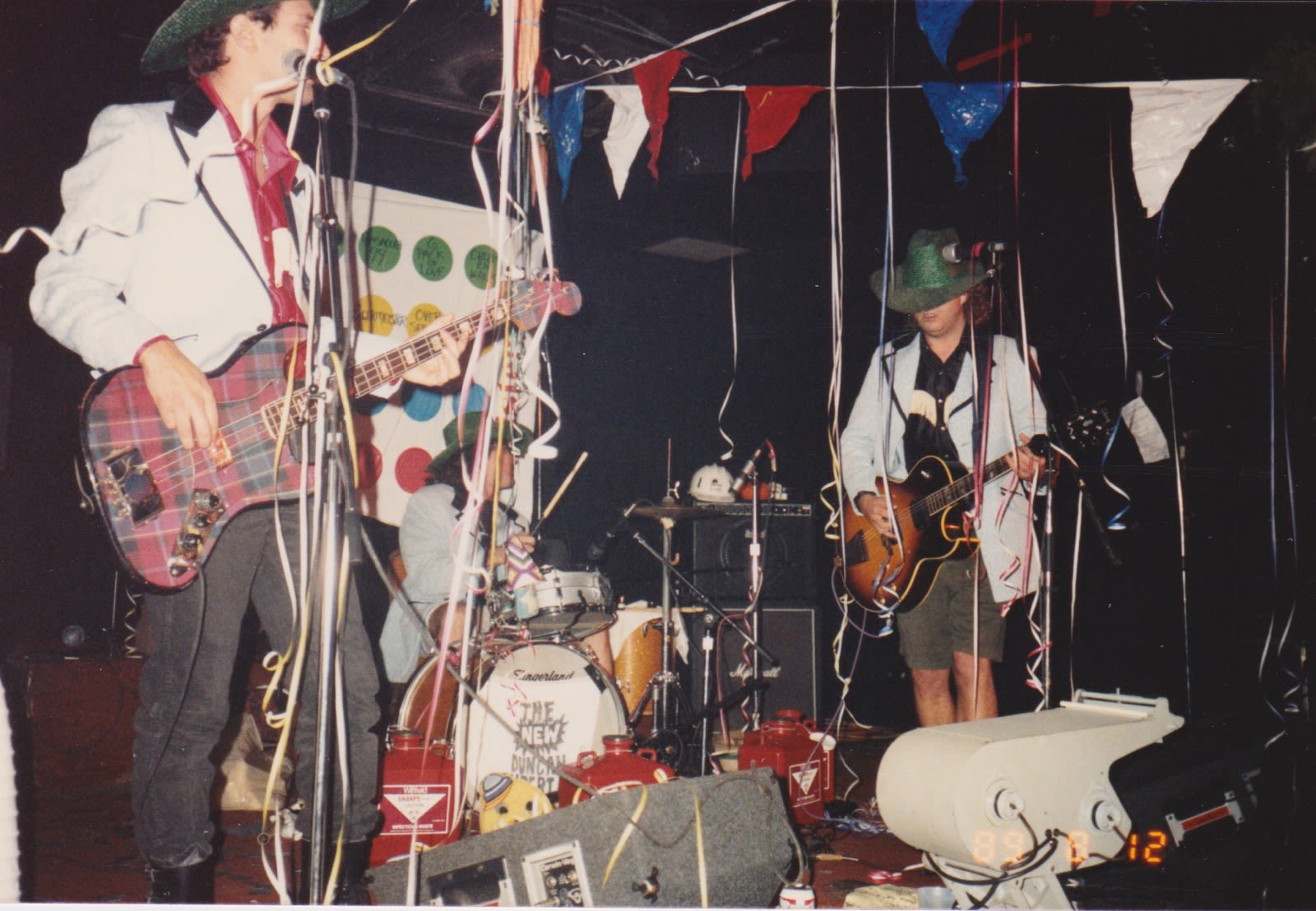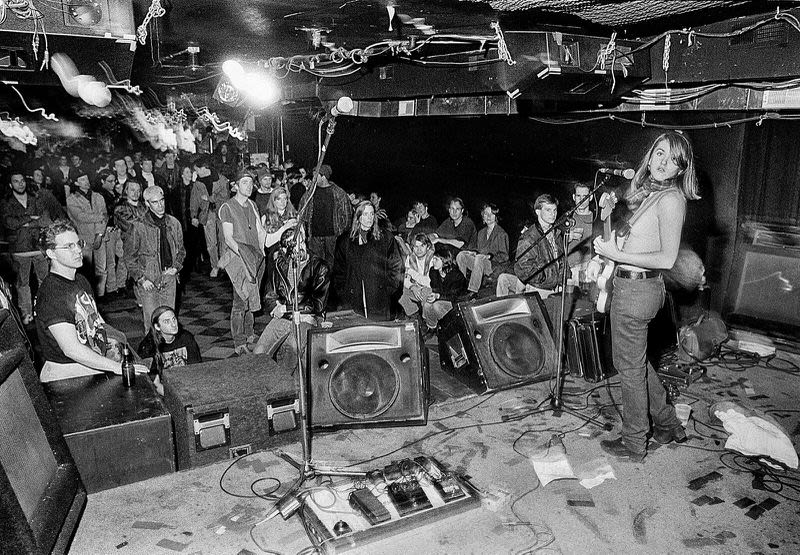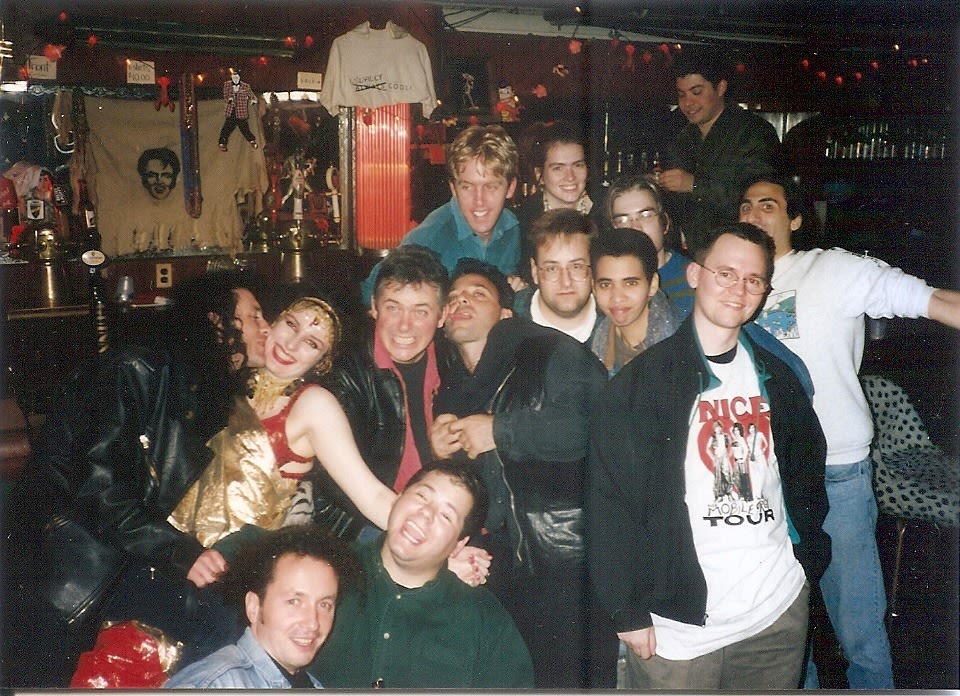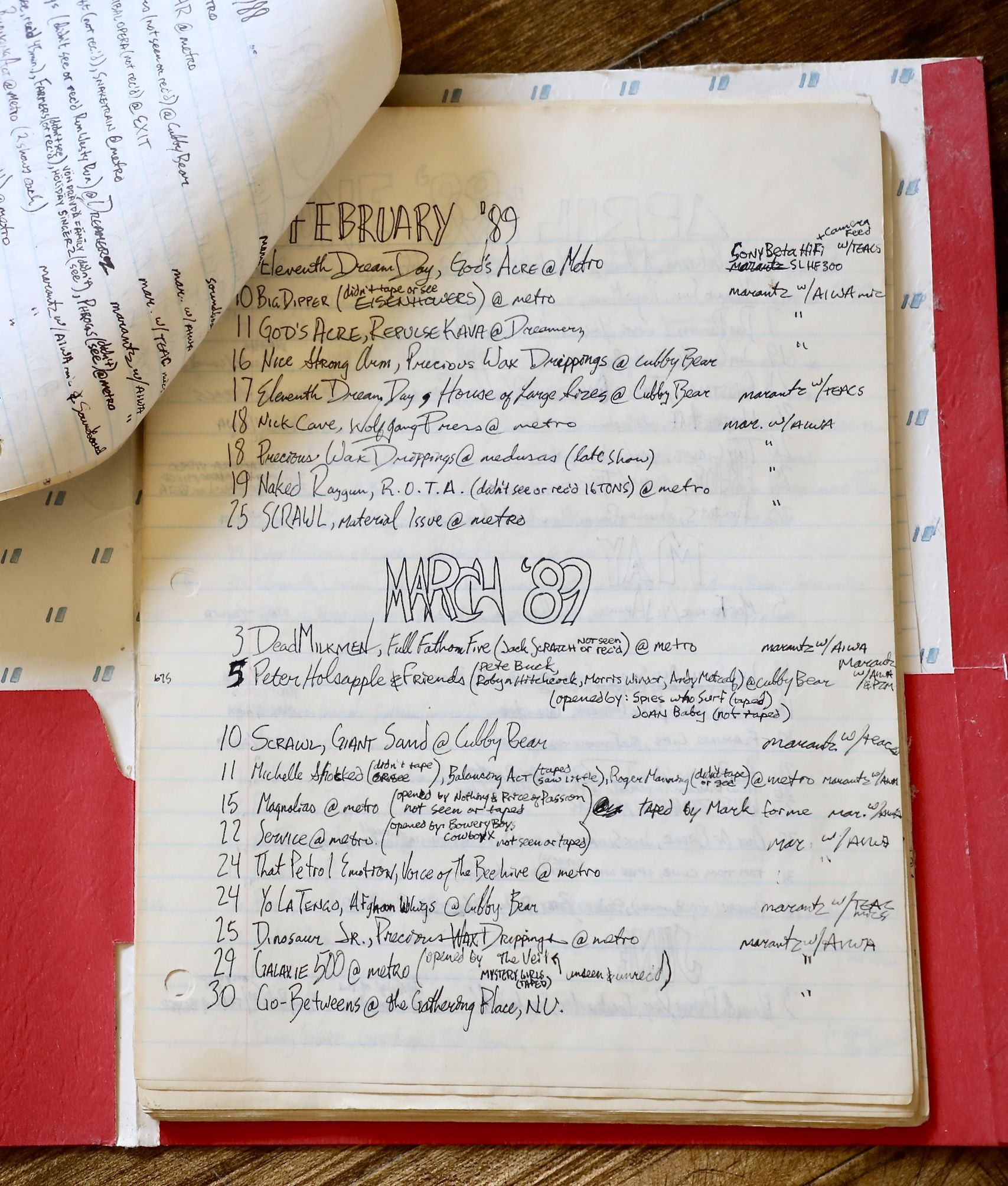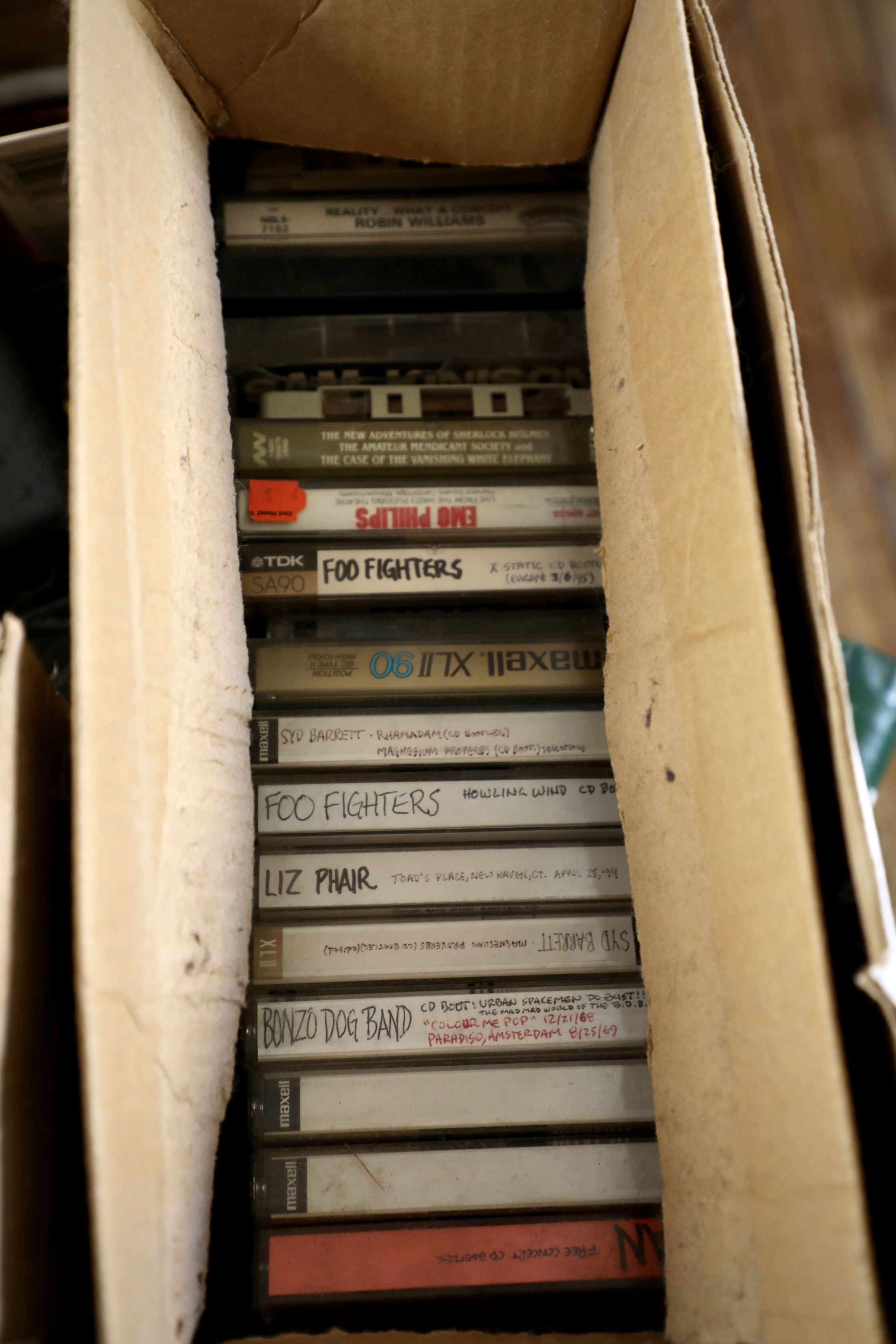 Exile in Wrigleyville
For the most part, Jacobs says, his recordings were legit. He did it for his own personal use, and asked permission before taping … except for the times he didn't. 
"There certainly were times when I was doing things without people knowing by hiding a recorder under a shirt or whatever," he says. "I didn't like doing that. I tried not to do that very often."
"In '89 my obsession for recording got out of hand. And there were times when I should have walked away when ultimately I didn't, and got myself in trouble."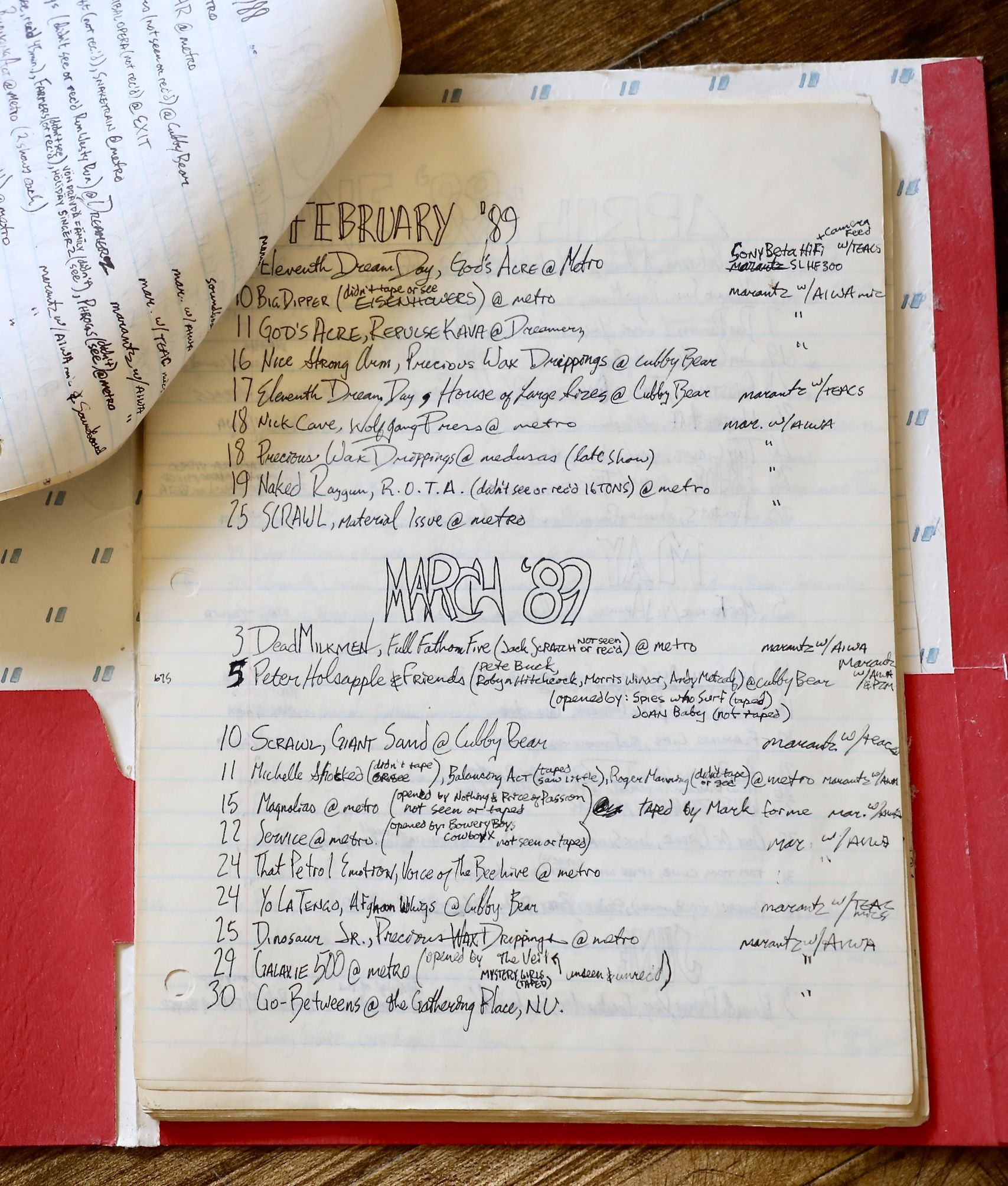 Jacobs kept detailed calendars that listed every show he recorded between the 1980s and early 2000s. (WBEZ/Katherine Nagasawa)
The worst of it happened in the fall of '89 and resulted in Jacobs' expulsion from Metro for six years. Shanahan and Jacobs don't agree on all the details leading up to his expulsion, or how certain incidents went down, but they both agree that it was a low point in their relationship.
In Jacobs' eyes, it started one night when he was horsing around in a tour bus with the punk band the Meat Puppets 
"They were getting kind of crazy," Jacobs says. "They decided to take the spaghetti that they didn't eat for dinner and throw it onto Joe's car."
"I was laughing with them, where in Joe's mind, I should have been running inside the building and saying, 'Hey, Joe! The Meat Puppets are f------ around right now and you need to get out here,'" explains Jacobs. "And that really upset Joe."
Later, Shanhan says, he found a record in Manchester, England, that he suspected Jacobs had surreptitiously recorded at Metro and distributed without his knowledge. Jacobs denies it. 
Then there was an incident where Jacobs was caught trying to record musician Bob Mould at Metro without permission. Just a few weeks later he did the same thing during a Mudhoney concert. But this time, after being asked to leave, he climbed Metro's fire escape and allegedly tried to record the show from there. This was the last straw for Shanahan. He was caught and expelled from the premises. How violent his expulsion was that night remains under contention. 
"He didn't get permission and I was just sort of done with it," Shanahan says. "I felt a little betrayed because I considered him a friend." 
"I regret that he felt that way because I don't want to hurt anyone," Jacobs says. 
That six-year exile ended in 1995, when influential supporters like Flaming Lips manager Scott Booker convinced Shanahan to give Jacobs another chance.
The relationship between the two music lovers has mended over the years, and Shanahan still has a deep respect for Jacobs' mixing skills, particularly, he says, the way Jacobs can blend music from the soundboard with the ambient sounds he gets from mics placed strategically around the room. 
"That's a tricky thing to do," Shanahan says. "So Aadam has this great audiophile ear and he can create this great [finished] mix."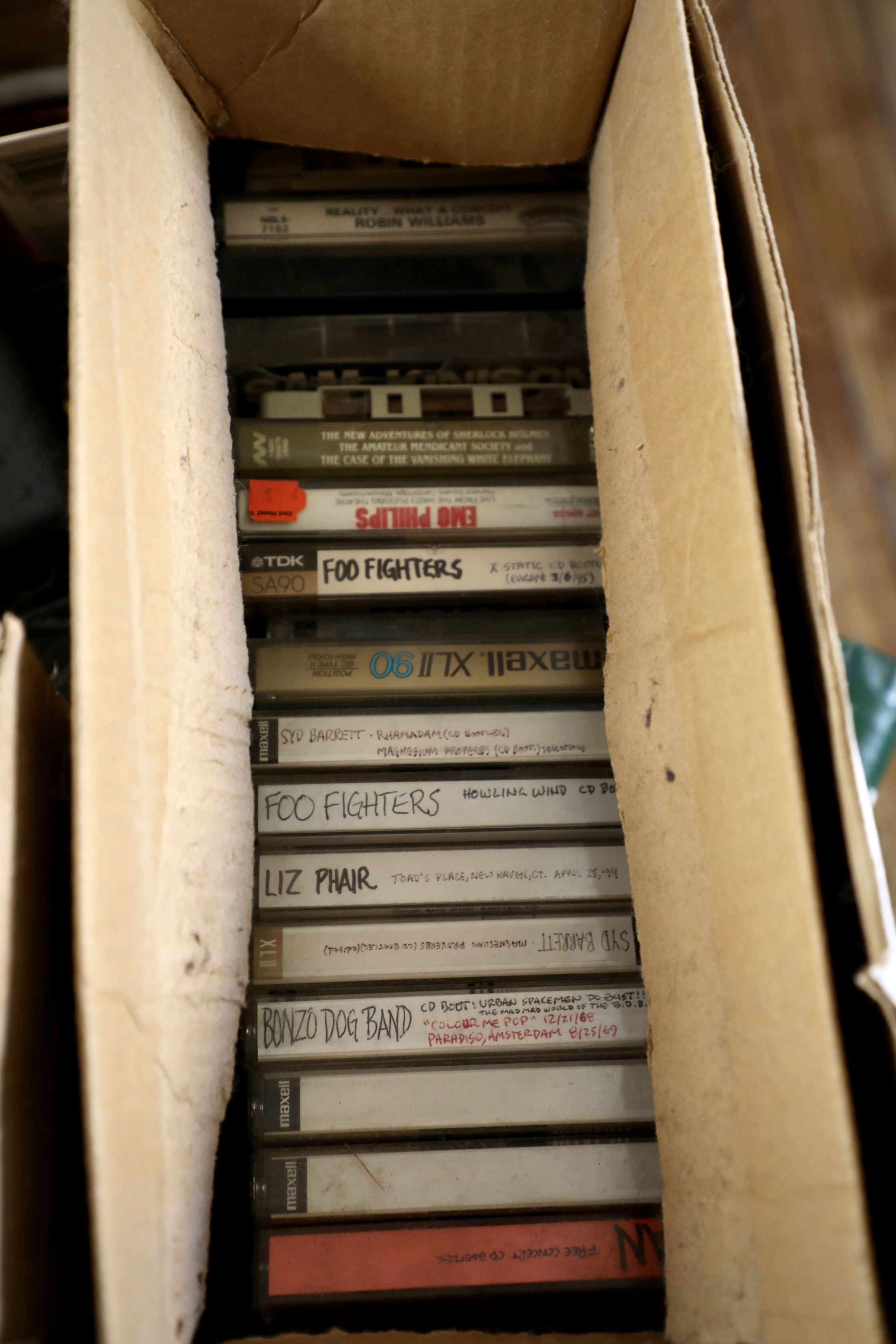 Jacobs stores all of his tapes in cardboard boxes in a closet. He rarely listens back to them after recording. (WBEZ/Katherine Nagasawa)
The quality of Jacobs' recordings became so precise over the years that bands like Sonic Youth, Yo La Tengo and Wilco even released some of his recordings on their albums. Jacobs says, in exchange, the bands gave him modest compensation "or free stuff" like albums. 
In 2002, legendary punk band the Mekons even commissioned Jacobs to record one of their 25th Anniversary shows at Logan Square's Fireside Bowl.  
"I'd heard his stuff because he had given me tapes over the years," says Mekons frontman Jon Langford. "So I basically commissioned him to record our show there. About half the tracks he recorded that night ended up on an album called Punk Rock."
Taping takes a personal toll   
Despite getting occasional paying gigs, Jacobs says he's always recorded out of a desire to turn something ephemeral into something permanent. He says he hasn't been motivated by financial gain.
"I was never in this for the money, although a lot of people thought I was," he says.  "I think a lot of people thought I had ulterior motives, but I think time has shown that I have none … I did this because I had to do it. It was just what I had to do."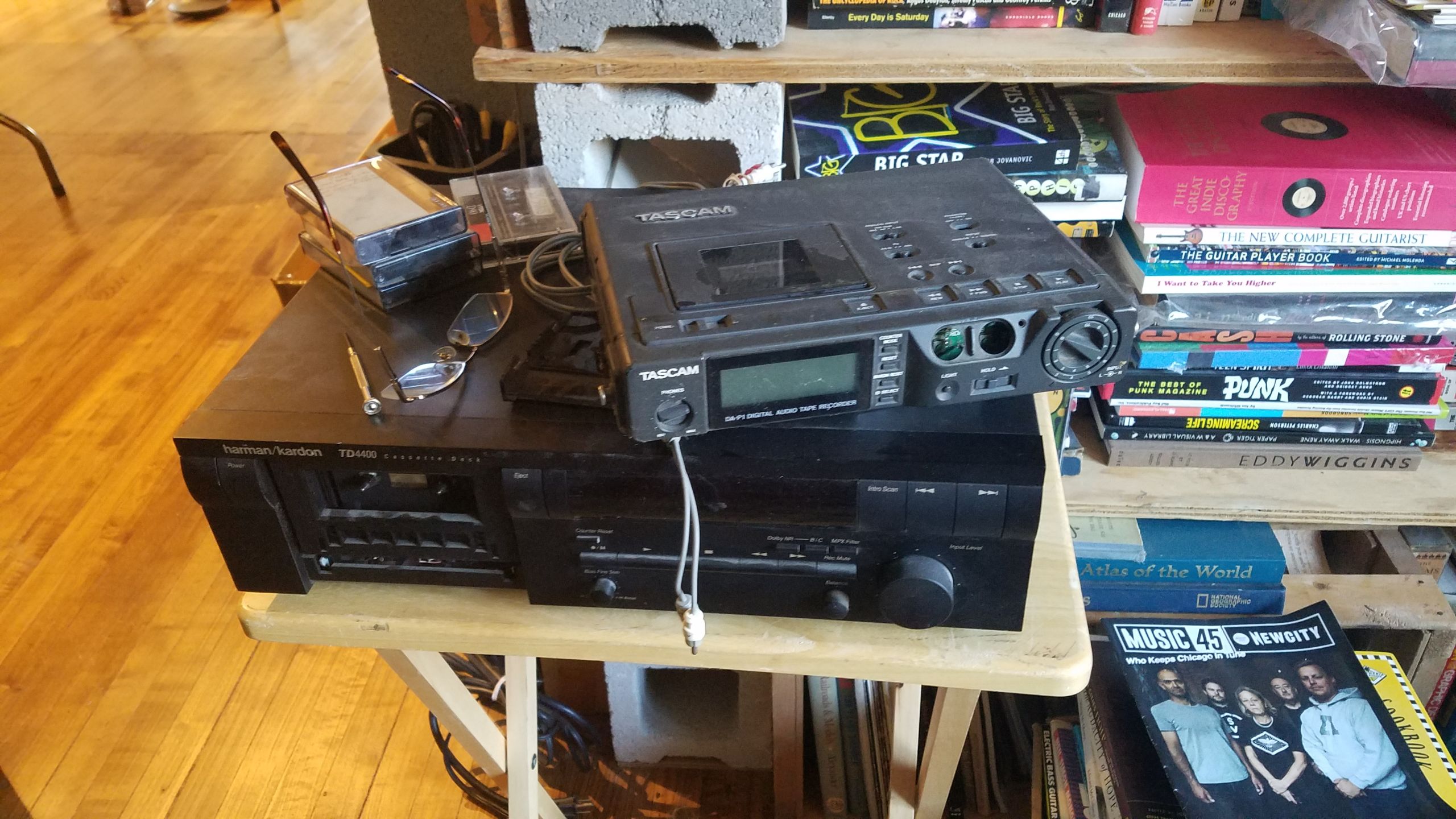 Jacobs used to record shows with a tape deck and Digital Audio Tape machine back in the '80s. WBEZ/Monica Eng)
Over the years, Jacobs has paid a high personal price for his obsession, one that extends beyond his own recordings to include an enormous collection of books, movies and music. He says the collection had gotten seriously out of control until a very recent move to his current home. 
"In my last apartment, I couldn't have people over," he says. "It looked like a hoarder lived there. My living conditions were not conducive of a sane person and I am a sane person." 
It also took a toll on his relationships.  
"I didn't really have a social life, but [recording music] kind of was my social life,"  Jacobs recalls. "And I did have a relationship break up because of my obsession with music. She said 'I never see you,' because I'd been running around recording Pavement."
But he says he doesn't regret his choices. "I would rather have these recordings of Pavement's first tour of the Midwest than have had the relationship which I really don't remember well at all." 
Today Jacobs has slowed down. He still goes to several shows a month ⁠— some rock, but also  jazz and classical. And he says often he finds no need to tape. It's just not as special in this era where every Tom, Dick and Harry is videotaping the show on their cell phone and posting it on YouTube before most people get home from the concert.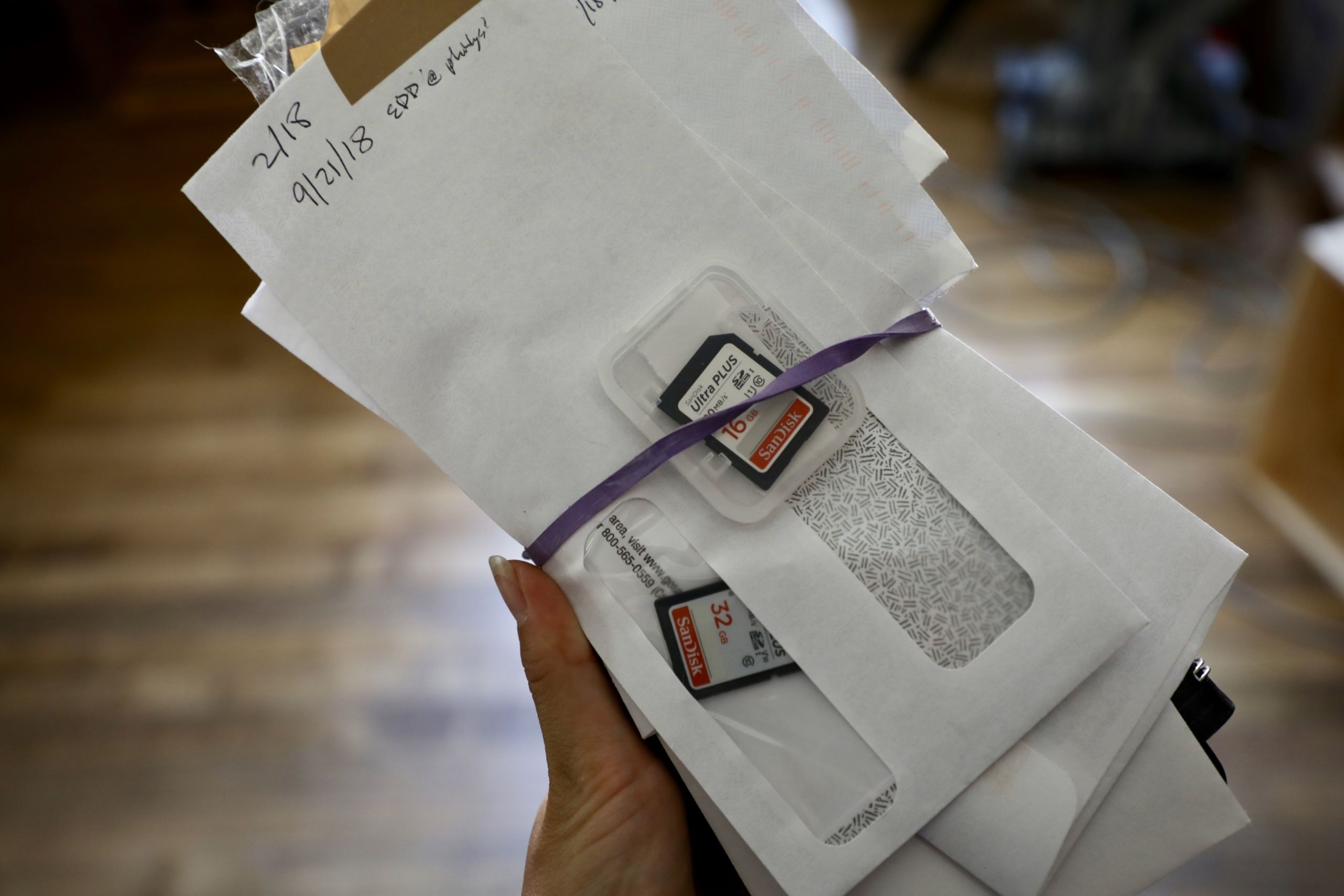 Jacobs doesn't record as often these days because he says that what he offers isn't as unique as it used to be. When he does, he uses a digital recorder, mixer and SD memory cards. (WBEZ/Katherine Nagasawa)
"When I started in the '80s and '90s nobody was doing it. But now anybody can do it to some degree of quality," he says. "And so my obsession is not as important to posterity as it once was."
Plus, these days he says he's rearranging personal priorities. 
"I have a partner who does not appreciate clutter ⁠— at all," he says, looking around at walls lined with shelves of neatly filed LPs, CDs and books, but also boxes that need to be unpacked and organized. "And the relationship is more important to me than amassing more things that I may never have a chance to enjoy anyway."  
So what's going to happen with his rooms full of Chicago music history?  
"I'm going to die someday and I don't know what is going to happen to it," he says. "I really don't know its future. I hope there is one and I hope it finds a home somewhere [and that] people can really appreciate it and take care of it."
At this point, Jacobs says he's had trouble finding the right institution that can digitize, catalog and preserve the recordings ⁠— some of which are on old, disintegrating cassette tapes. Even though he rarely listens to any of the tapes nowadays, Jacobs seems conflicted about letting go of his decades of work. He wants it to be the right place and he wants it nearby so he can maintain a certain level of access and control.
Chicago music watchers we talked to are also eager to see Jacobs' archive find a stable home.  
"He has something that nobody else has," Miller Tweedy says. "I think about it and wonder what's going to happen to it. And, yeah, it … could be disintegrating, so I hope he finds a way to get it all further archived so that it stays forever. It's really priceless."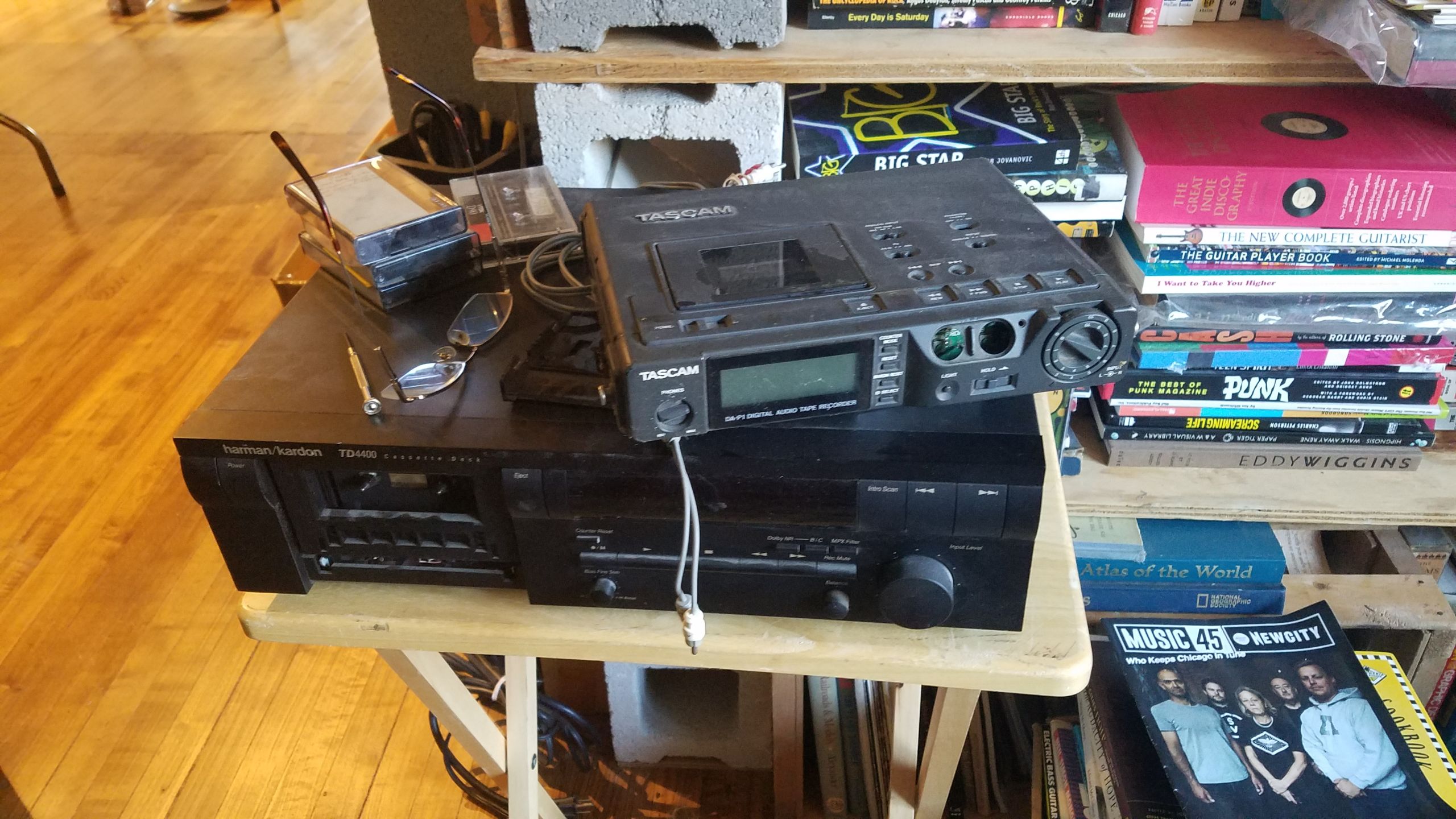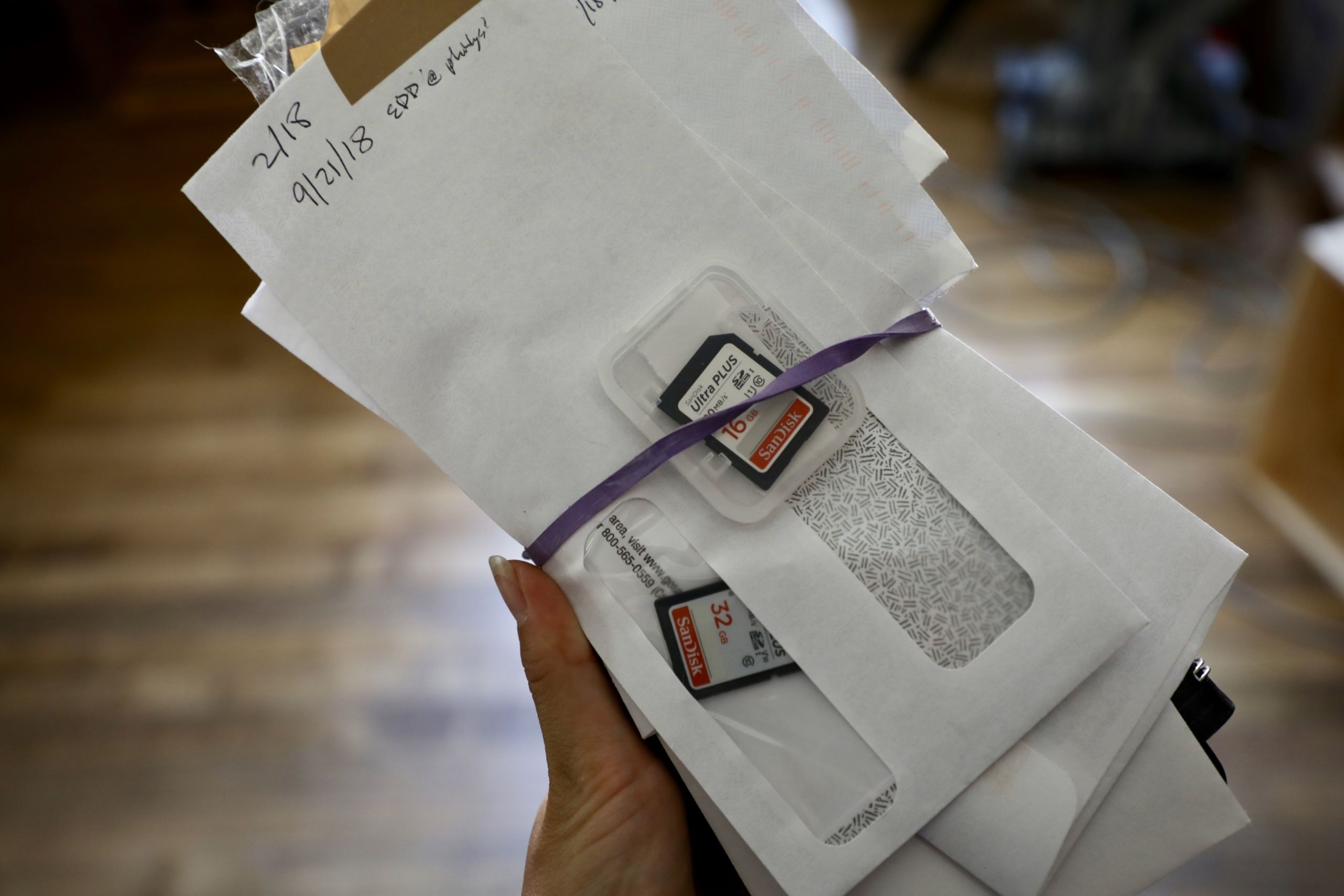 More about our questioner
The late questioner Rob DeRose and his wife Rae. (Courtesy Rae DeRose)
Rae DeRose is an HR professional living in Grand Rapids, Michigan, but she and her late husband Rob lived in Chicago for many years. During their years in the city they were regulars at music clubs including Metro, Lounge Ax, Schubas, Double Door, The Hideout and Fitzgerald's. 
When we contacted her she was initially surprised because she didn't know Rob had sent in the question. But she says it made sense, since they were both big music fans — but also Curious City fans. 
"When Curious City started there were things we would hear and he would be like, 'That's a great question!' One of his favorites was about blacksmiths at the park district. And he'd say, 'I've got a lot of questions, too.' So I'm just kind of laughing because I never knew he sent that in."   
Rae was intrigued to finally learn the story behind the man she and Rob had seen for so many years, and said she hopes his archive is preserved for posterity and people like her, who have so many fond memories of those shows and that era.
"It's a true recorded history, which I think is just remarkable," she says. "Rob and I used to say, 'I am not sure if I was there but I'm sure the taping guy was there. The taping guy is always there.'"