A New Model Of Policing In Chicago
With trust in police at a historic low, the Chicago Police Department's latest community policing initiative puts relationship building at its center.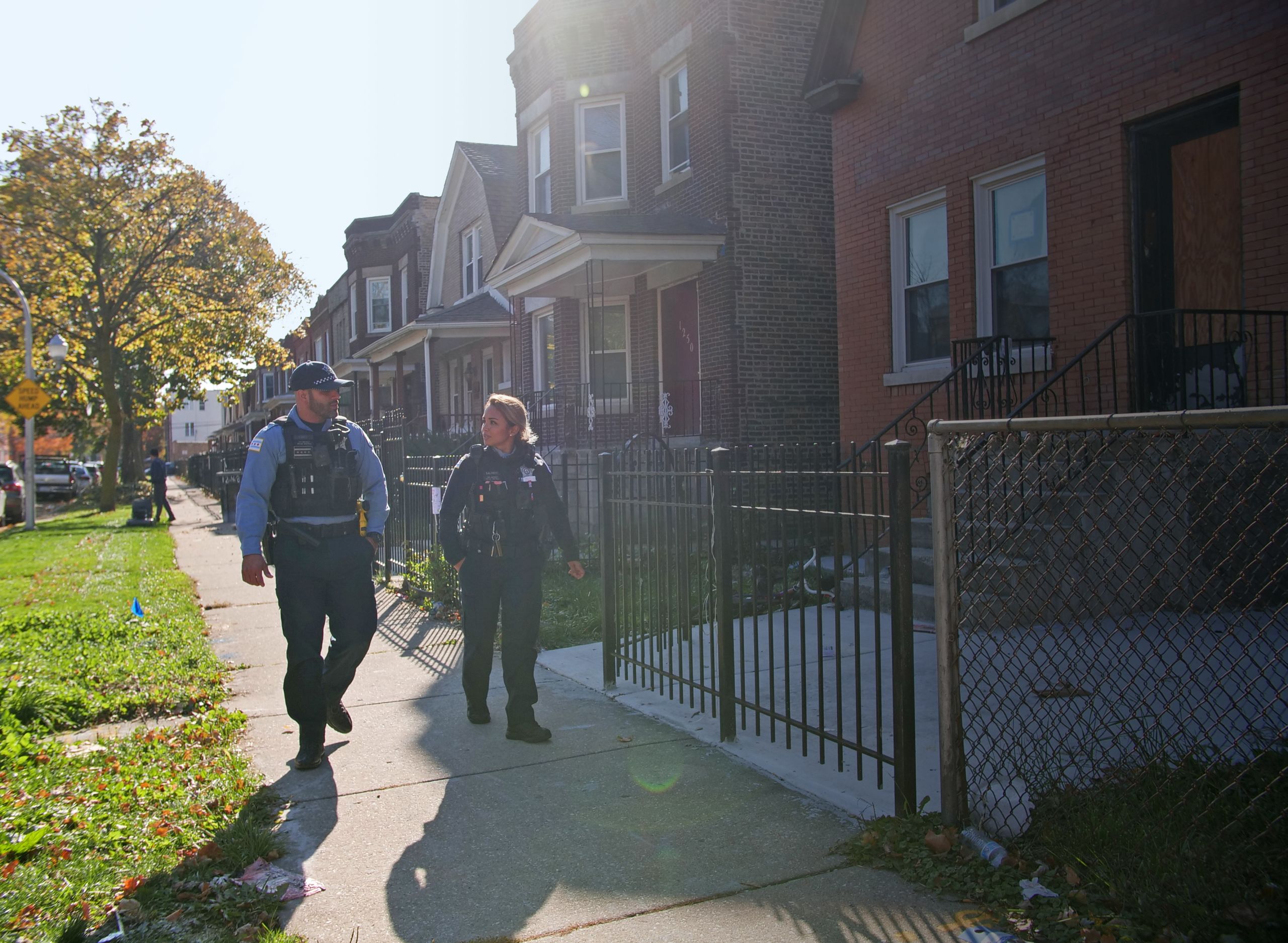 Reported by KARI LYDERSEN | Edited by JESSICA PUPOVAC | Multimedia production by KATHERINE NAGASAWA | Audio production by JESSE DUKES
November 17, 2019
Editor's note: An earlier version of this story mistakenly identified the architect of New York City's neighborhood policing strategy. The New York Police Department developed its own strategy, which was later adapted by the Policing Project at the New York University School of Law for the Chicago Police Department.
Carolina Salcedo says "it was always about the uniform."
Growing up in Cali, Colombia — a city notorious for its drug cartel — Salcedo wanted to help maintain law and order from a young age. When she was 10, her family moved to Jacksonville, Florida, where she joined the Sea Cadets Corps and then junior ROTC. She dreamed of joining the military, but becoming a young single mother derailed those plans. She worked other jobs, moved to Chicago and in 2009, right after her son graduated from high school, she entered Chicago's police academy. In 2015, she was sworn in as an officer.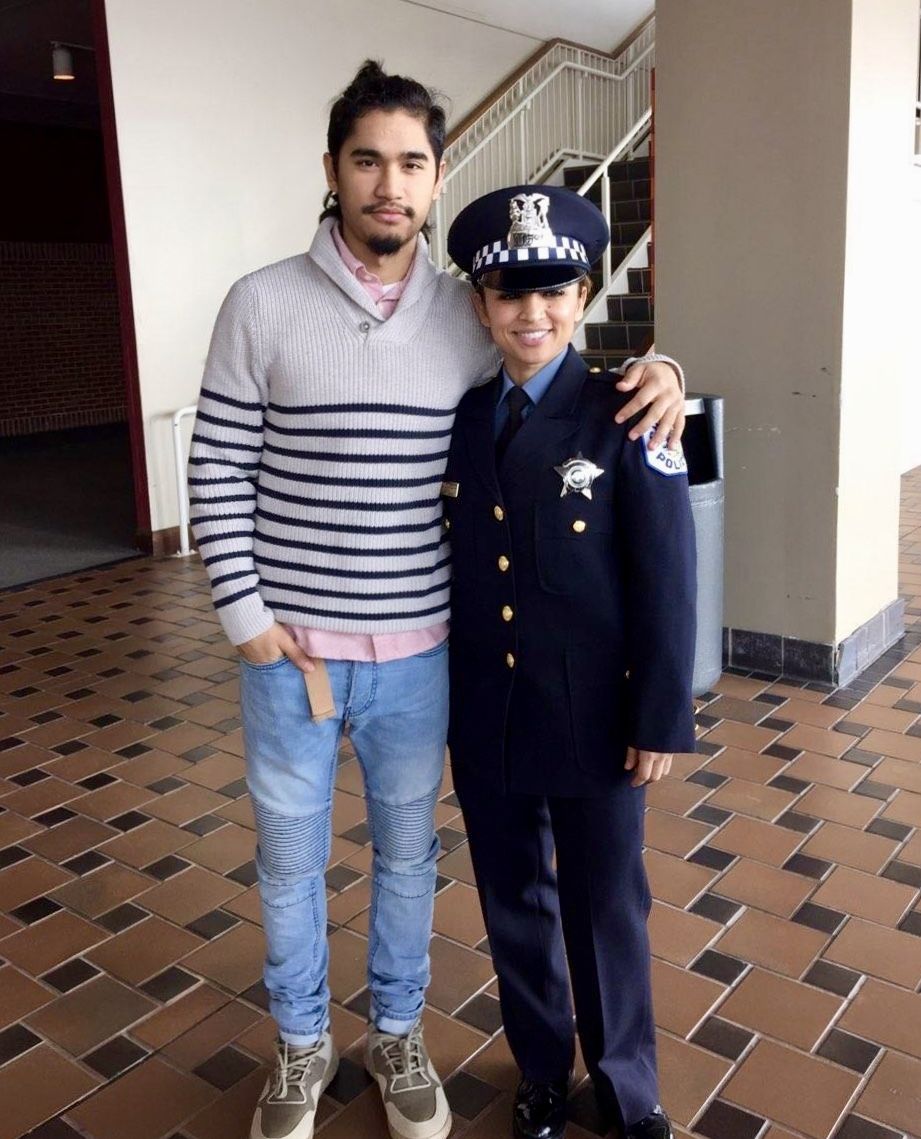 Carolina Salcedo and her son pose during her 2015 Chicago Police Department graduation ceremony. (Courtesy Carolina Salcedo)
While Salcedo's fascination with uniforms, institutions and structure make her a natural fit for law enforcement, her bubbly personality and easy empathy make her a seemingly ideal candidate for her current post in the Chicago Police Department: a pilot project that aims to use community policing to transform how the department does its work and build trust between Chicagoans and the police. 
It's the latest chapter in Chicago's decades-long experiment with community policing, an approach to police work that several Curious City listeners have asked questions about over the years. Rian Watt specifically wanted to know:
What is community policing, who does it help, and how does it differ from "regular" policing?
On the most basic level, community policing is a philosophy, a belief that communities are safer when police and residents work together. In practice, it often means embedding officers in the community they serve so that they can get to know residents, open the lines of communication and develop trust. The hope is that community members will then be more likely to cooperate with officers and help provide information about crimes when they occur. 
In Chicago, relationships between the police and residents, particularly in black and Latino communities, have long been tense. That tension has been fueled, in part, by a long history of high-profile abuses of power. They include the raid that killed Black Panther Fred Hampton in 1969, the torture of black suspects under police Commander Jon Burge in the 1970s and 80s, and a ring of drug dealing and corruption inside the department's anti-gang unit in the 1990s. In recent years, social media has allowed residents to easily spread allegations of abuse, as well as images of mistreatment and harassment by police.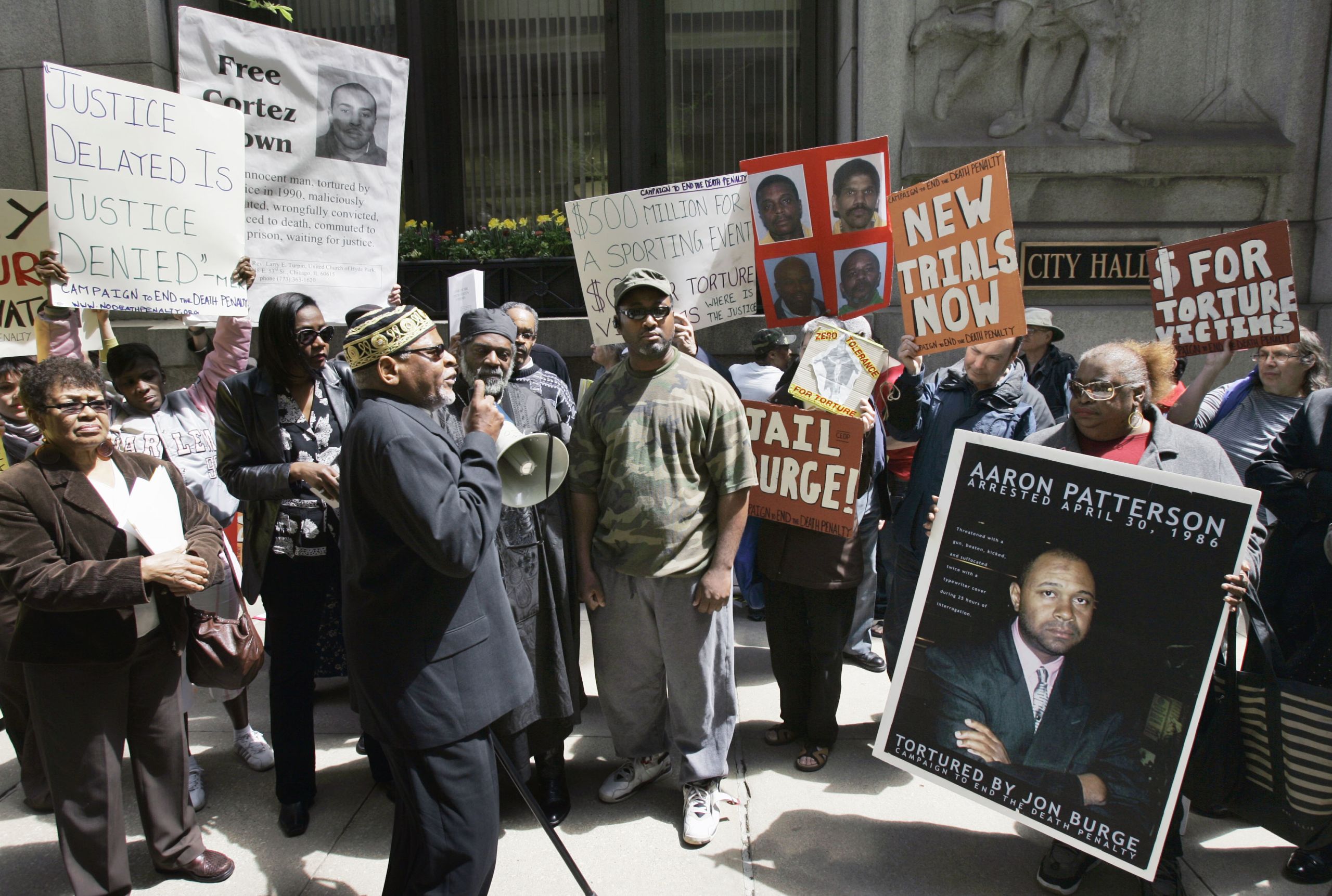 In 2007, activists rallied outside Chicago's City Hall to call on the city to do more to address decades-old allegations of police torture under Commander Jon Burge in the 1970s and '80s. (AP Photo/Charles Rex Arbogast)
And then, in November 2015, the world saw the dashcam video — obtained through a lawsuit filed by journalists — showing then-Officer Jason Van Dyke fatally shooting teenager Laquan McDonald 16 times. 
"This tragedy forever changed Chicago," said Chicago Police Superintendent Eddie Johnson in his retirement speech. "Trust in the CPD fell to its lowest that I've seen in my 31 years. Officer morale bottomed out, likely a result of the lack of trust the community had in us."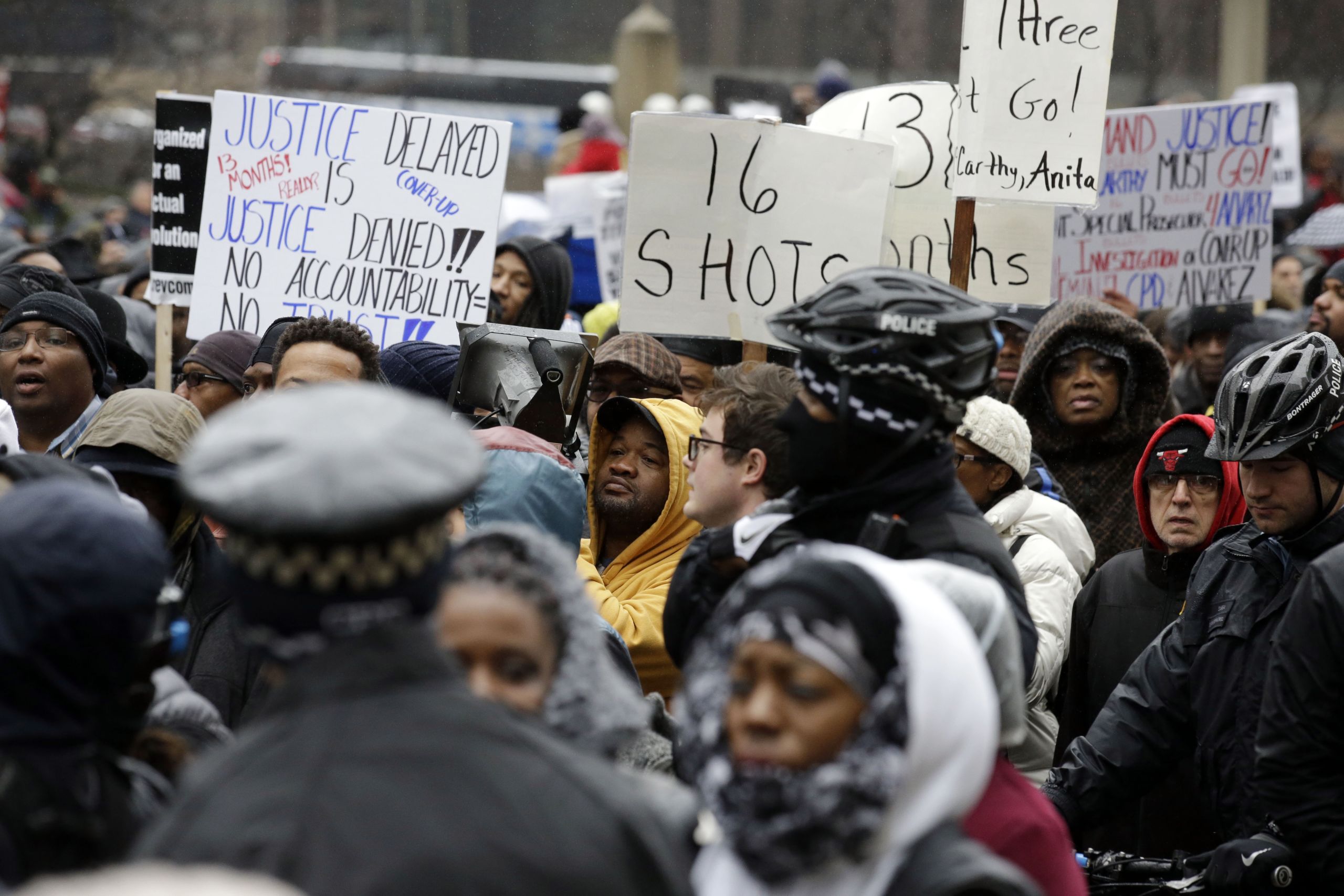 Community activists and labor leaders held a demonstration after the 2015 release of a dashcam video showing officer Jason Van Dyke fatally shooting 17-year-old Laquan McDonald. (AP Photo/Nam Y. Huh)
It's a good time to examine community policing in Chicago because Johnson has invested heavily in it during his tenure in the hopes that it will help mend the rift between Chicago police officers and the public. However, his imminent departure will ultimately leave the city's next top cop to determine the shape of these reforms — and their chances of success.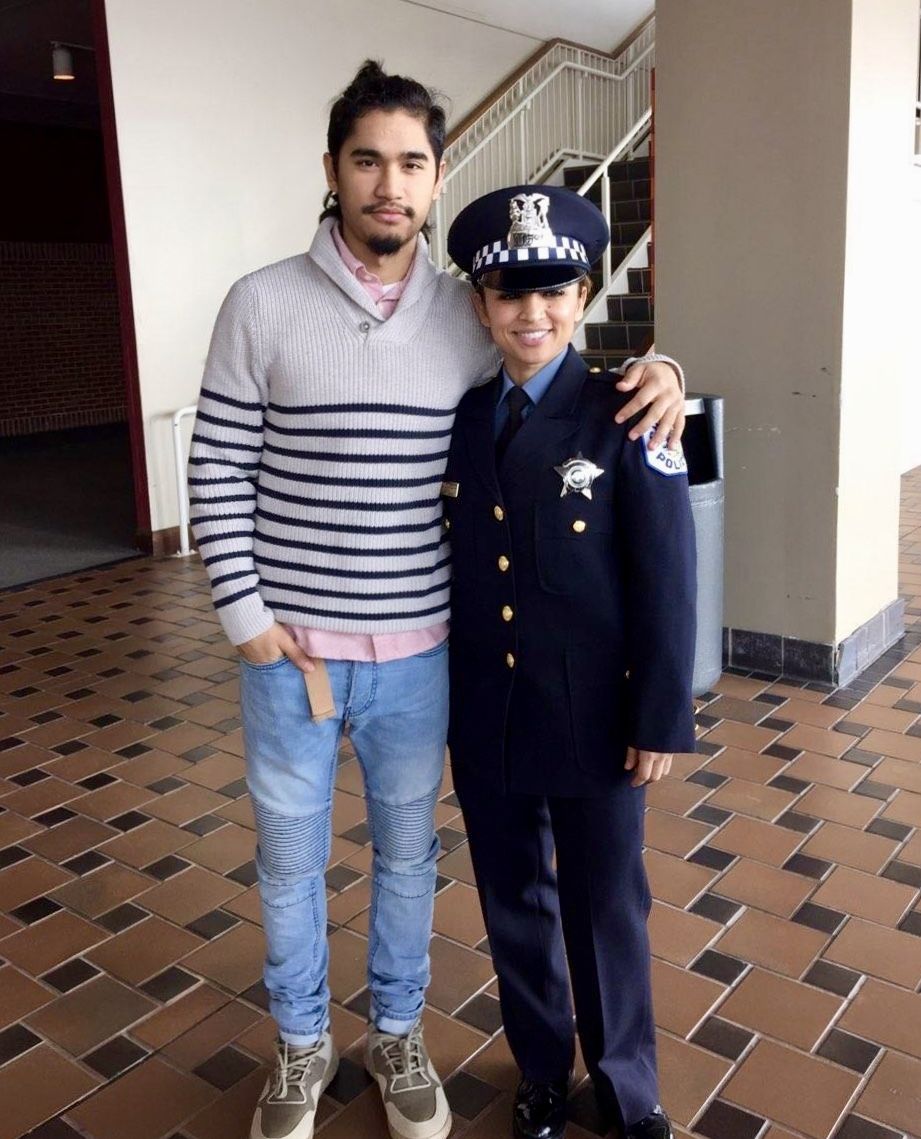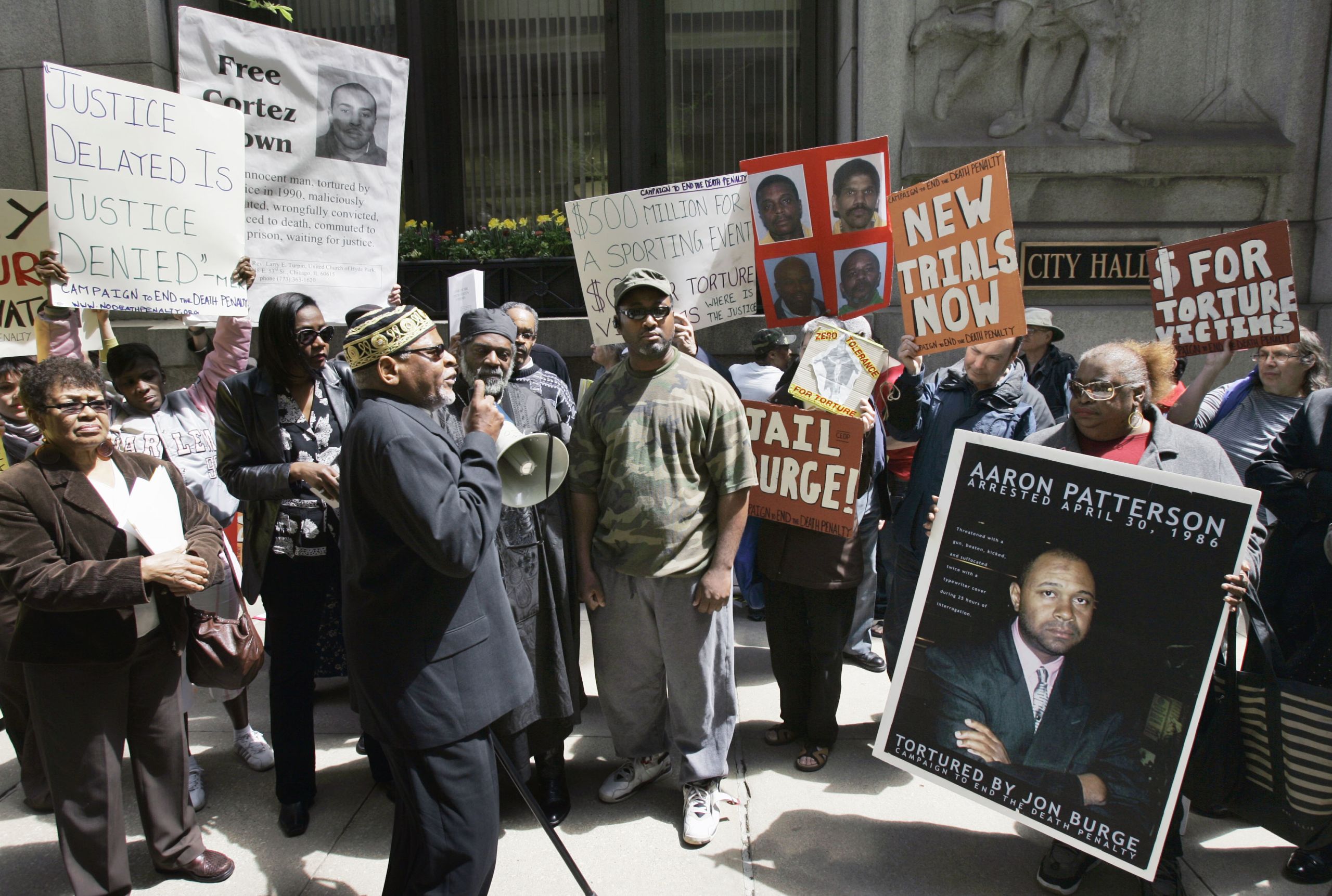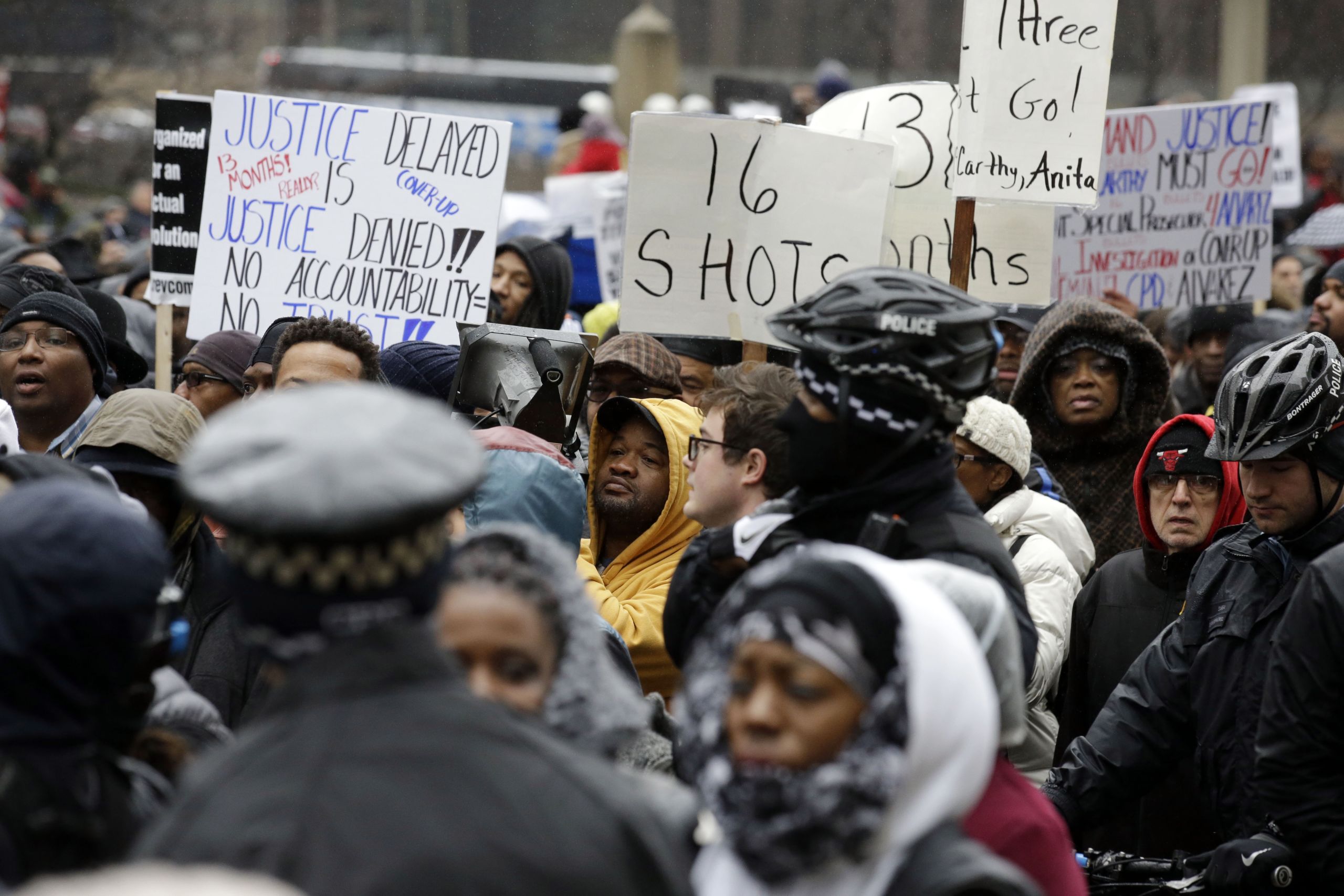 "A national model" is drained of resources 
Community policing got its start in Chicago in 1993, as part of Mayor Richard M. Daley's effort to address escalating violence driven by gang wars and the crack epidemic. As part of the Chicago Alternative Policing Strategy, or CAPS, officers interacted regularly with citizens in their beat. CAPS meetings were held in church basements, libraries and other public spaces, where designated officers joined residents to hear their concerns and field their requests. Officers, in turn, shared information about local crimes and arrests at a time before the internet made such information widely available.
CAPS District 9 participants march in a National Night Out celebration in 2006. The event was part of a campaign to promote police-community partnerships in neighborhoods nationwide. (Courtesy Wes Skogan)
Northwestern University political science professor emeritus Wesley Skogan did several in-depth studies on the early days of Chicago's CAPS program. He found that participation was particularly robust in low-income minority neighborhoods with high rates of crime. And the program seemed to be successful. In the beginning stages, before CAPS was expanded to every neighborhood, incidences of certain crimes dropped in CAPS neighborhoods in comparison to similar neighborhoods. And black, Latino and white residents all reported higher levels of trust in police. 
For its first decade under police Superintendents Matt Rodriguez and Terry Hilliard, Skogan says, Chicago's community policing program became a national model. And while there was still plenty of public distrust, CAPS provided a space for relationships to be built and residents to feel like they had a voice in how police resources were deployed in their neighborhoods. 
But then things went downhill. As Skogan describes it, the next three superintendents — Phil Cline, Jody Weis and Garry McCarthy — did not prioritize CAPS. They each starved it of funding and staffing, Skogan says. 
Over time, CAPS meetings became less frequent, and participation waned. A WBEZ investigation showed that, by 2014, participation rates had fallen two-thirds from a high in 2002. As Skogan describes it, the once-popular program became "a shadow of its former self." Today, critics say some meetings have devolved into mere gripe sessions for small groups of residents.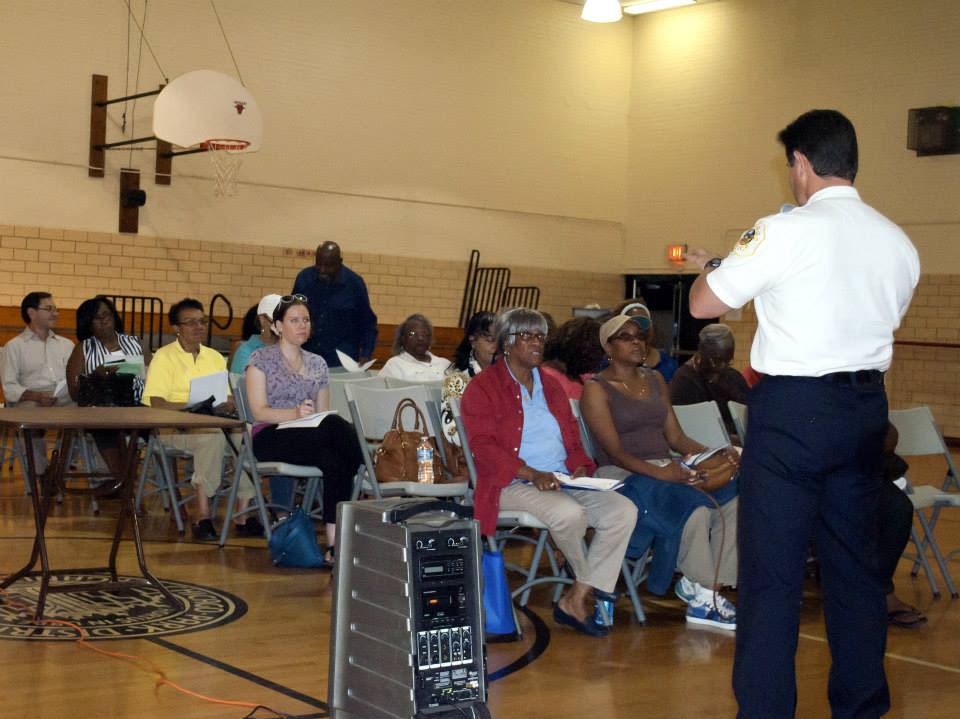 A CAPS officer addresses residents at a District 4 CAPS beat meeting in July 2013, as program participation declined. (Courtesy Wes Skogan)
After the McDonald video release and subsequent allegations of a cover-up by police and city officials, the Department of Justice began a wholesale investigation of the Chicago Police Department to determine whether it engaged in a "pattern or practice of unlawful conduct." Their scathing report catalogued multiple problems, including a deep lack of trust. 
Investigators also decried the precipitous decline in community policing. 
"Community policing within CPD began to be implemented half-heartedly and superficially to the point where, today, community policing is largely seen as illegitimate by many officers and community members," the DOJ report found.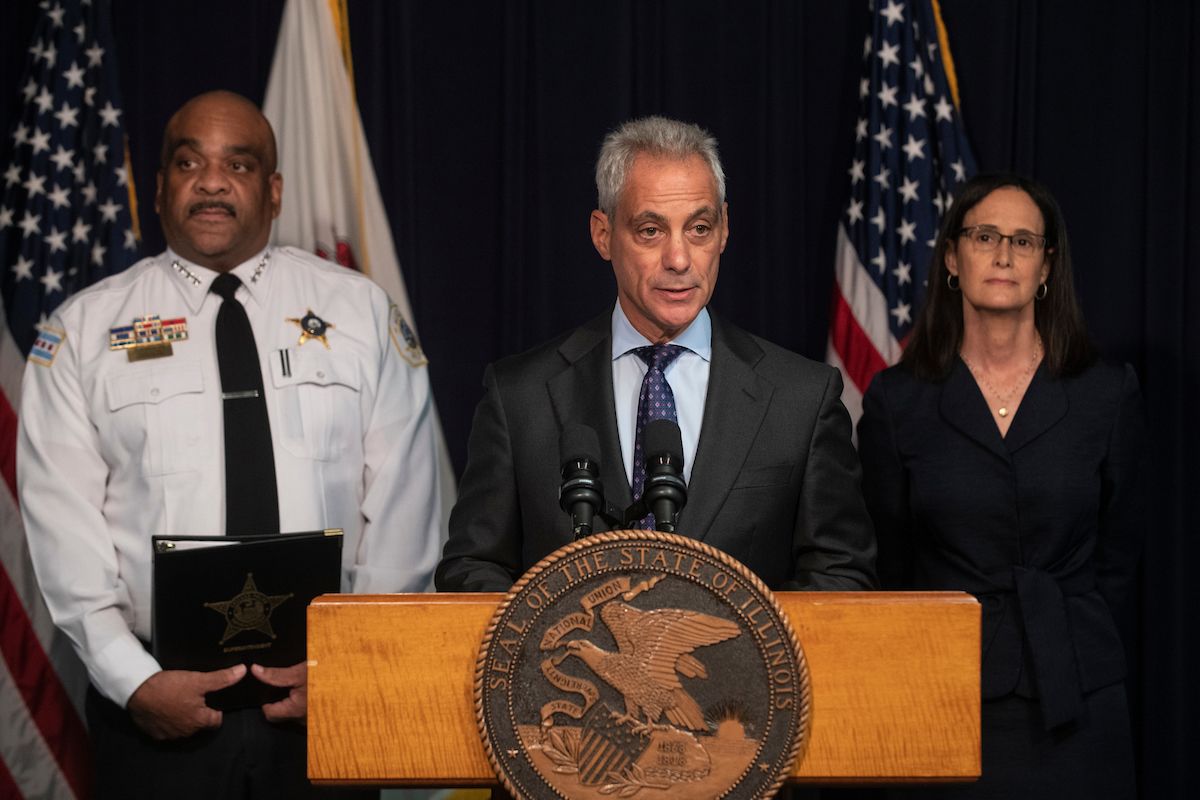 Mayor Rahm Emanuel announces the completion of a draft consent decree for reform of the Chicago Police Department alongside Chicago Police Supt. Eddie Johnson and Illinois State Attorney General Lisa Madigan on July 27, 2018. (Courtesy Marc Monaghan for The Chicago Reporter)
The report also called for the courts to oversee changes to the department's policies and practices, including ramping up community policing and integrating it throughout the department's operations. That mandate was included in the final consent decree, which went into effect earlier this year.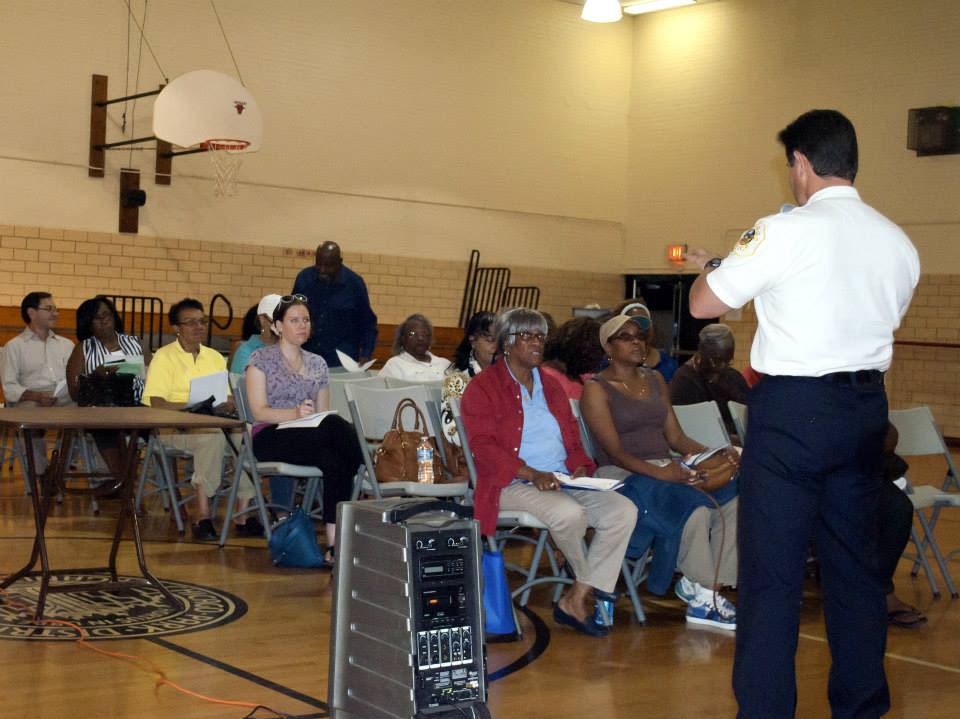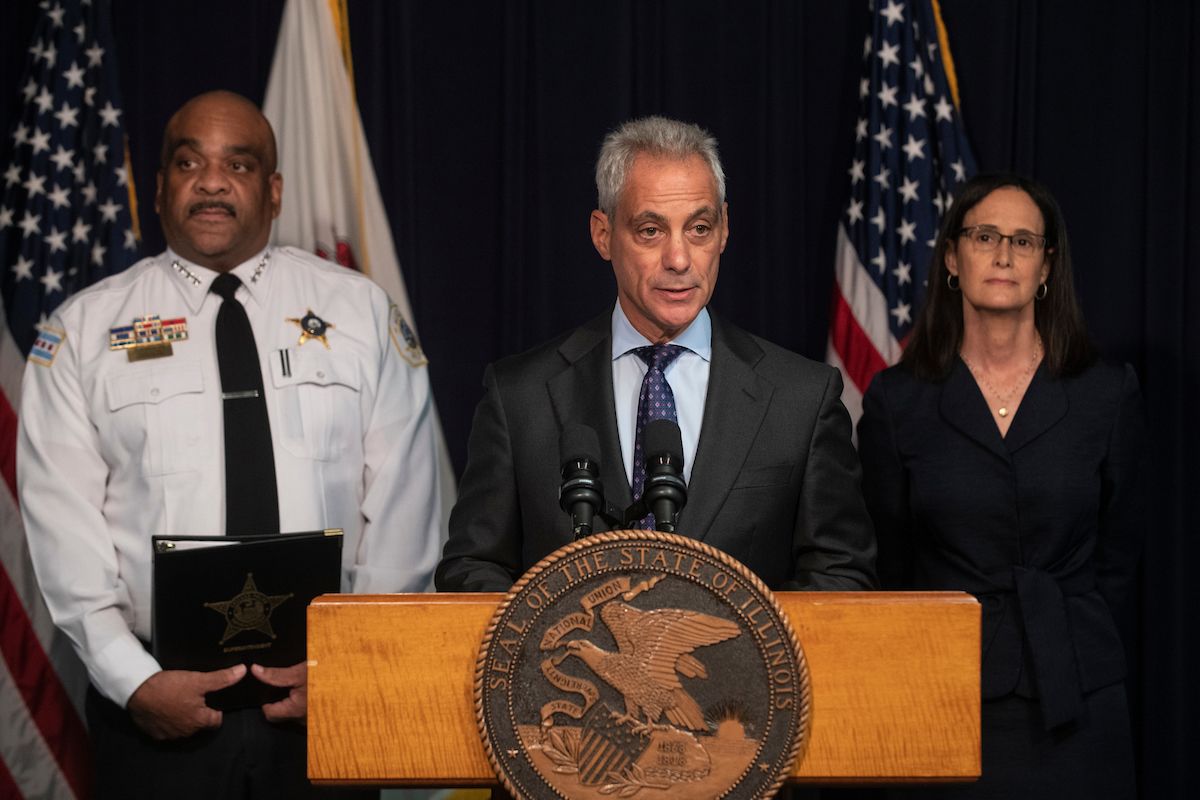 With mistrust high, Chicago revitalizes community policing 
As his retirement nears, Superintendent Johnson says he hopes that his efforts to reinvigorate community policing in Chicago will be part of his legacy. 
It's true that he expanded the activities and responsibilities of the Office of Community Policing over the past three years. There are sports leagues where police play basketball and baseball with kids, and "Smoke Out the Sellers" barbecues where police grill hamburgers with residents in areas known for drug dealing. "Cafes" allow residents to meet with officers over coffee and donuts, while strategic planning sessions give residents a chance to weigh in on police priorities. At one recent community conversation hosted by police in a church, an officer earnestly asked each resident leaving the event, "Did you feel heard?"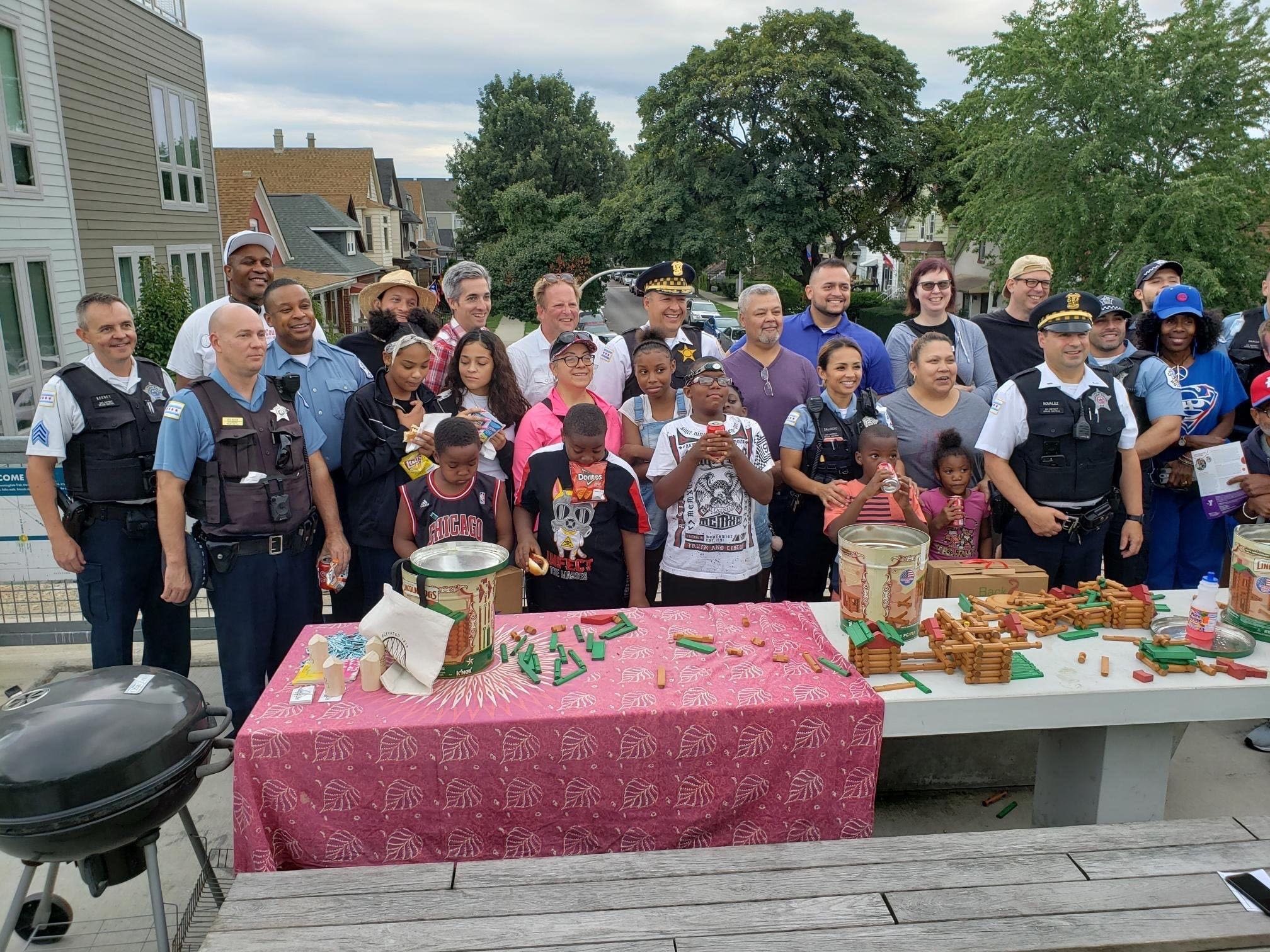 Community policing in Chicago is taking many forms in recent years, including this "Smoke Out the Sellers" barbecue in which police grill hamburgers with residents in areas known for drug dealing. (Courtesy Deondre Rutues)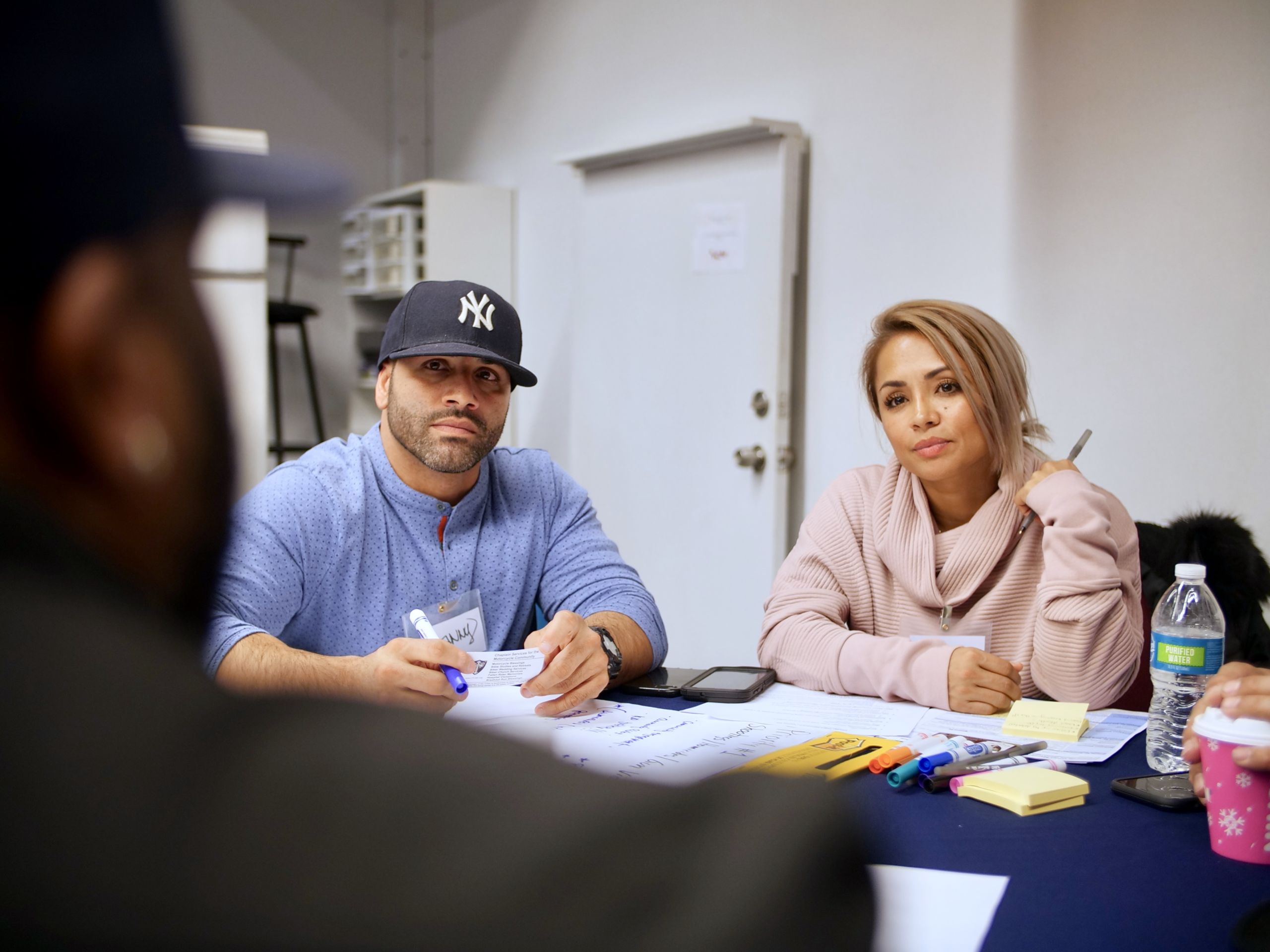 District Coordination Officers Danny Lopez and Carolina Salcedo listen to resident concerns about gang activity at an event hosted by the 25th District as part of its community policing efforts. (WBEZ/Katherine Nagasawa)
But Johnson's most ambitious community policing initiative is the pilot that Officer Salcedo is a part of. For that, he took inspiration from New York City, where a community policing project launched four years ago and has since been expanded citywide.
The Chicago pilot was developed by the Policing Project at New York University and launched last winter in the Police Department's 25th District. It's a sprawling swath of nearly 11 square miles, stretching from parts of the Austin and Humboldt Park neighborhoods on the south to Belmont Cragin on the north and Logan Square on the east.
The DCOs were beat officers previous to their new roles, so their salaries are paid by CPD but do not come out of the community policing budget. Funding from foundations, including the Joyce Foundation and the John D. and Catherine T. MacArthur Foundation, is helping to pay for things like NYU's involvement, community meetings and the evaluation of the project.
Proponents say the pilot goes far beyond CAPS, since it aims to change the very way officers do police work. 
Today, the project consists of a group of 10 "district coordination officers," or DCOs, who spend their time walking the streets and getting to know people in a relatively small area. The city has long had "beat officers" tasked with monitoring specific blocks within the larger district. But in reality, Chicago's beat officers often spend their days racing around the whole district, responding to calls on the radio, handling the encounters quickly and passing investigations off to detectives without looking back.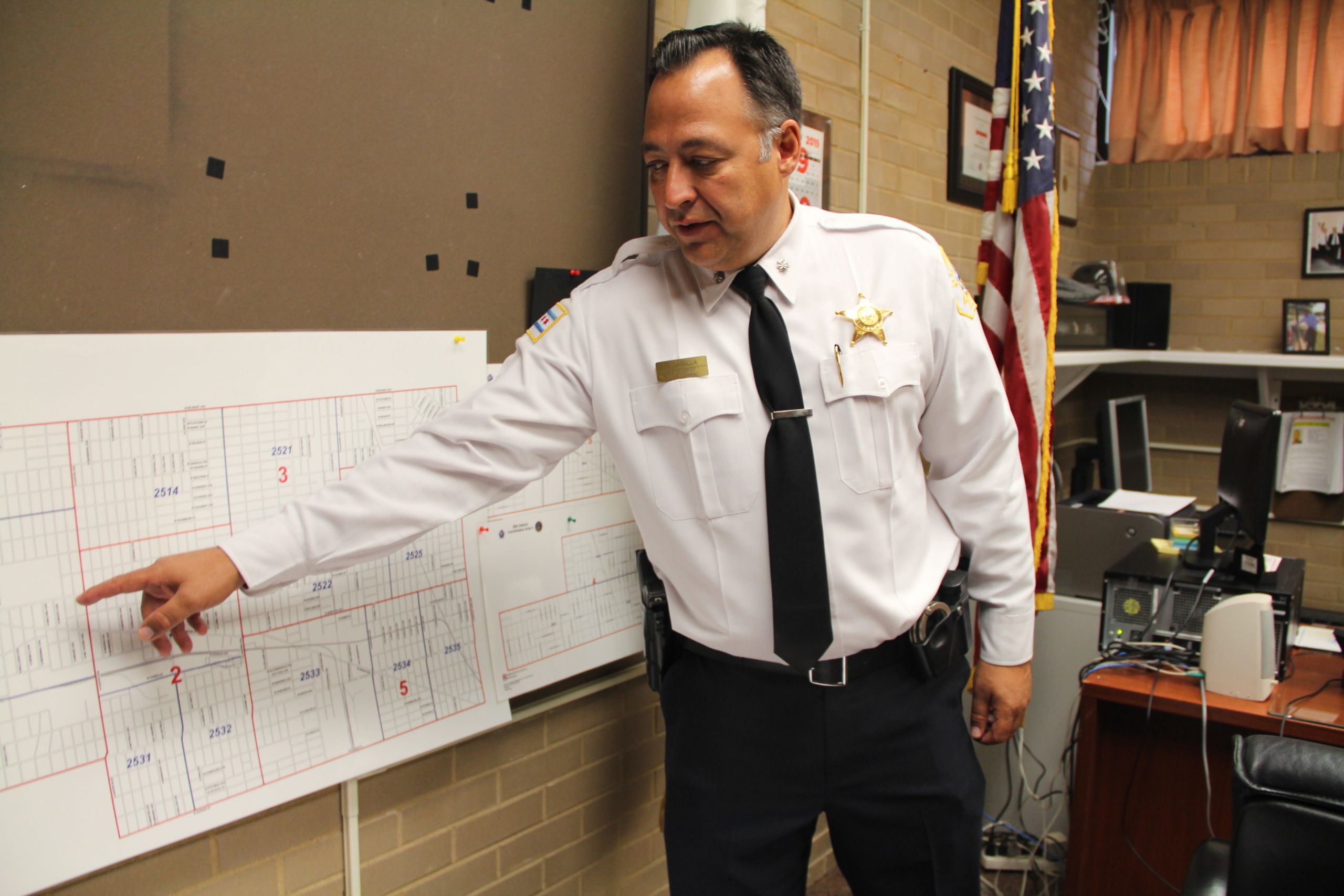 The Neighborhood Policing Initiative Program launched in District 25 in early 2019. Commander Tony Escamilla is overseeing the pilot project. (WBEZ/Kari Lydersen)
DCOs, on the other hand, aren't required to respond to calls from the radio. Instead, they give out their cellphone numbers to residents and get calls and texts directly from them. And the public has been utilizing these numbers. According to Johnson, between January and September, the DCOs received more than 20,000 calls and texts from local residents. 
The DCOs don't show up only when there's a crisis; they want people to view them as friends and allies. Many encounters end with a friendly hug, in spite of the officers' bulky gear-laden bulletproof vests.
The DCOs update detectives, beat officers, data analysts and others on their work, so that everyone is more aware of the nuances and needs in the district. They are the district's "quarterbacks," says 25th District Commander Tony Escamilla.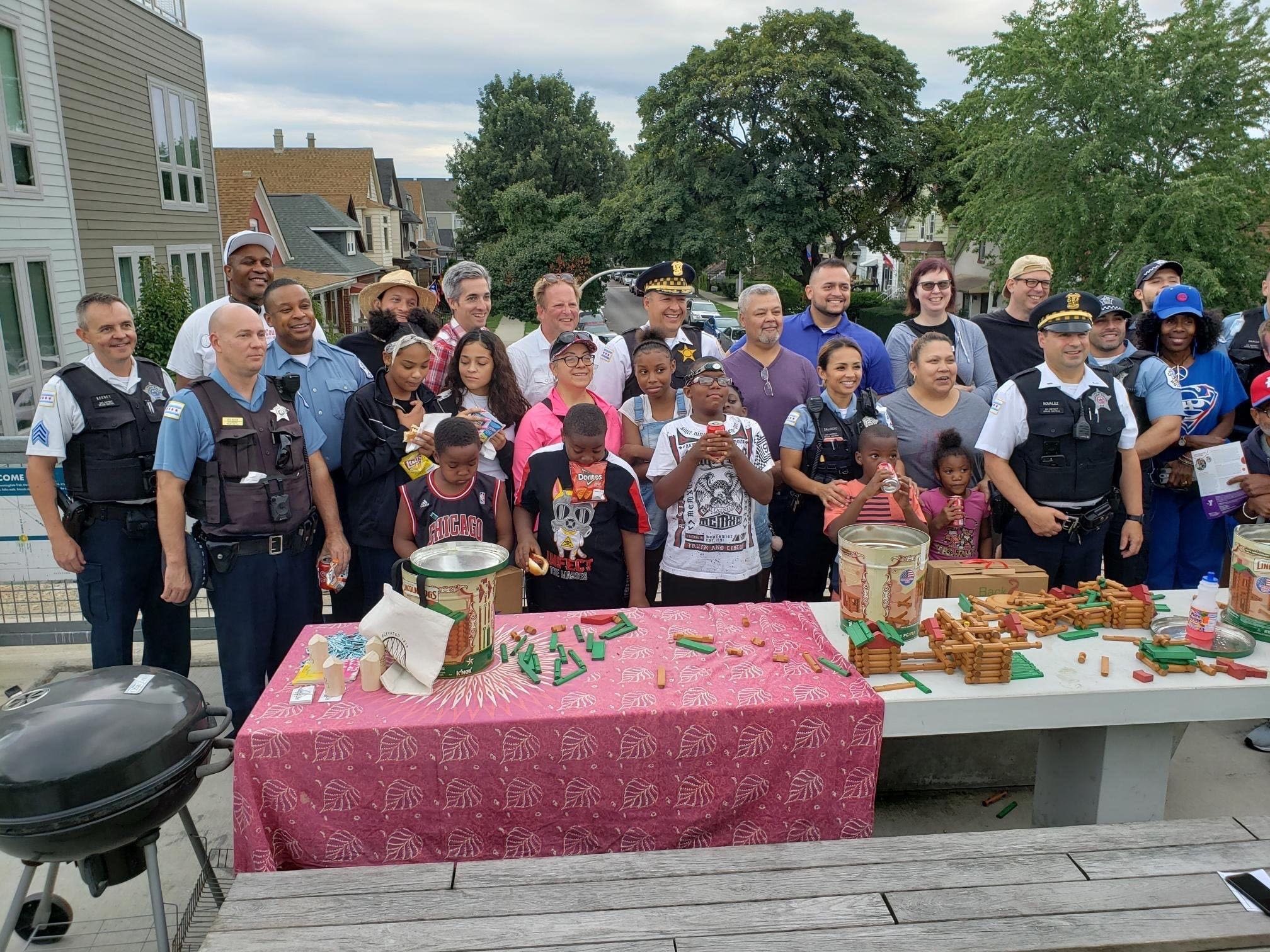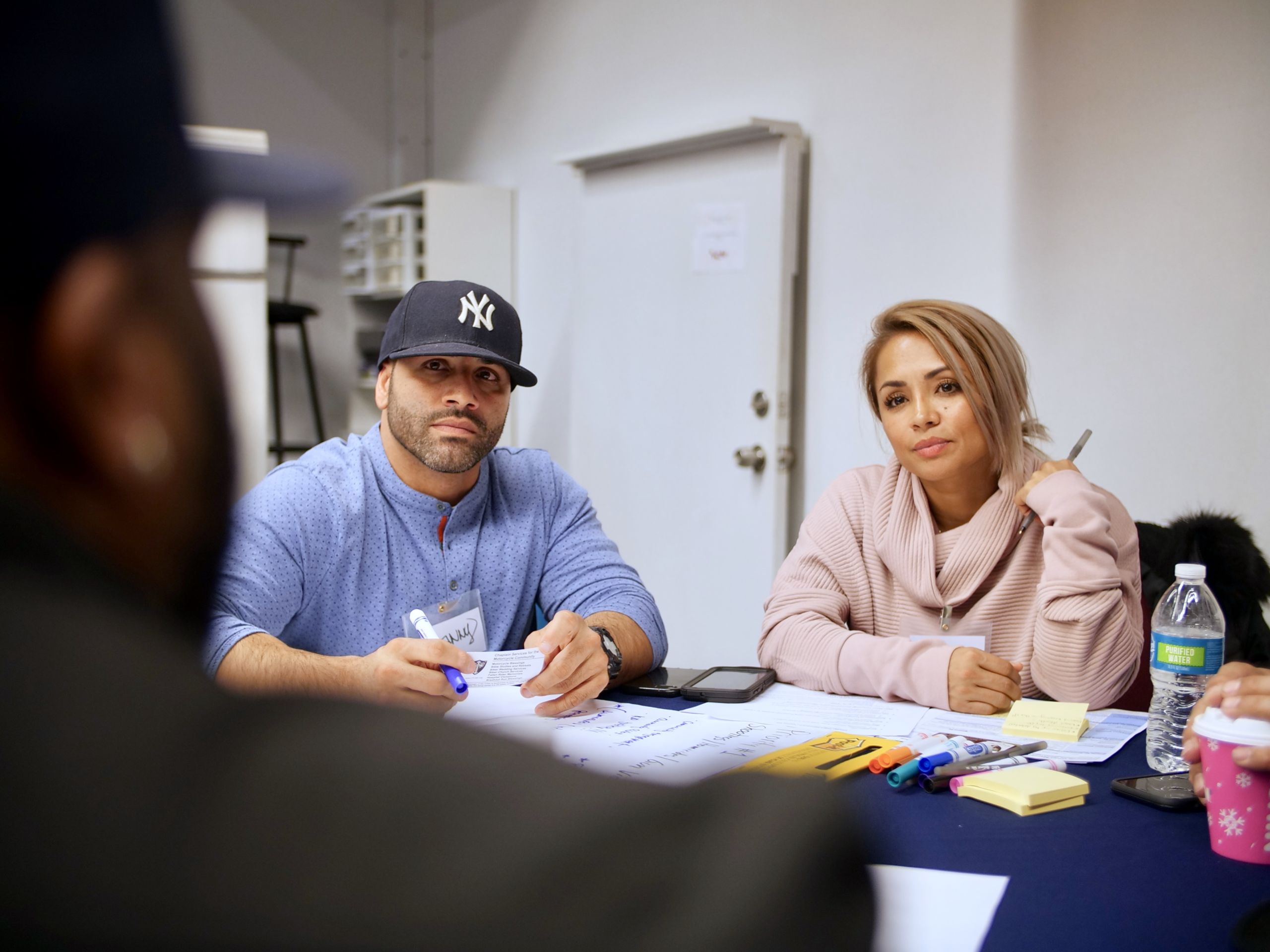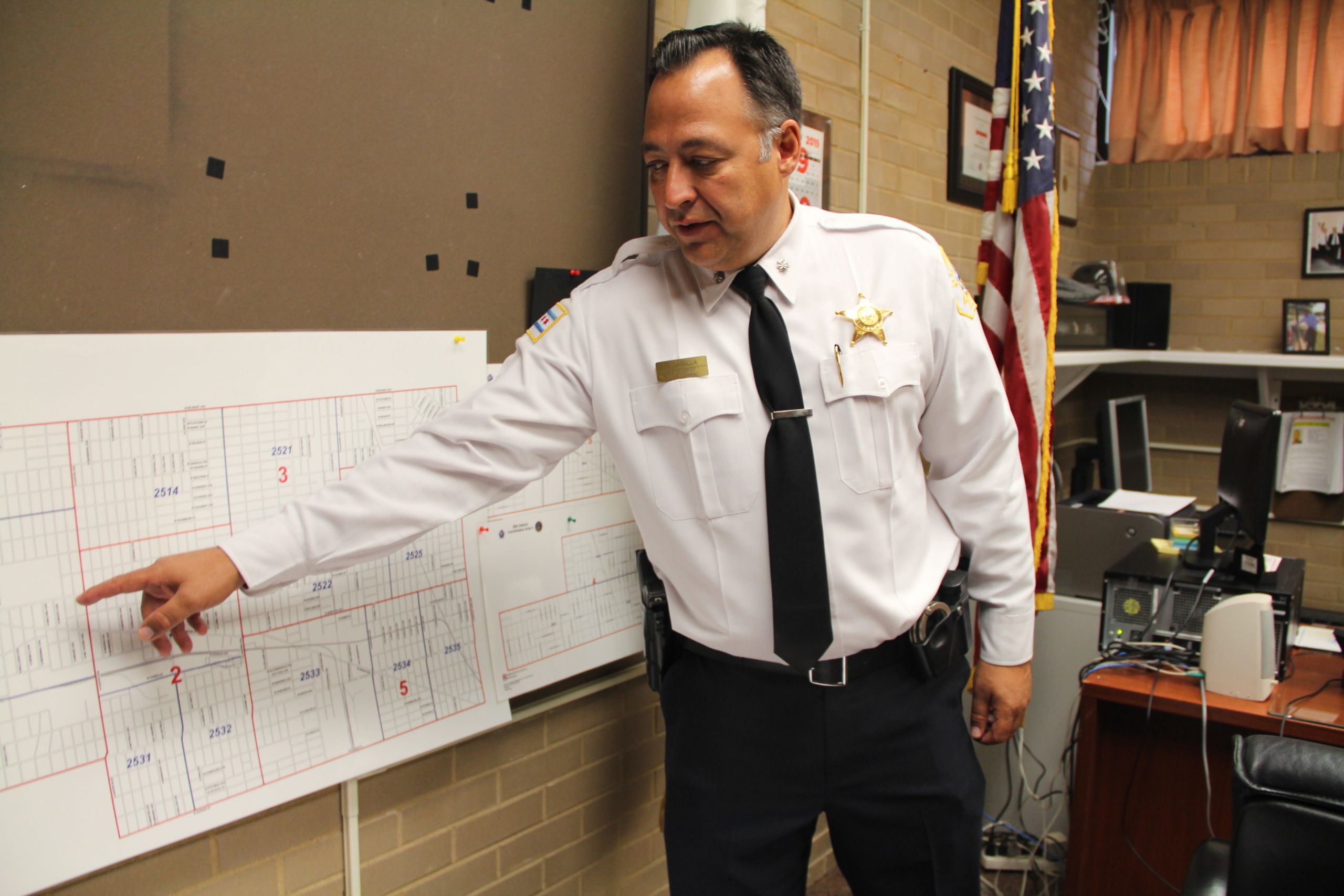 The pilot program's main strategy? Hit the pavement.  
Along with fighting crime and providing a direct line to the CPD, officers in the pilot project connect people with services such as rehab, mental health care and job opportunities. Sometimes it seems their work is a combination of law enforcement officer, social worker and therapist.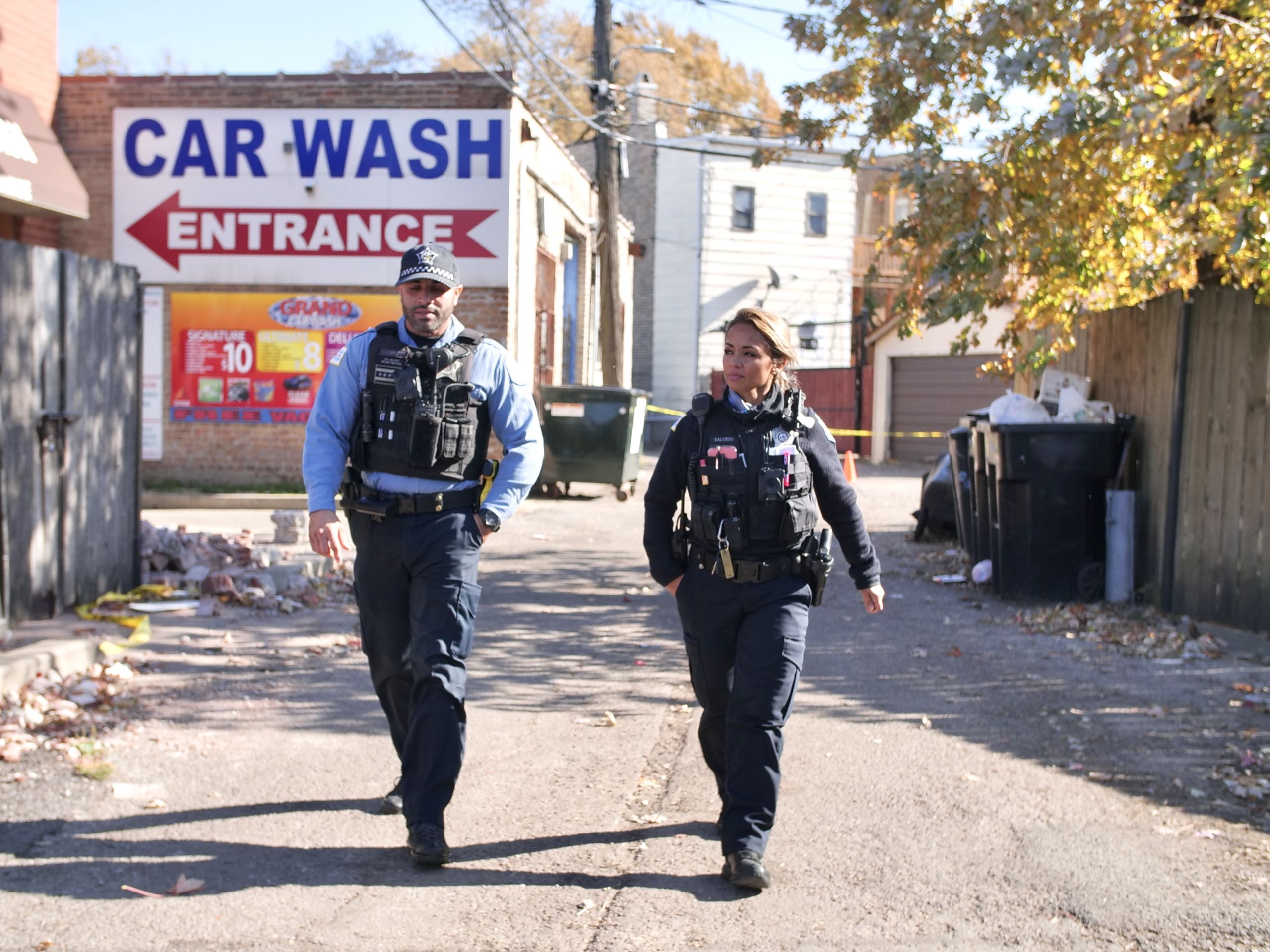 District Coordination Officers Danny Lopez and Carolina Salcedo head to a pawn shop after a robbery. Manager Stephanie Arroyo called Salcedo after she called 911 and was put on hold. (WBEZ/Katherine Nagasawa)
On a recent morning, Salcedo – the officer from Colombia – and her partner, Officer Danny Lopez, headed to a pawn shop at the corner of Grand Avenue and Pulaski Road. It had just been robbed, a $1,500 diamond-encrusted pendant snatched by a suspect who had scoped out the store the day before. Manager Stephanie Arroyo was put on hold when she called 911. So she used another line to call Salcedo.
Salcedo and Lopez arrived quickly, comforted her, and discussed how to find the suspect.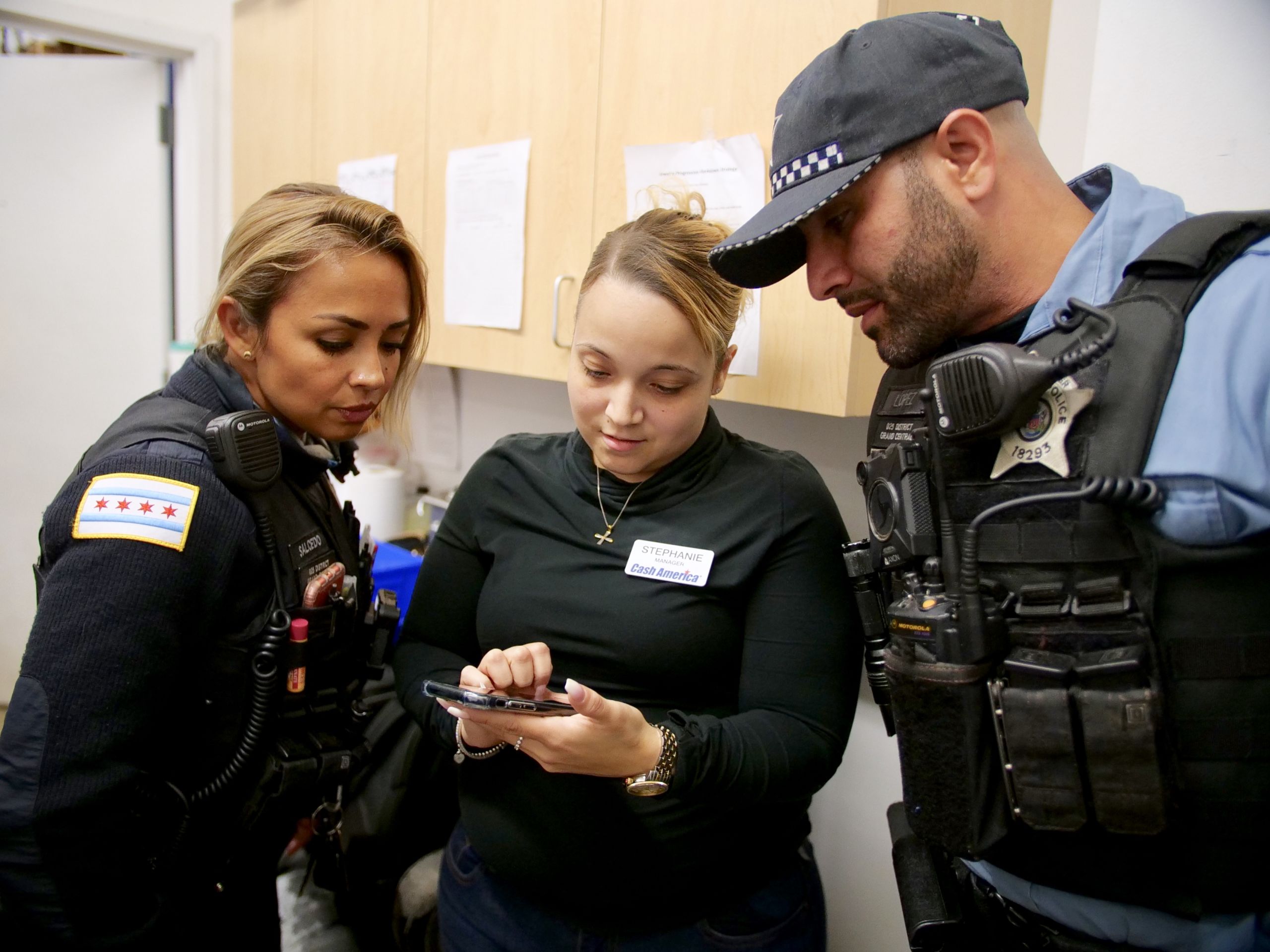 Pawn shop manager Stepehanie Arroyo shares the details of the robbery with District Coordination Officers Danny Lopez and Carolina Salcedo. (WBEZ/Katherine Nagasawa)
Later, outside the pawn shop, the officers looked for a woman they know well. She's struggling with heroin addiction, and her mother begged the officers to help her get treatment. Salcedo says that when she doesn't see the woman for a few days, she feels desperate, worrying about her. Salcedo brings her sweets to help with heroin withdrawal and tries to convince her to go to rehab.
"She says she wants to and she's crying and reaching out, but the addiction — she makes excuses, I think she just likes being high," Lopez said with frustration. "Maybe one day she'll do it. We're not going to give up." 
Later, in the convenience store across the street, where they often check in, it's clear they know almost everyone. A woman asked Salcedo — a fitness fanatic — about an upcoming 5K race Salcedo has promised to run with her. A ragged-looking man with a black eye saunters by. 
"What happened to your eye, who gave that to you?" she inquired.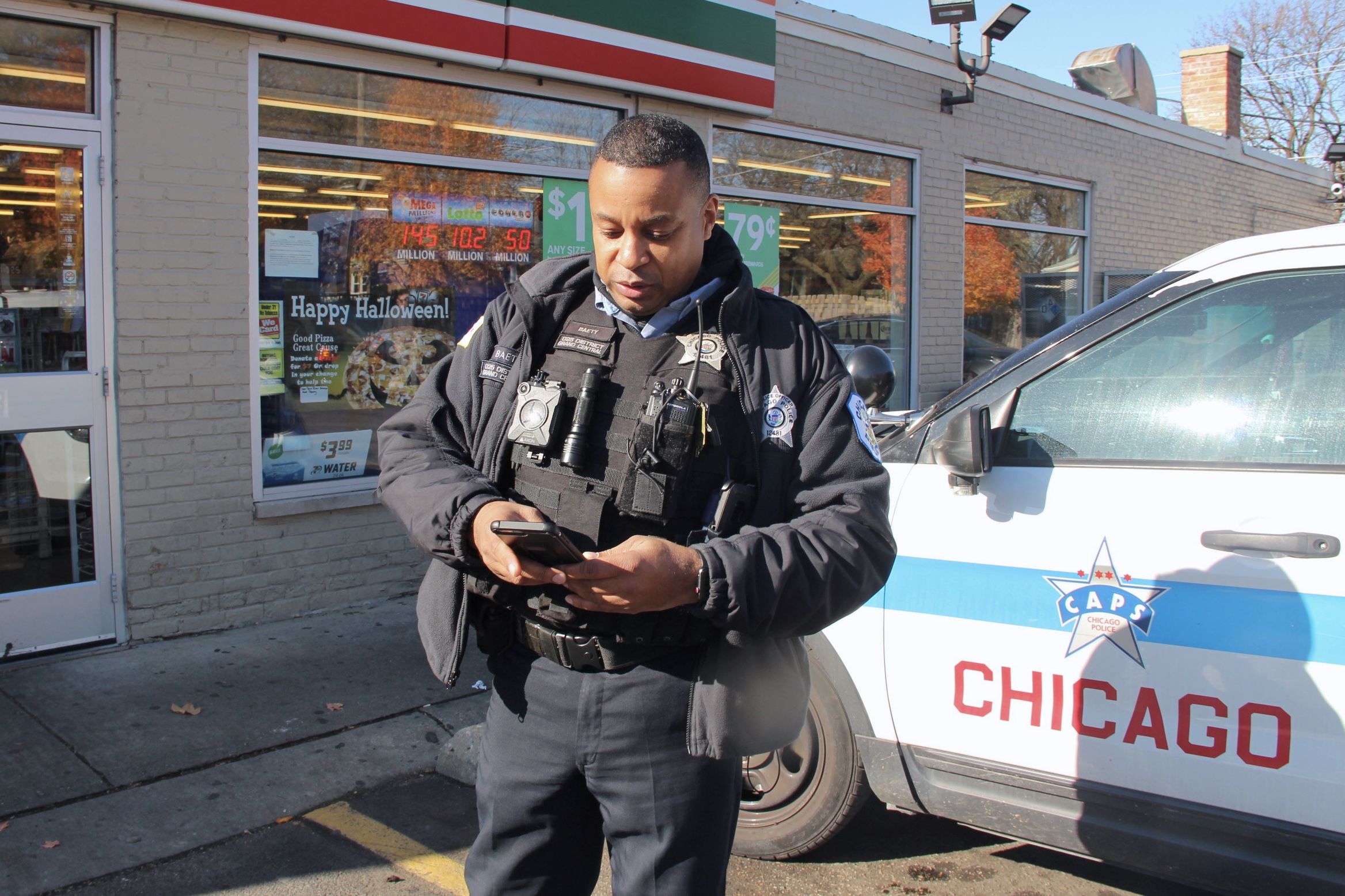 District Coordination Officer Darryl Baety answers a text from a resident on his department-issued cell phone. The ten district coordination officers have received more than 20,000 resident calls and texts since the pilot program began. (WBEZ/Kari Lydersen)
Other DCOs interviewed for this story talked about getting a sex worker into rehab and driving her there themselves. They also recently resolved a situation between two neighbors that could have resulted in unlawful entry charges but didn't. Officers were able to mediate and get the intruder mental health care.
Commander Escamilla says that the community-centered, relationship-based approach isn't just good for advancing the goals of community policing, it is also much healthier for officers. 
"There's just such a wellness component to it because they're actually doing what they came on this job to do," he says. "They're getting to see the results of the problems they're addressing… It goes a long way for our officers to say, 'Man, this is really what policing is about.'"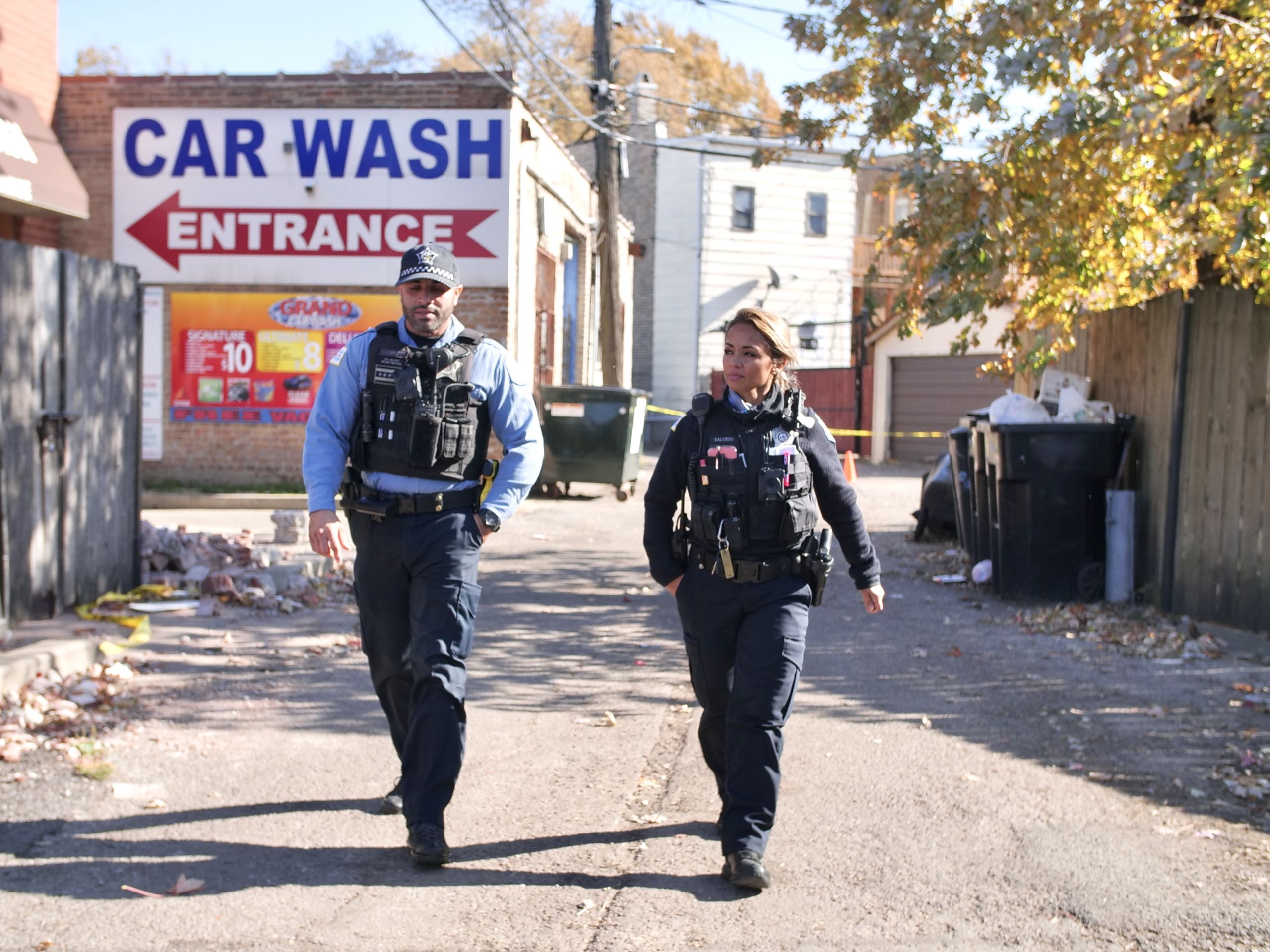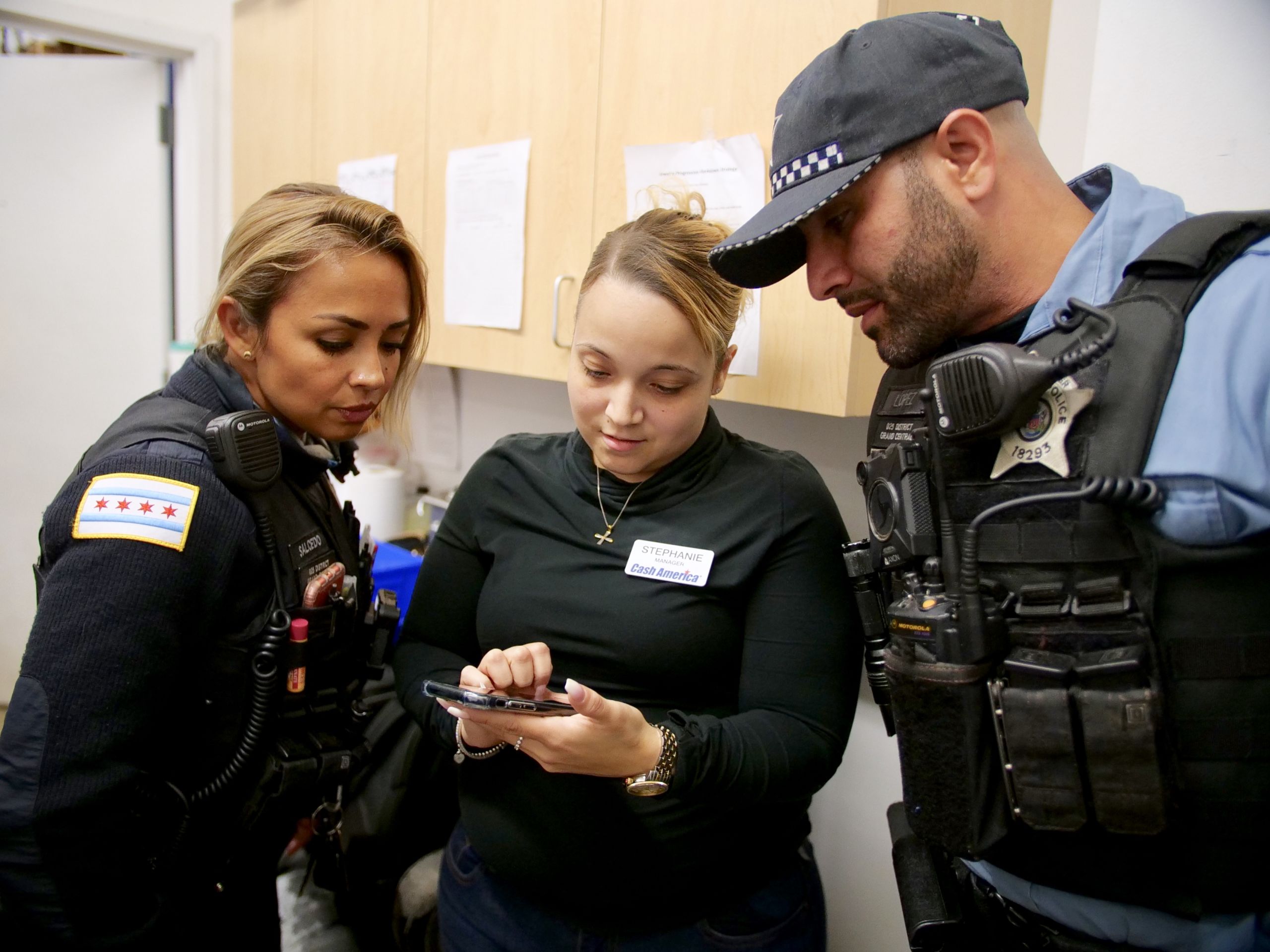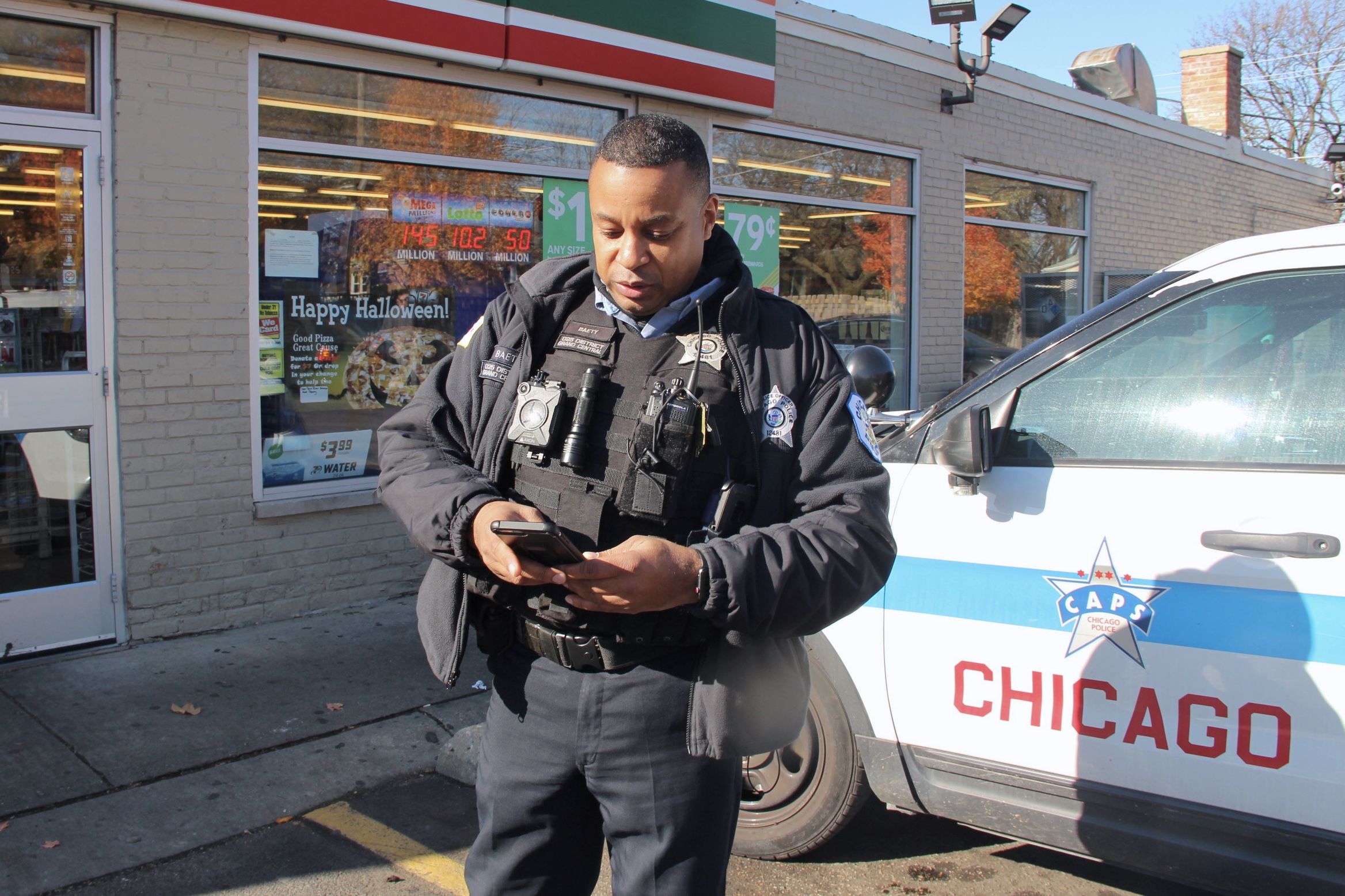 Community ambassadors face an uphill battle
Watching the DCOs at work — all smiles, laughter, hugs, encouraging words — it can seem too good to be true. Could the Chicago Police Department infamous for torture under Burge and the murder of McDonald really become a feel-good operation offerring help and friendship?
Some residents don't think so. 
LaCreshia Birts, 29, is a community activist in Humboldt Park who has participated in CAPS programs, but she said she saw them largely as a "sham." 
She said she realizes that there are many good individual officers in the department. 
"I've met people in the police department who I think are genuine and who truly value the community, but they are not the people in charge," she says. "I definitely think that black and brown people are not going to trust any new models of community policing, and they shouldn't."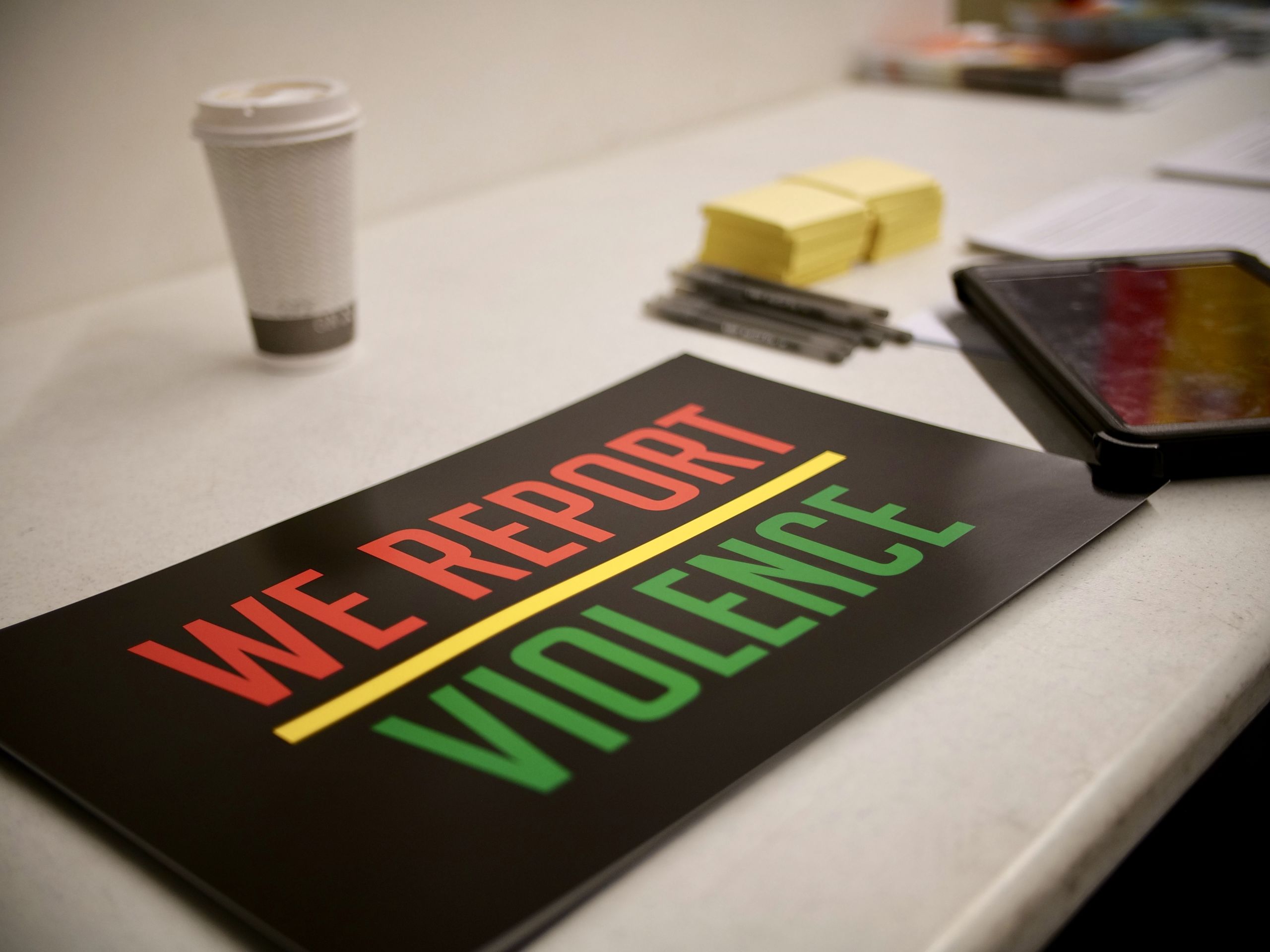 The community ambassadors program enlists residents to serve as liaisons between the police and neighborhood residents. (WBEZ/Katherine Nagasawa)
The architects of the pilot program realize that there are many people who share Birts' sentiments. They are pinning their hopes on a designated group of "community ambassadors" to help them make inroads. These residents act as liaisons and introduce officers to their neighbors, including those who might otherwise refuse to talk to them. And they hold regular meetings where they critique the officers' performance and come up with recommendations for improvement. 
Deondre Rutues is a substitute teacher and community organizer who lives in Austin, located in the 25th District, where he is the director of the community ambassadors group. At 32, he is also its youngest member.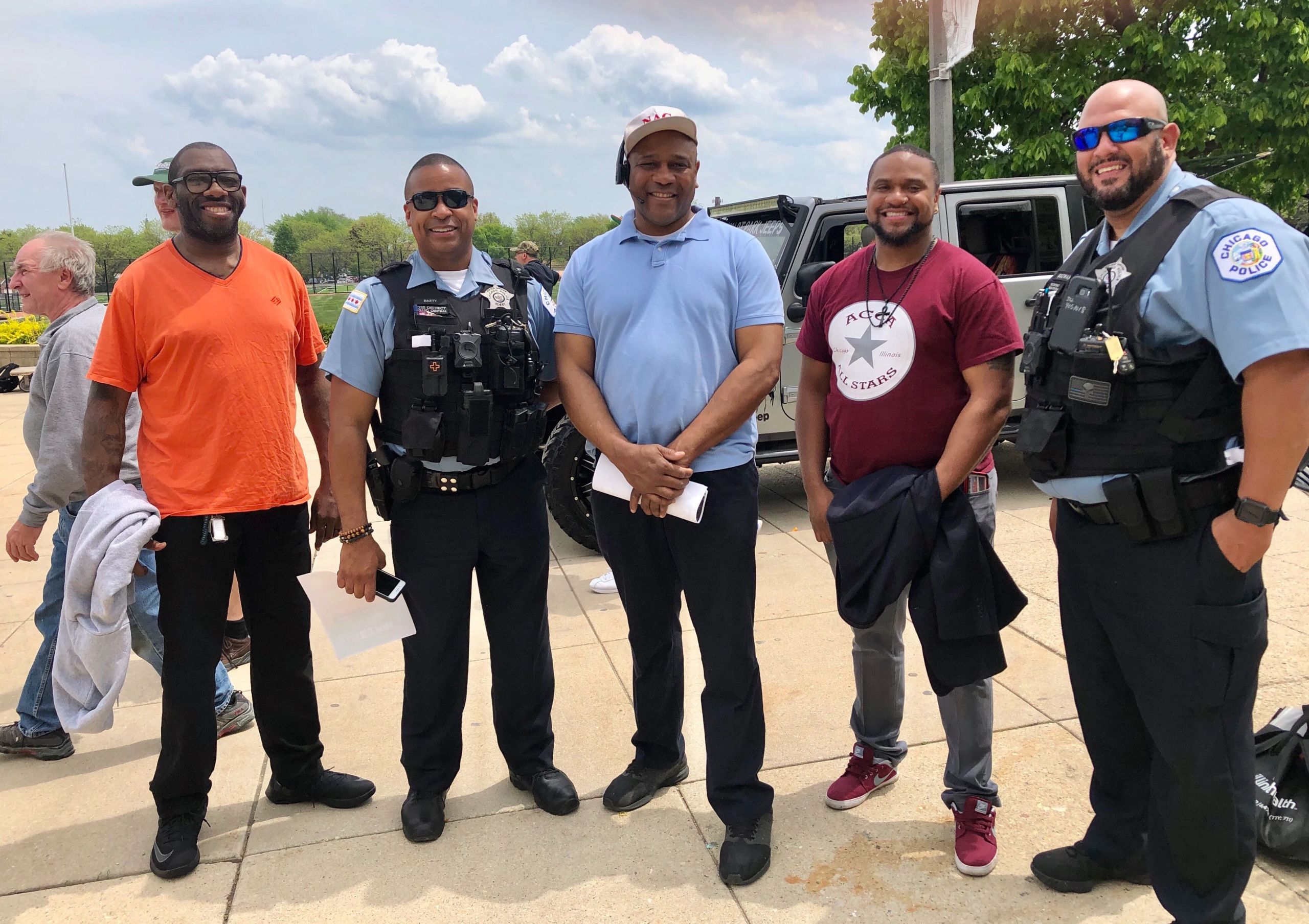 Deondre Rutues (second from right), director of the community ambassadors program in the 25th district, poses with other community ambassadors and District Coordination Officers at an event at Steinmetz College Prep. (Courtesy Deondre Rutues)
Growing up, he stayed out of trouble but had a disturbing run-in with officers nonetheless, he says. As teenagers, he and his twin brother were playing basketball one day and heard gunshots, so they ran. 
"The police pull up alongside us real quick, like, 'Hey, why are you guys running?'" Rutues says. He said they told the police, "We heard what you heard, we're trying to get out of the way, too."
But an officer threw Rutues' brother against the squad car, as he describes it, "smashing his face and arm on the car."
"I'm mad, like what are you doing this for," he continues. "So I just turned around, started crying."
While Rutues knows many people have had encounters like this, he wants to help make a change. When he introduces officers to people in his neighborhood, he says the reception is mixed. 
"You get a lot of people that are like, 'I'm so happy to be able to meet the police officers,'" Rutues says. "But then you got a large population of people like, 'Oh, you know, F them.' I have my own reservations against the police officers as well. But I do believe that we need to strengthen our community with their help."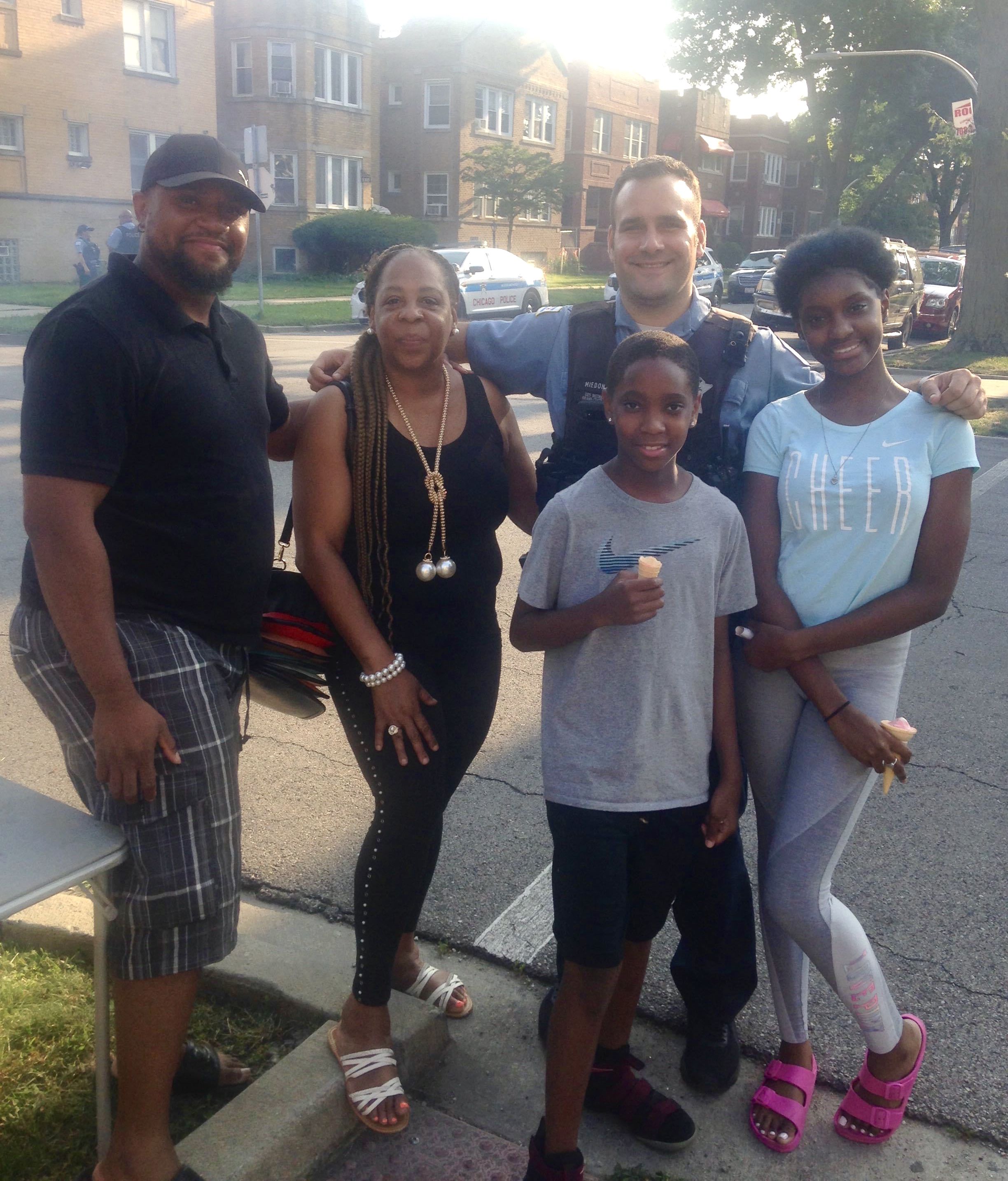 Deondre Rutues (left) mingled with family members, other community leaders and police officers at a summer community ambassadors event. (Courtesy Deondre Rutues)
Despite the challenges, Rutues is committed to helping fix the "broken foundation" of police-community relations. 
"I wouldn't be doing this if I didn't think it was possible," he says. "I think it's quite possible, but it's gonna take a lot of work."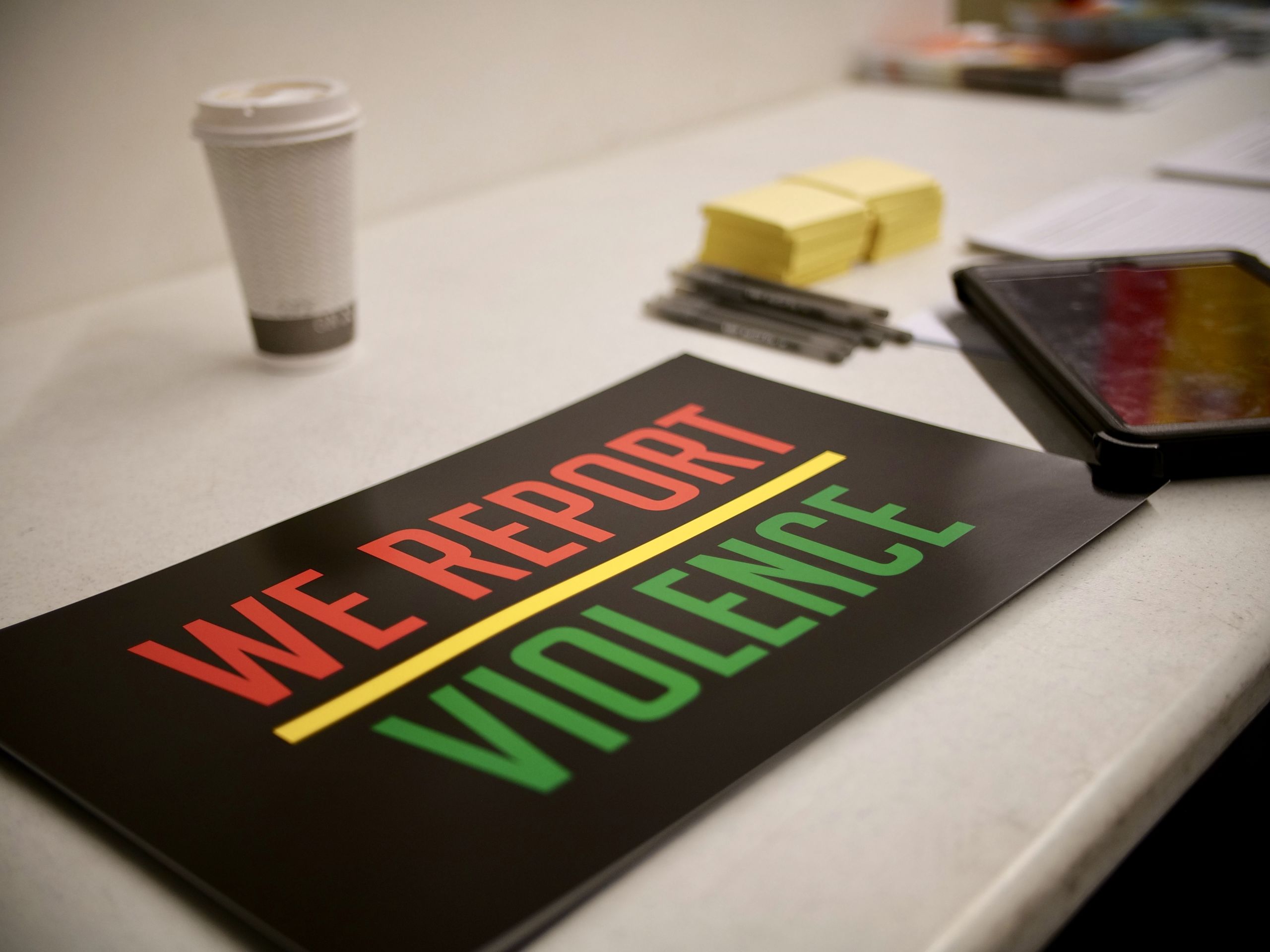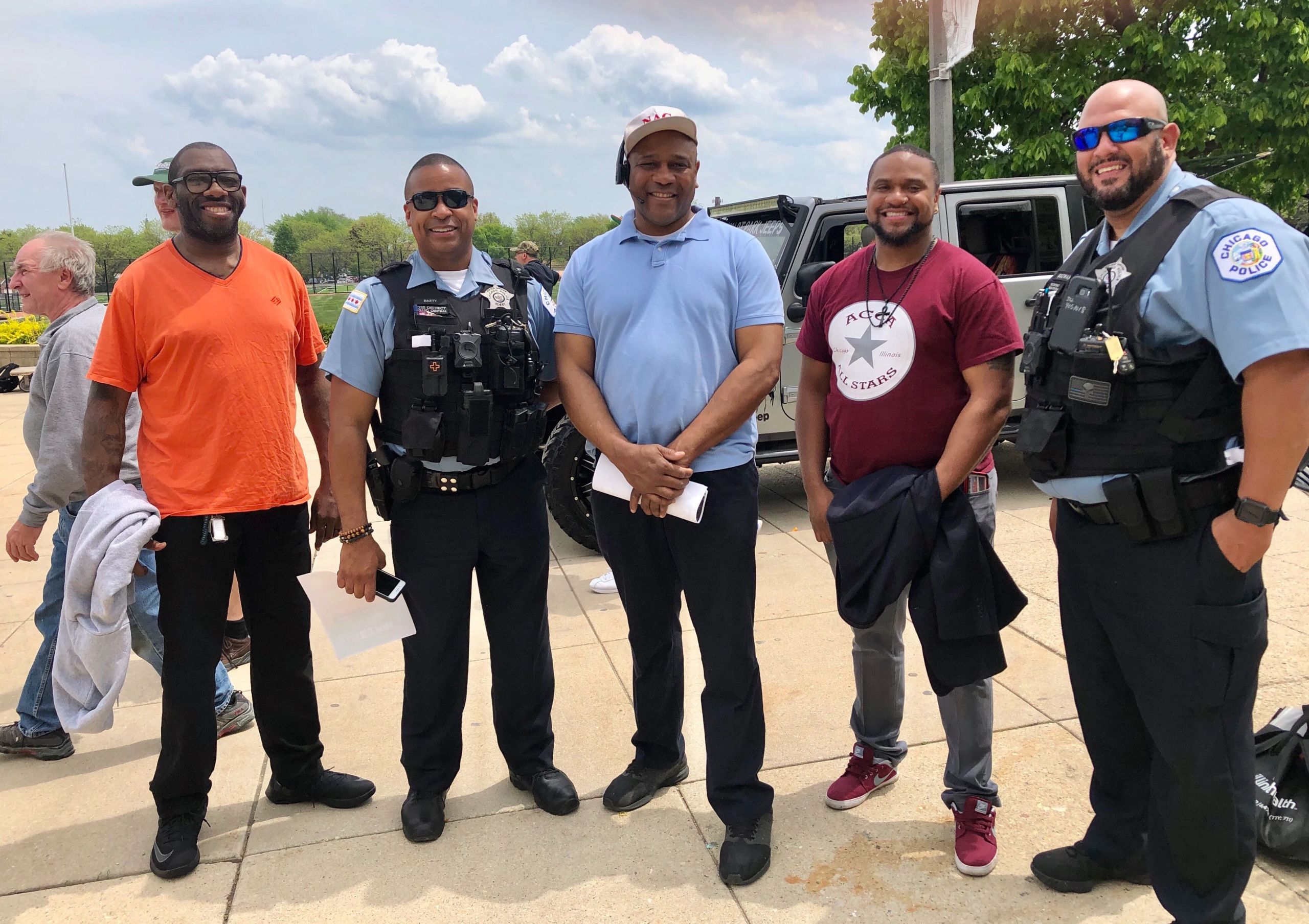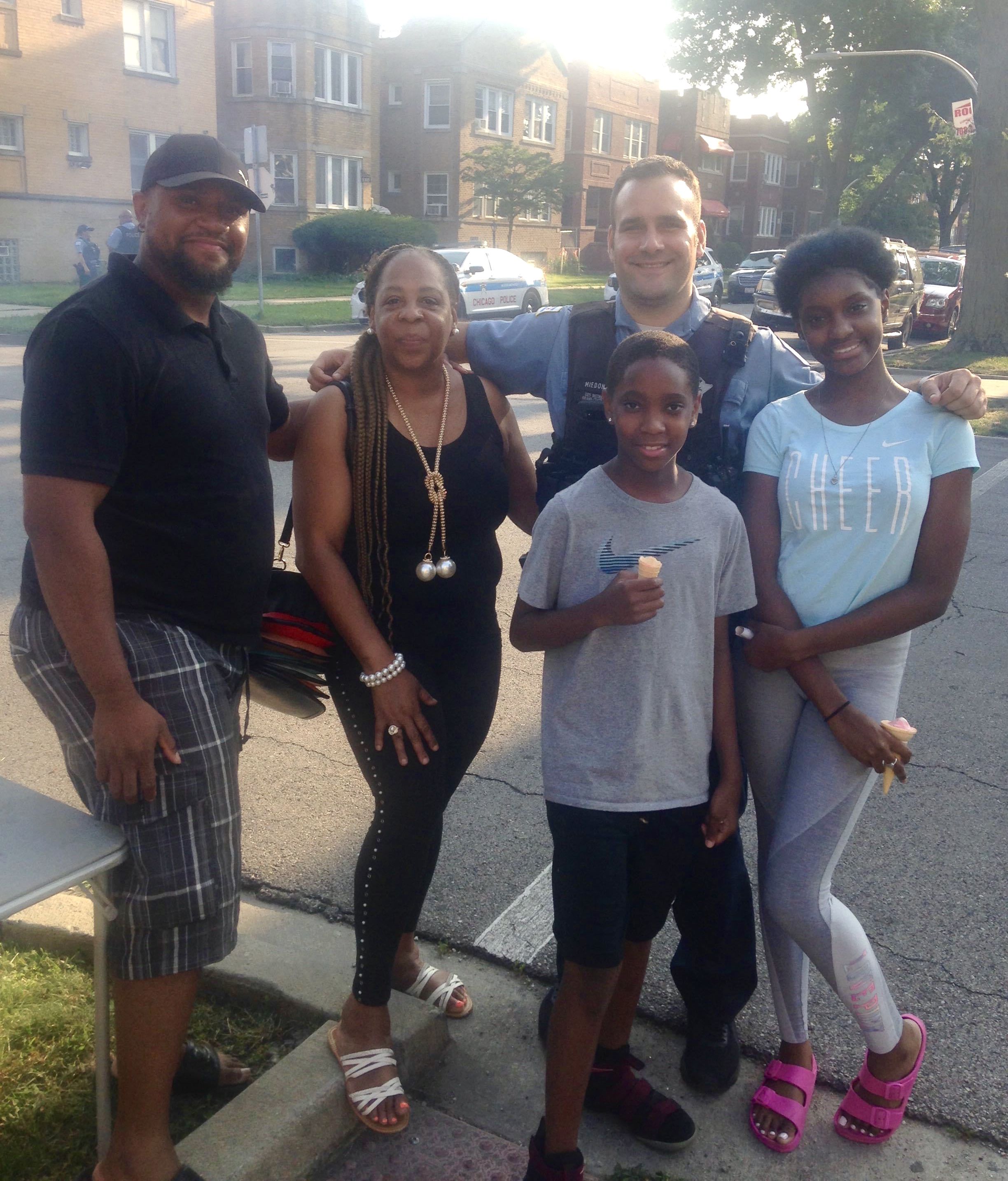 Chipping away at the stigma X 
Academics at Northwestern University and NYU have been studying the impact of the pilot project in Chicago, and they say preliminary results look promising.
"Residents feel both safer and have more trust in the police," says Barry Friedman, faculty director of the Policing Project at NYU's law school, about the Chicago pilot. "In addition, calls for service are down – most likely because residents are contacting the DCOs directly, itself a sign of increasing trust."
Crime is also down in the district, though it's down citywide, so it's hard to determine if that's linked to the pilot project. 
According to Johnson, the biggest measure of success is the fact that residents are reaching out. Each DCO fields an average of about 10 calls or texts per day.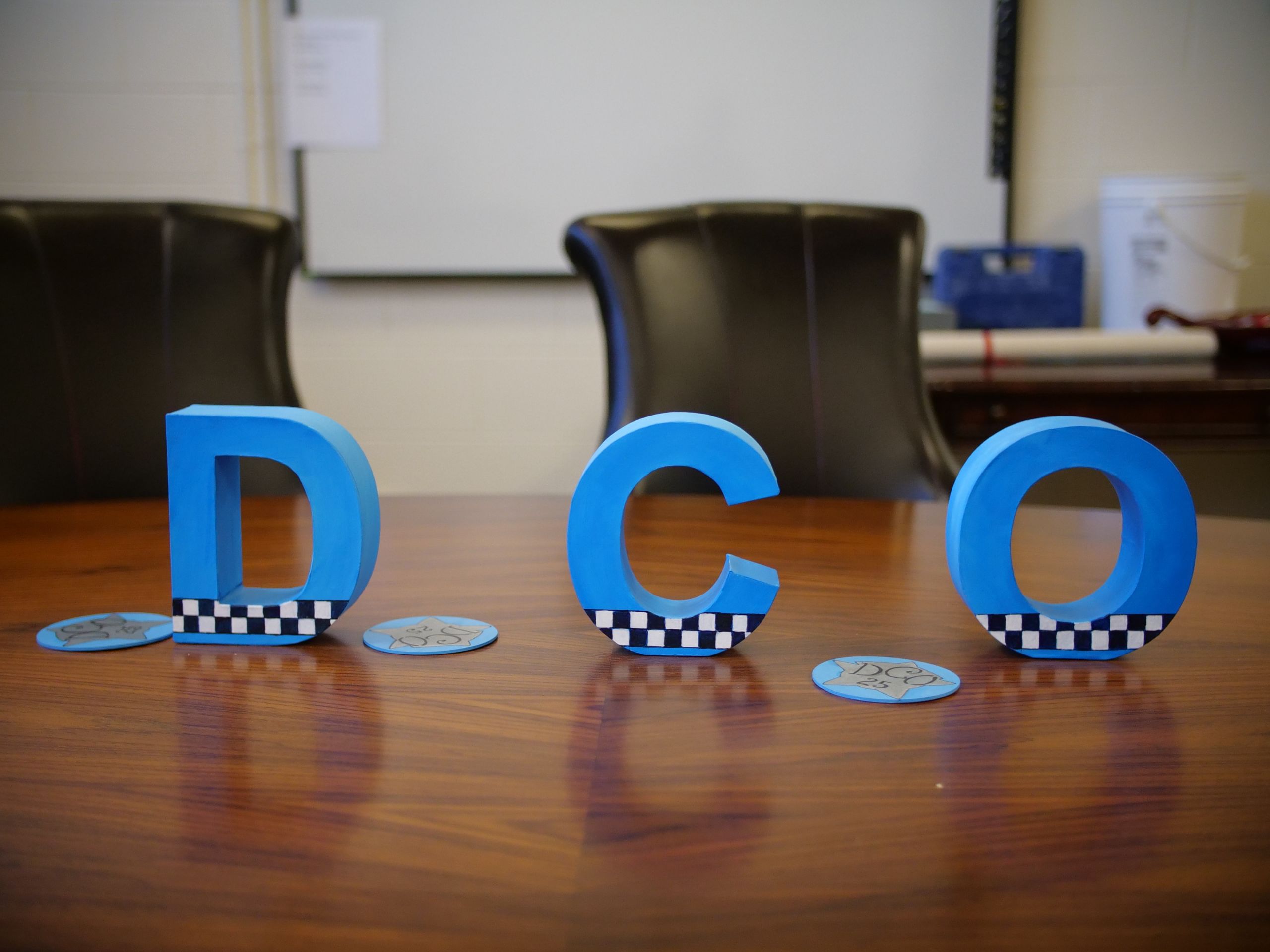 The Neighborhood Policing Initiative Program will expand to the 15th District on Chicago's West Side in December 2019. Retiring Chicago Police Superintendent Eddie Johnson says he hopes it will eventually go citywide. (WBEZ/Katherine Nagasawa)
The pilot is set to expand into the 15th District on Chicago's West Side next month, and Johnson says he hopes it will eventually go citywide. 
That won't be easy. It will mean engaging commanders and officers who might not be as receptive as Escamilla and his team. It will also mean changing a deeply entrenched police culture, engaging hard-to-reach residents and overcoming decades of bad blood. 
And with Johnson retiring, it's unclear if the next superintendent will make community policing a priority. 
But officers like Salcedo have hope. She says that although she grew up idolizing officers in uniform, she knows that many young Chicagoans believe that her uniform makes her someone to fear. 
"But I think we're starting to take the stigma away from the uniform," she says. "We're all human beings. We put this uniform on because this is work. But it doesn't mean that I'm a robot or that we don't have feelings, and all we want to do is take people to jail. That's the perception we're trying to break."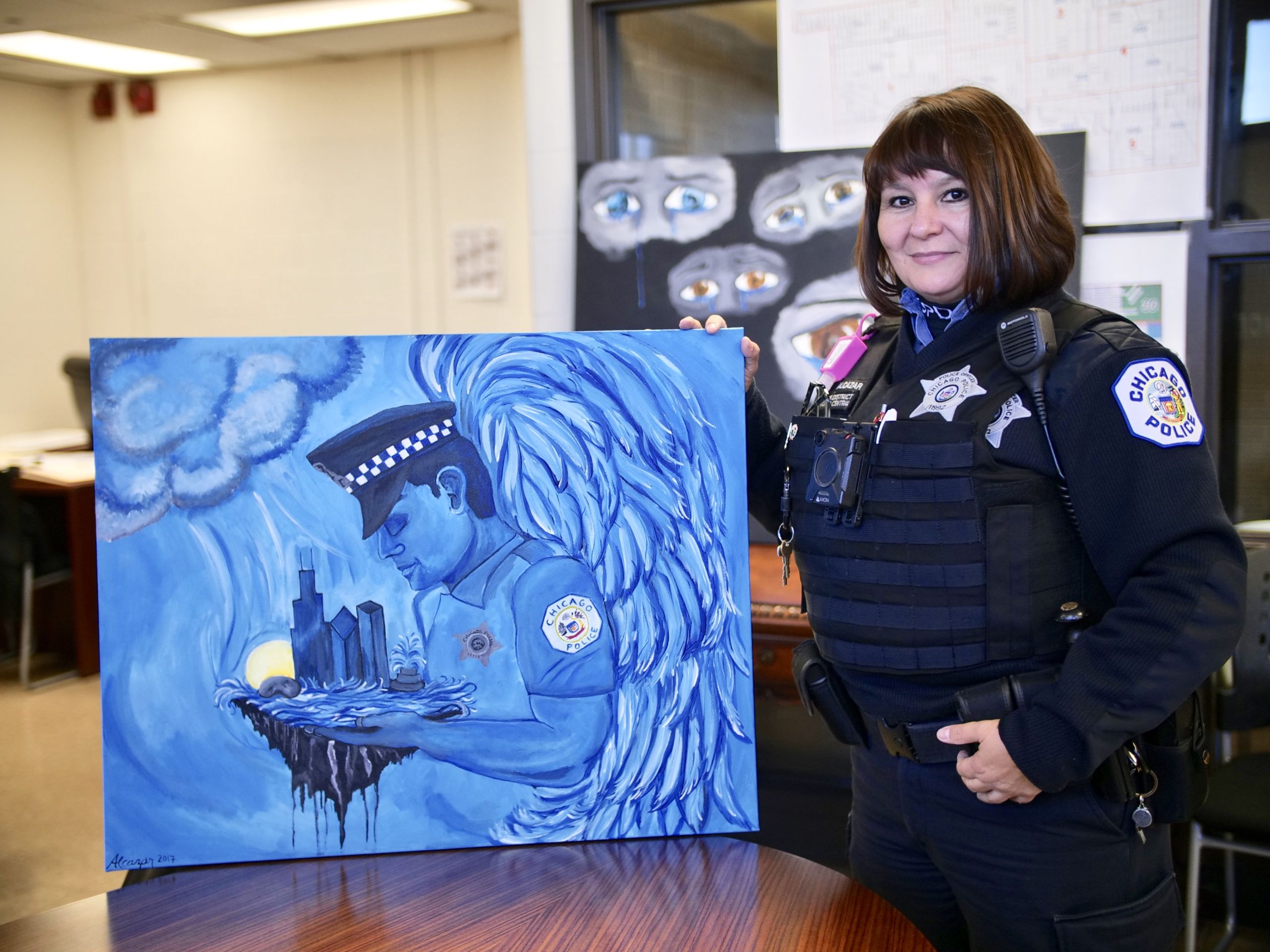 District Coordination Officer Antoinette Alcazar paints often to relieve stress. She says this painting was created to remind officers of the work they do as guardians of the city. (WBEZ/Katherine Nagasawa)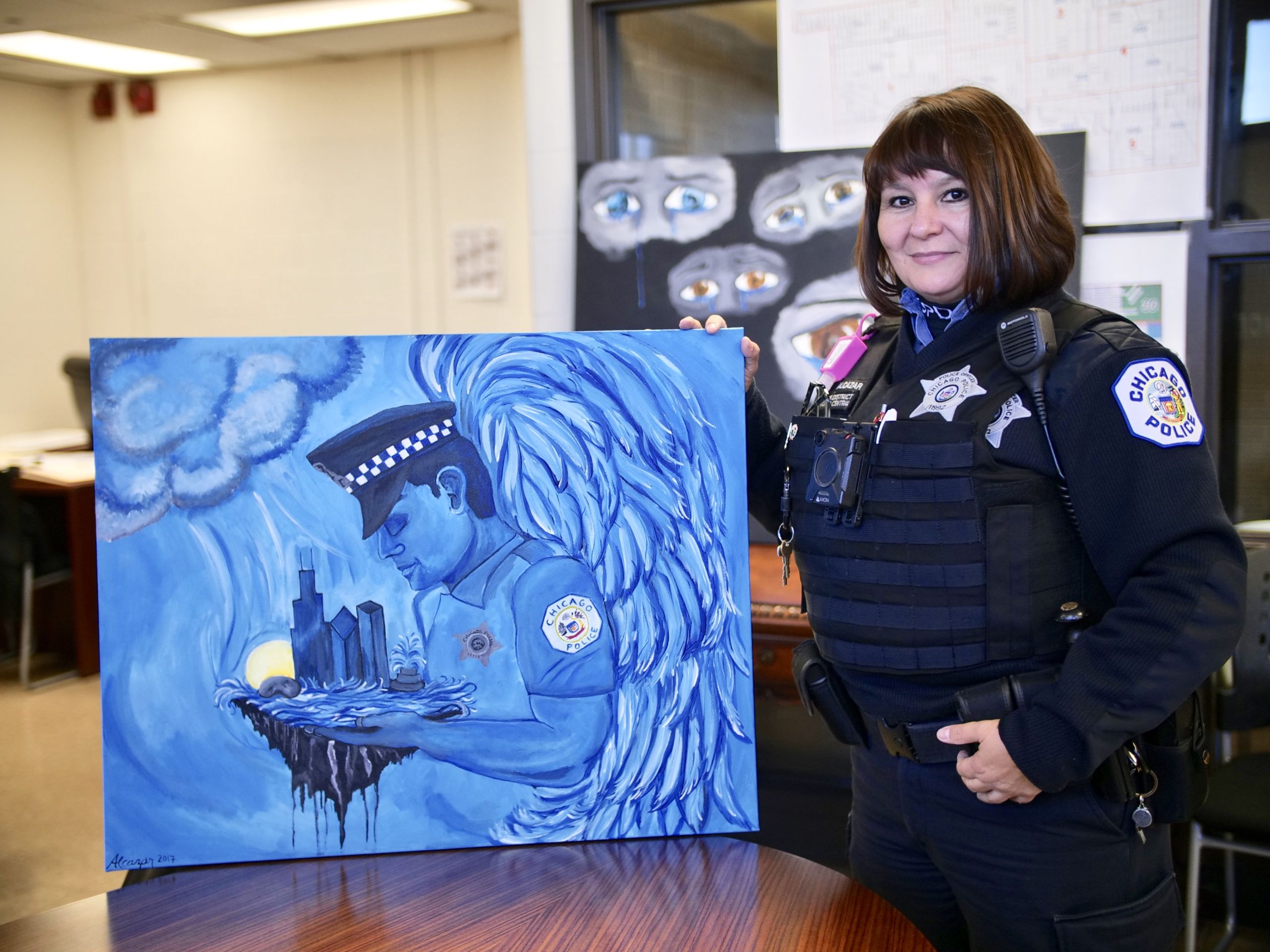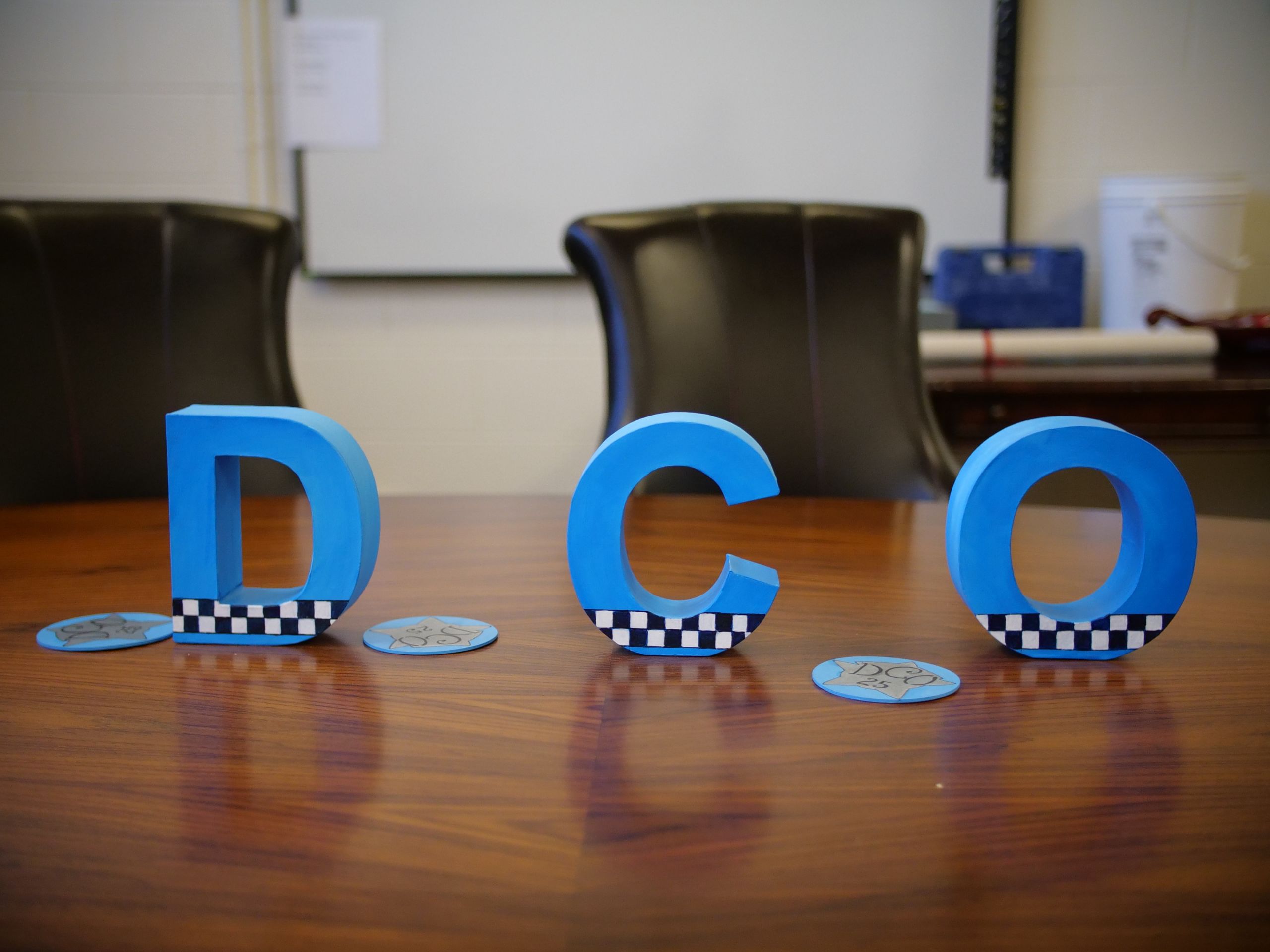 More about our questioner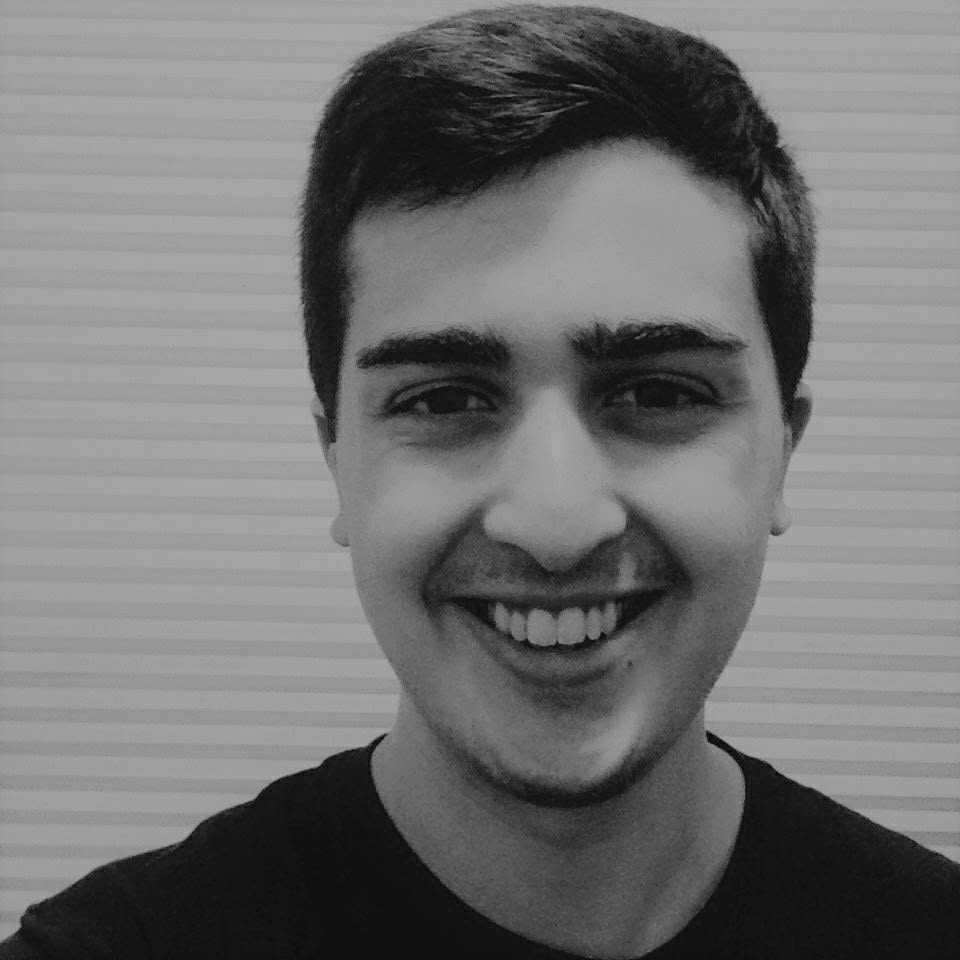 When a Curious City representative came up to Rian Watt at a civic event some years ago and asked what he was curious about, a question about community policing popped into his mind.
In retrospect, Rian says it was surprising that he'd asked the question since he had never thought much about community policing. But once you get to know him more, it makes sense since he has a keen interest in policy and politics, especially related to social issues and equity. 
After growing up in the suburb of Wilmette, Watt went to the London School of Economics and Political Science. He currently lives in Seattle, where he works in research and policy aimed at ending homelessness. He's also a volunteer commissioner on the Seattle Planning Commission and he helps with a program that provides meals to homeless youth. Even as he's lived overseas and on both U.S. coasts, he has remained fascinated by Chicago. 
He's particularly interested to see how Mayor Lori Lightfoot's background in police accountability and reform will influence the Chicago Police Department, and how community policing initiatives will be received in different neighborhoods.
When he's not focused on homelessness or other heavy issues, Rian is also a freelance sports writer specializing in baseball. 
Kari Lydersen is a Chicago journalist and lecturer in the graduate program at Northwestern University's Medill School of Journalism, where she leads the Social Justice and Investigative specialization. Follow her at @karilydersen1.
Kim Bellware contributed to this story. You can follow her at @bellwak.