Deconstructing The Chicago-Style Hot Dog
The origins of a local favorite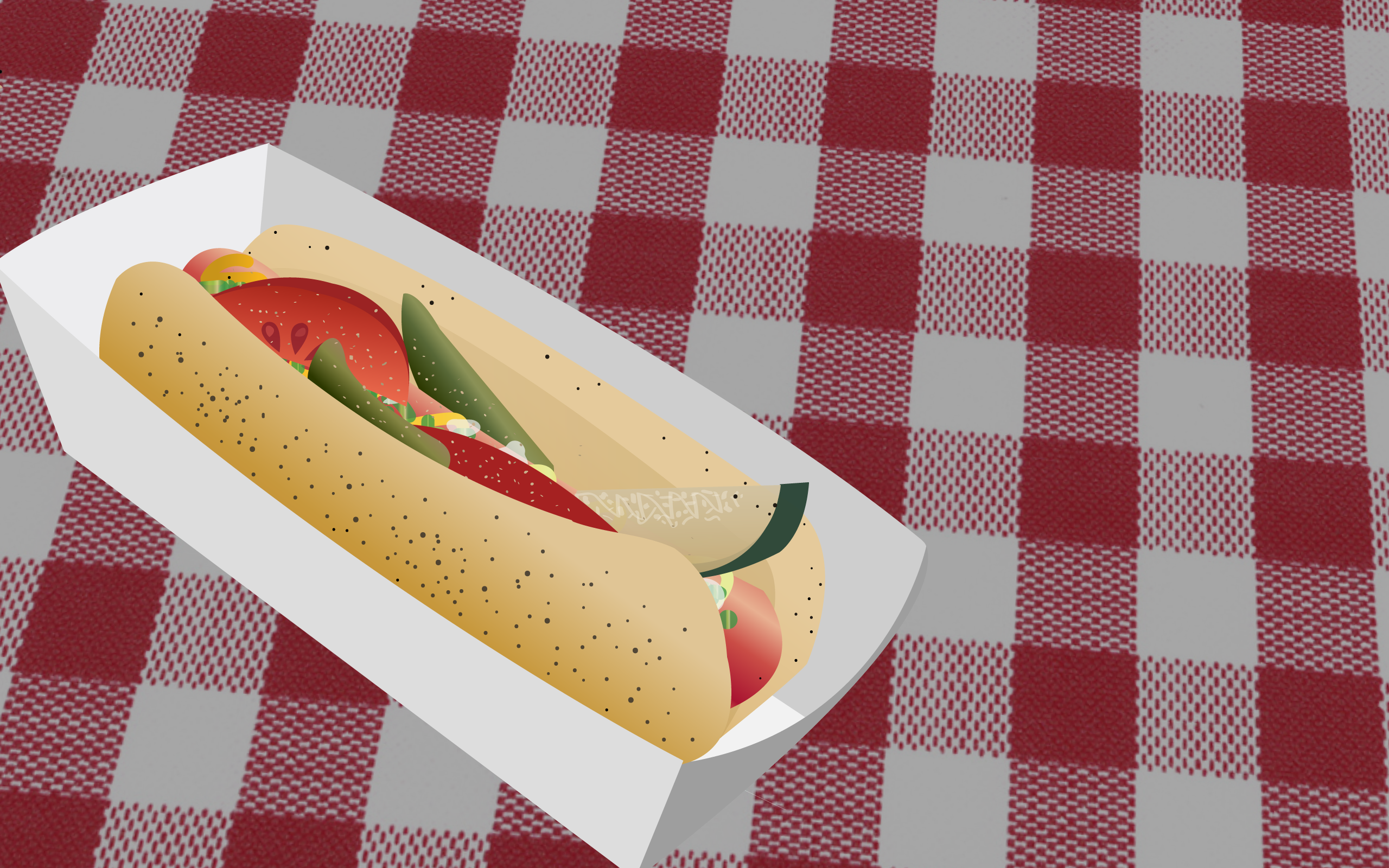 It all starts with a snappy all-beef wiener, one that gets nestled in a steamed poppy seed bun and topped with yellow mustard, chopped onions, neon-green relish, two slices of tomato, a dill pickle spear, two sport peppers and a final whoosh of celery salt.
But how did this peculiar group of ingredients come to define Chicago-style hot dogs?
Several Curious City fans — including Jill Westerfelhaus, Gus Lopez and Nina Diehl — have sent in questions over the years about this taste combination. They wanted to know who invented it, when it was invented and why it's so strongly-associated with the city.
The answers add up to more than just delicious food trivia. This particular combo of ingredients tells the story of early 20th century immigration to Chicago — especially to the Maxwell Street Market area, around Halsted Street and Roosevelt Road.
There may be no better person to walk us through this story of food and immigration than historian Bruce Kraig, the author of several food histories including Man Bites Dog and Hot Dog: A Global History.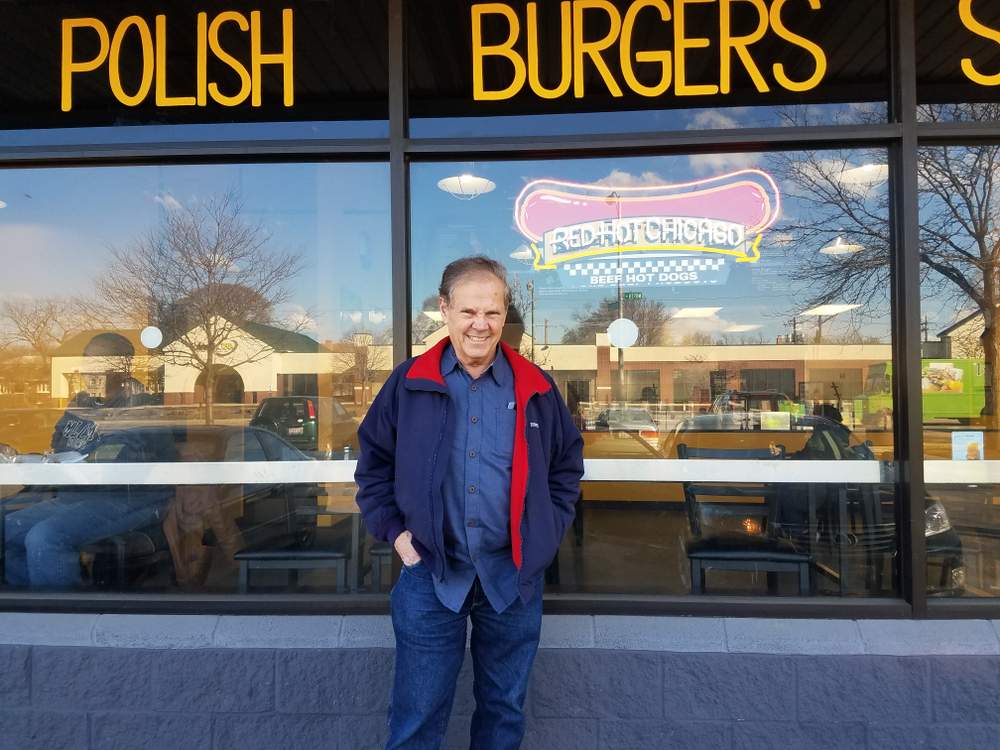 Kraig notes that Abe Drexler [founder of Fluky's hot dog stands] claimed he invented the Chicago-style dog around Maxwell Street in the late '20s, but that "there isn't really any evidence for that." Instead, Kraig says, the dish came together through contributions from many Chicago ethnic groups, and evolved into a fixed style between 1920 and 1950.
"By the 1930s, hot dog stands that were fixed and permanent served something like this style — not always with everything," he said. "But then this final style evolved after World War II and was part of Chicago's move to big [industrial] food, for which the city is famous."
Over a couple of hot dogs at Felony Franks in Oak Park, Kraig walked me through each ingredient, one by one, explaining how it joined this iconic Chicago dish. Scroll through his explanations below.
About our questioners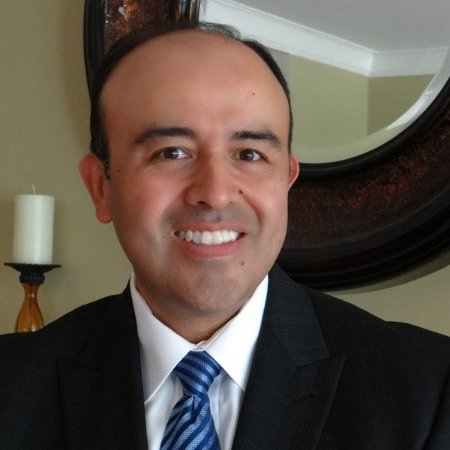 Courtesy of Gus Lopez
Gus Lopez works in human resources at the University of Chicago Medical Center. He says he fell in love with the Chicago-style hot dog in the early '70s, as a six-year-old kid.
"It was my favorite thing about shopping — going down to the basement of Goldblatt's with 50 cents for a hot dog," he recalls.
Down in the basement, he'd visit with the animals in the pet section and order a fully-loaded dog.
"I think adults were surprised because most kids don't like all that stuff like the relish onions and pickles," he says, "but even as a child I enjoyed all those flavors."
Even the spicy sport peppers?
"I would bite the end off and let the juice run onto the hot dog," he says. "The whole pepper was too hot for me back then."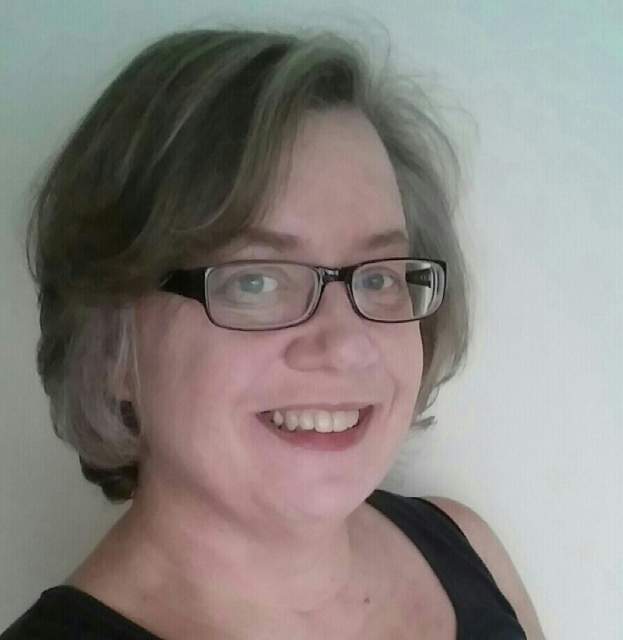 Courtesy of Jill Westerfelhaus
Jill Westerfelhaus works in the field of mental health and lives in northwest-suburban Park Ridge. But she grew up around Indianapolis where, she says "they eat pork hot dogs and, heaven forbid, put ketchup on them."
Understandably, when she first moved to Chicago she was a skeptical of the all-beef frank buried under a garden of condiments.
"I wondered how this could taste any good," she recalls. "But then I tried one and have been absolutely devoted to Chicago hot dogs ever since. And I agree that ketchup does not belong on a hot dog."
Nina Diehl is an elementary school teacher in Oak Park. She says when her family goes to the local hot dog stand, she's the only one who gets the traditional toppings.
"It's too spicy for the kids and my husband thinks it's kind of like a salad on a hot dog," she said.
This got her thinking about why and how all these ingredients made it into the final seven.
"I was especially thinking about the spiciness of it," she says, "and if it came from any particular ethnicity that came to Chicago."