The Manufacturing Mismatch
Manufacturing companies need workers. Chicago has plenty. But linking them together may require a regionally coordinated effort.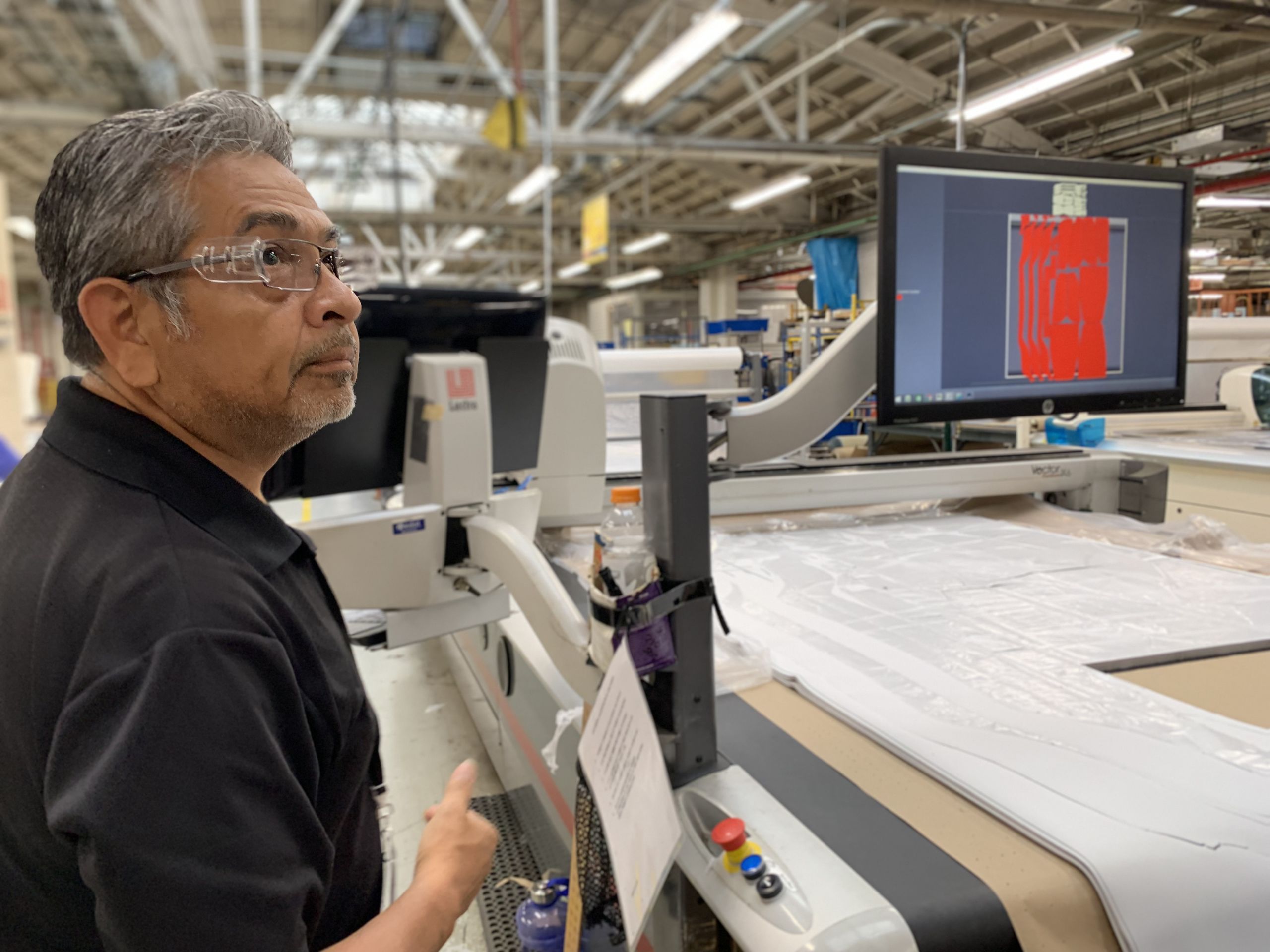 On a sunny Tuesday morning in August, a yellow school bus arrived at a squat, red-brick building in northwest suburban Schaumburg. Five men stepped out, one by one, and walked into the offices of the Technology & Manufacturing Association.
The men were trainees with West Side Forward, a nonprofit trying to revitalize the West Side of Chicago. The group, based in the city's Austin neighborhood, buses trainees to Schaumburg at least once a week to receive manufacturing training and instruction. 
"They treat me real great — they taught me everything," said Marcus Wallace, 36. "I didn't know none of this before, until I came here. They made me use my brain."
Before he enrolled in the work readiness program and started classes at the Technology & Manufacturing Association (TMA), Wallace said he was "on the streets, being a nobody."
At TMA, a trainer works with Wallace and others from the West Side group to finish their final projects, a block of metal carved with a star on one side and the Chicago Blackhawks logo on the other. Completing the project earns the trainees a National Institute for Metalworking Skills certificate — a credential that they can take to any metalworking employer in the United States.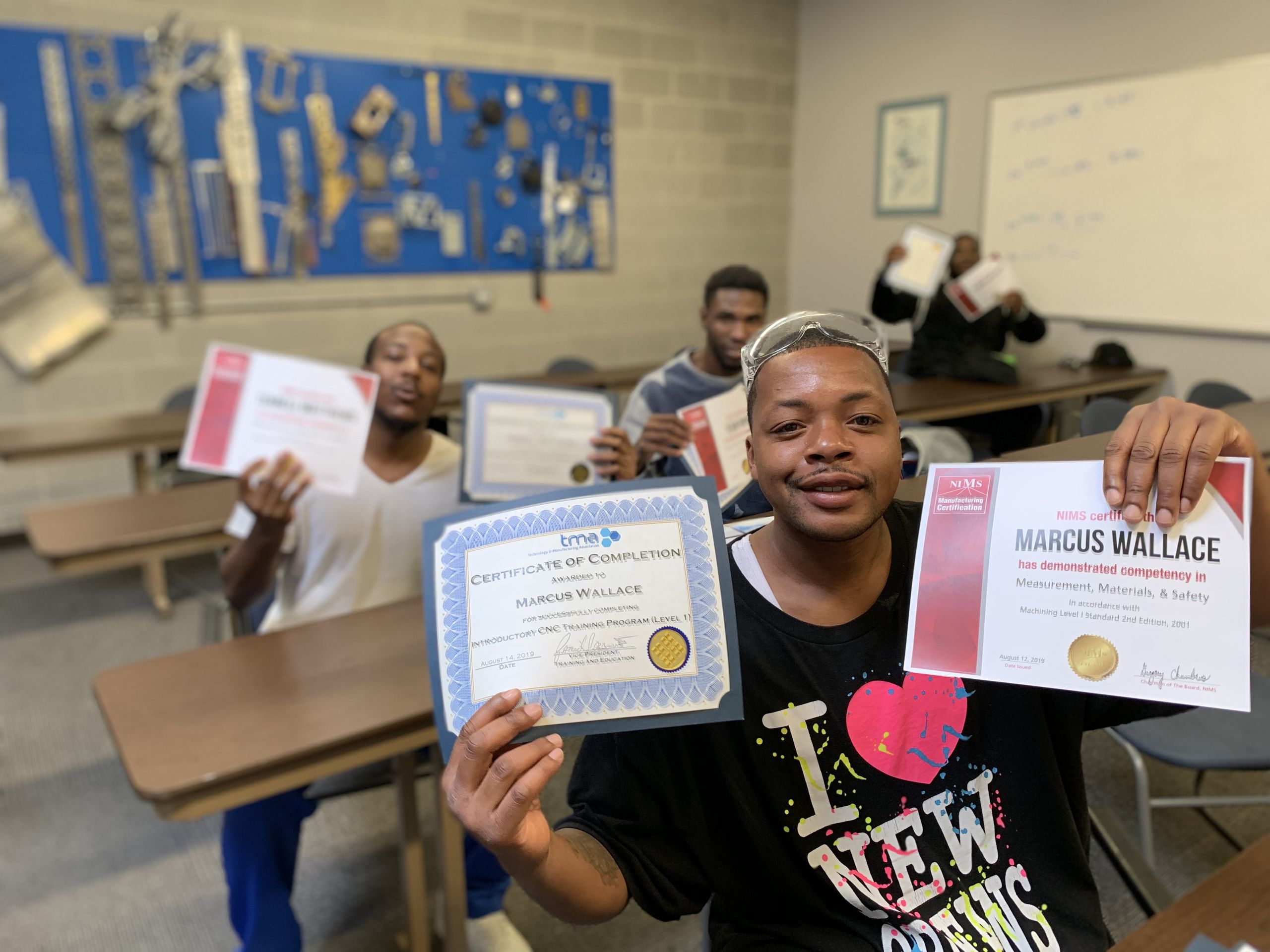 Connecting workers to manufacturing jobs is a lot harder today than it was 50 years ago. Manufacturing is no longer what it once was in Chicago. Many of the industry's low-skilled jobs have moved abroad, while others just grew obsolete with technological advances. Several companies also moved to the suburbs.
Still, hundreds of thousands of manufacturing jobs have remained in the region. But those jobs may seem like a world away from many communities on Chicago's South and West sides that relied heavily upon the industry decades ago.
The suburban locations of today's manufacturers make them hard to reach, the industry's technological advances require greater skills, and manufacturing's fading presence has diminished the industry's attractiveness to modern youth.
"Manufacturing is not dying," said Dan Swinney, executive director of Manufacturing Renaissance. "It's vibrant. It can remain. It can be rebuilt as a foundation for our city or for our country."
Swinney founded his group in 1982 to address many of the plant closings in the Chicago area.
Today, unemployment is high in many communities on the South and West sides. According to a WBEZ analysis of data from the U.S. Census Bureau, during the five-year period ending in 2017, unemployment surpassed 30 percent in Englewood and Fuller Park on the South Side. And it stood at about 20 percent in North Lawndale and West Garfield Park on the West Side.
Experts tout manufacturing as one of the few industries available to people without college degrees that pay family-sustaining wages and offer authentic career paths. They have suggested that linking the South and West side residents with the ever-evolving manufacturing industry could help revive their communities — while at the same time provide companies with the employees they've struggled to find.
Industry advocates say manufacturers are experiencing a workforce shortage. "Every company we talked to, that is the biggest challenge — finding the talent they need," Swinney said. 
According to a 2018 study by the University of Illinois at Chicago's Great Cities Institute and the Century Foundation, a nonpartisan think tank, there were more than 60,000 manufacturing job postings in the Chicago area.
'They can't get to the job'
In early 2010, Adonis Summerville had just been fired from his job at Walmart and was crashing on his brother's couch. 
One day, while on a CTA bus with his baby daughter, he ran into a former high-school classmate from the West Side, where he grew up. The classmate asked Summerville, "What are you doing with your life?" He suggested that Summerville check out a training program at Jane Addams Resource Corporation (JARC), a workforce development organization in the Ravenswood neighborhood on the North Side. 
That week, Summerville applied to the program and got in. Just about a month after he started training, he was offered a job in northwest suburban Streamwood. 
"The commute was something else," Summerville remembered. "It was an overnight shift, and I didn't have a car." Just to get to work from his former apartment in Logan Square, Summerville said it took him almost four hours each way, including a two-mile walk.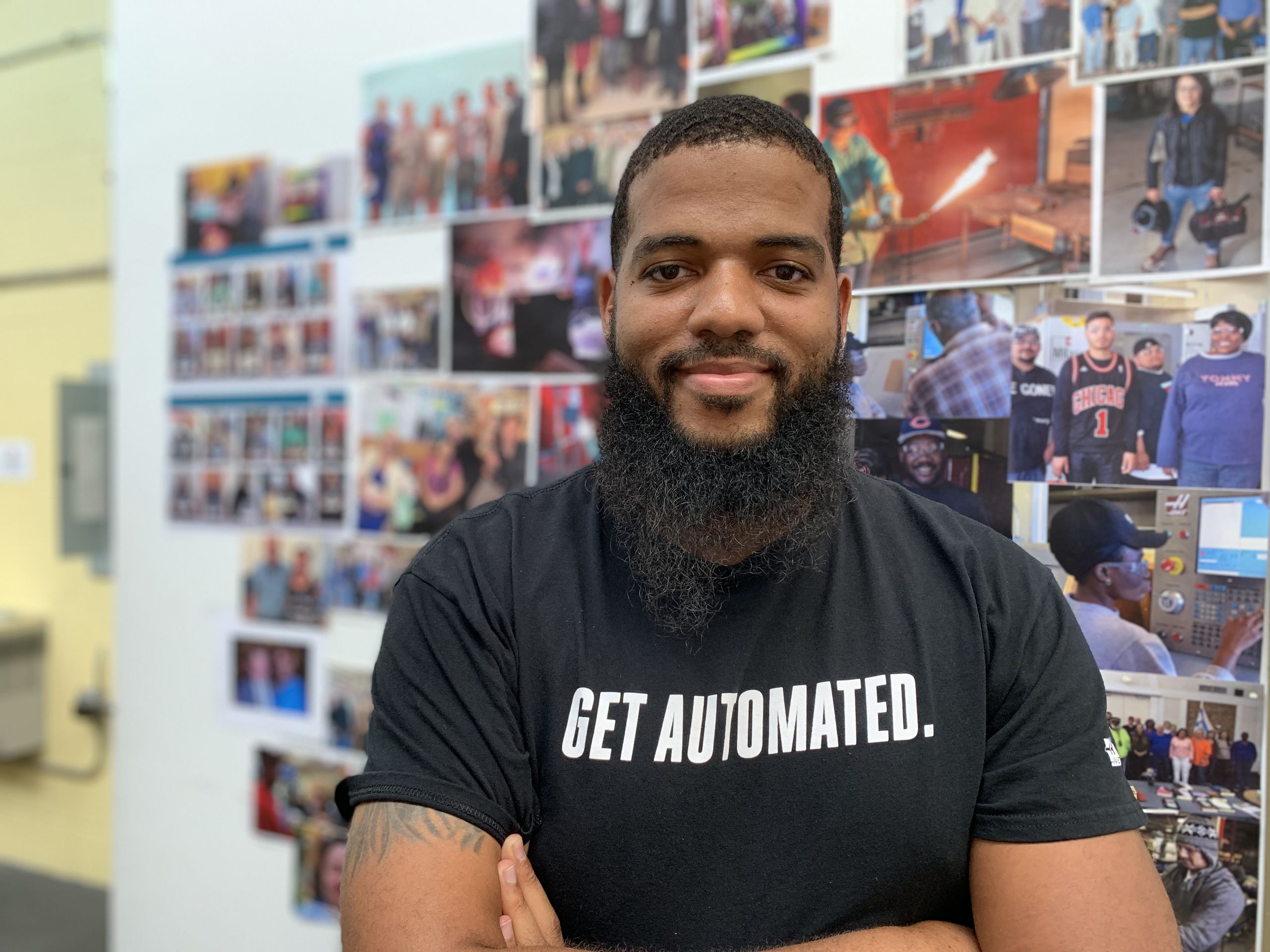 Summerville made that trek every day for almost a year, until he found another job — still in the suburbs, in north suburban Morton Grove, but closer to the city.
Most existing manufacturing jobs are in the suburbs. Data from the U.S. Census Bureau shows there are about 62,000 manufacturing jobs in Chicago, but more than 367,000 in the six-county Chicago region. 
Now 31 years old and a CNC machine instructor with JARC, the group that trained him, Summerville said that getting around is a challenge for many on the South and West sides — especially since manufacturing often involves shift work, and the current public transportation system operates outside of those off-hours. 
Summerville added that transportation is an issue not just for commuting to a job, but also for accessing training programs like JARC and TMA. Located on the Far Southwest Side, even Richard J. Daley College, one of the City Colleges of Chicago, and its brand new $45 million manufacturing and engineering center is out of reach for many residents. 
"Two workers, two jobs, lease a car for them for 18 months. Let them get their first year and a half of paychecks, and then they'd be in a position to buy a car."
Until the region develops a comprehensive industrial policy that addresses transportation, employers will have to get creative to fill their job openings, said TMA President Steve Rauschenberger, a former Illinois state representative.
"We've advocated with our members that they hire in pairs," Rauschenberger said. "So you bring two young people who can commute and kind of cross-support each other." 
He's even suggested that companies lease cars for employees.
"Two workers, two jobs, lease a car for them for 18 months," Rauschenberger said. "Let them get their first year and a half of paychecks, and then they'd be in a position to buy a car."
Craig Freedman took a different approach to the transportation problem. In the late '90s, when it came time for his company to expand, he bought a map of the Chicago area and placed pins on where each of his then-165 employees lived.
"We had a workforce that was skilled and knew what they were doing, and all of them were within a five-mile radius of the factory," Freedman said. "And so it became clear that we had to find a way to stay."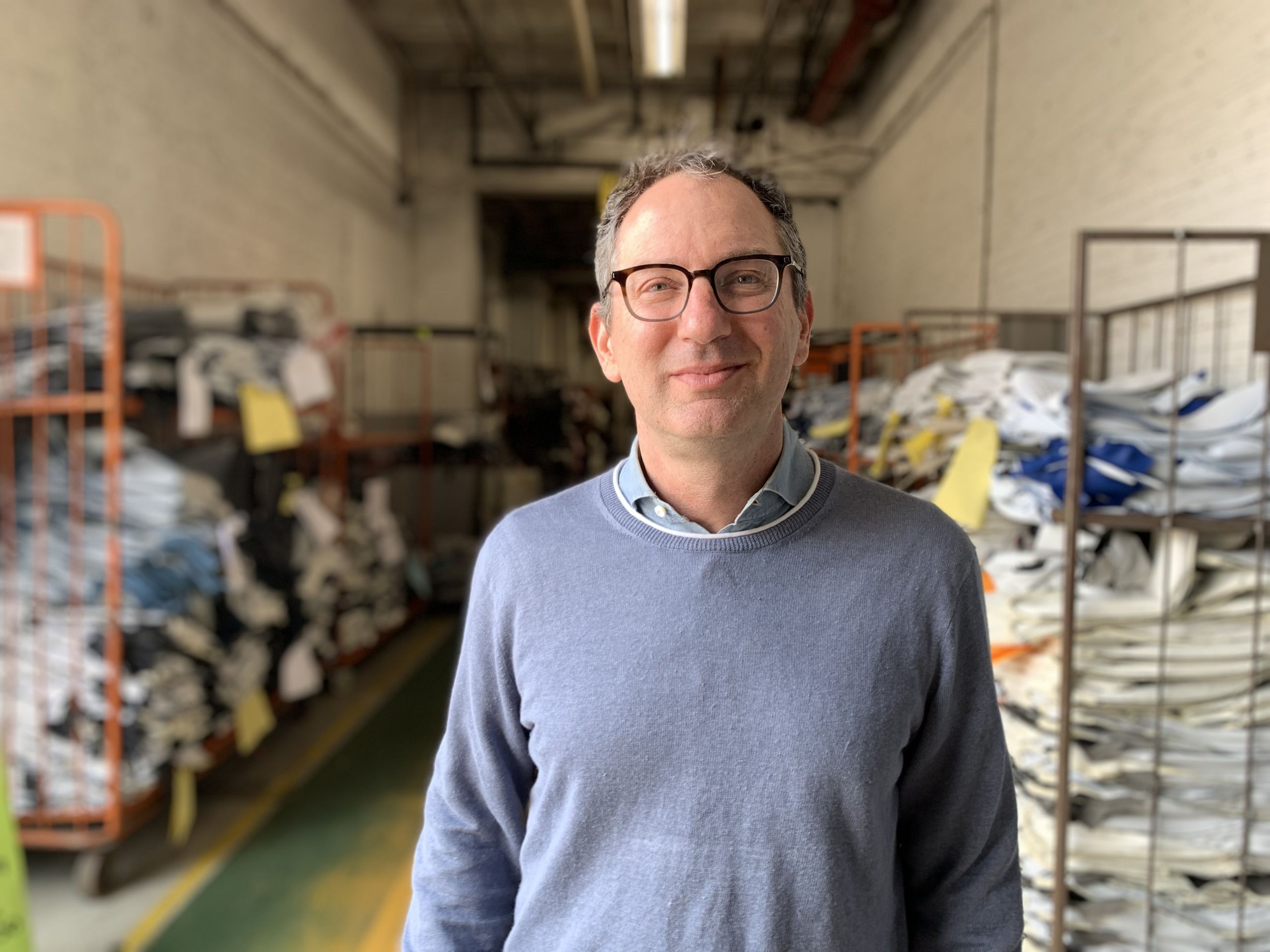 He said doing business near where his workers live has come at a cost: He pays a higher minimum wage as well as higher property taxes. Still, Freedman said he believes in the workforce in Chicago, and now employs about 900 people.
"We're here on the West Side, one of the most blighted and disadvantaged and disinvested areas of the city, if not the country," he said. "And it's been proven time and time again that a job can help a community."
A skills gap
Freedman's company makes seating for buses, boats and trains. Walking through the factory floor, he points to a 20-foot-long machine with a blade that slices through a stack of upholstery fabric. 
"This used to be done by hand," he said. "Today, it's done precisely by a machine and you can optimize it, but that requires you to now have a much higher skilled worker to operate the machine, to program it."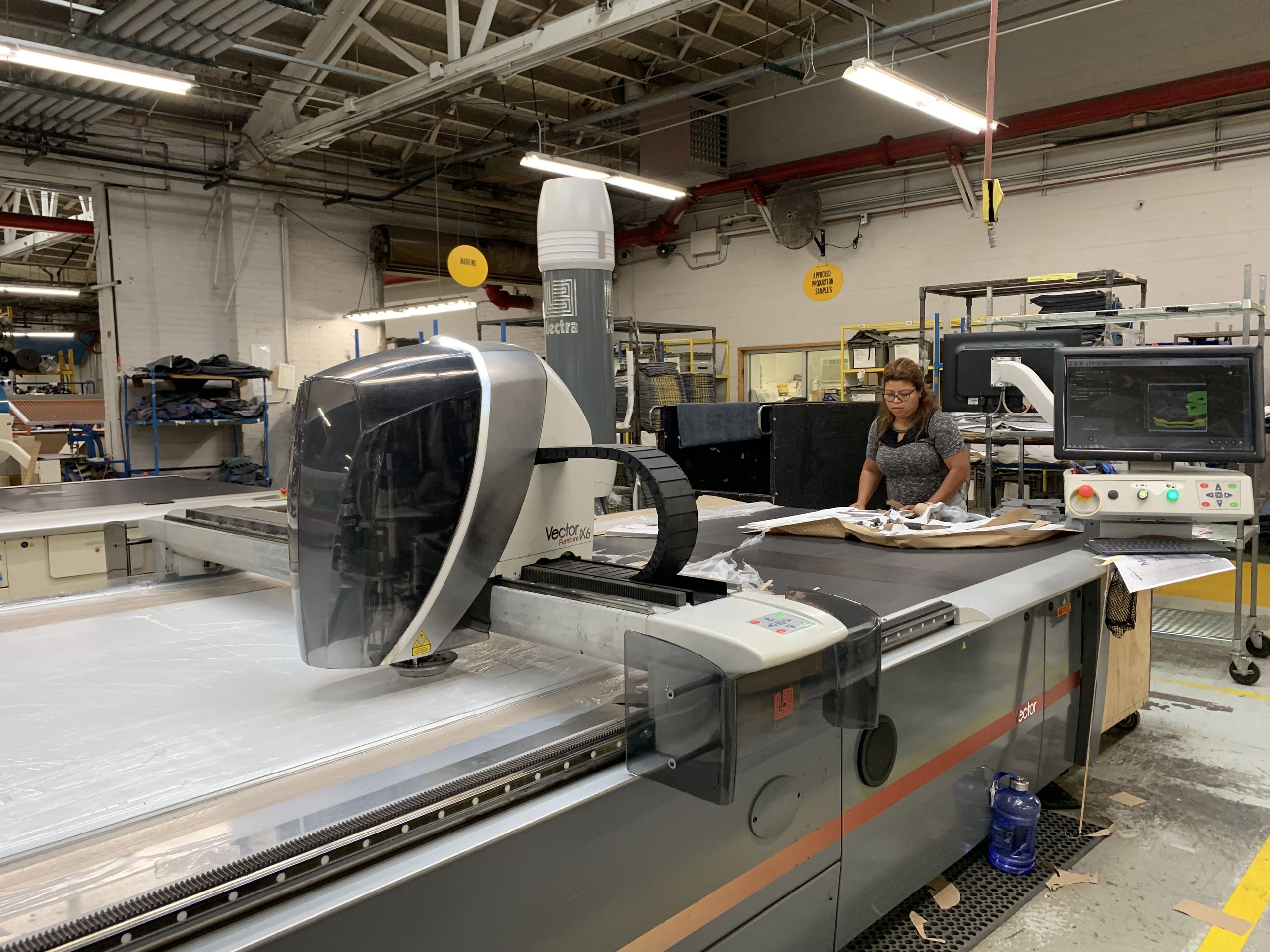 An employee at Freedman Seating separates the upholstery cutouts from the excess fabric. (Esther Yoon-Ji Kang/WBEZ)
An employee at Freedman Seating separates the upholstery cutouts from the excess fabric. (Esther Yoon-Ji Kang/WBEZ)
Freedman said many entry-level jobs in manufacturing don't require a college degree. In fact, according to the UIC and Century Foundation study, the sector is one of the few that offer good wages and careers for workers with just a high-school diploma. 
However, according to Guy Loudon, JARC's executive director, a job training program focused on the manufacturing sector, getting into the manufacturing sector isn't as simple as graduating high school.
In fact, Loudon said, training workers from the South and West sides of the city often requires high-touch, wraparound services.
"What we find is that in a given year typically, half or even a little more than half of trainees, they come in and they're reading or doing math at a fifth-, sixth-, or seventh-grade level," Loudon said.
Before JARC begins teaching its trainees how to operate a computer numerical control (CNC) machine, it offers remedial classes to get trainees up to speed on math and reading.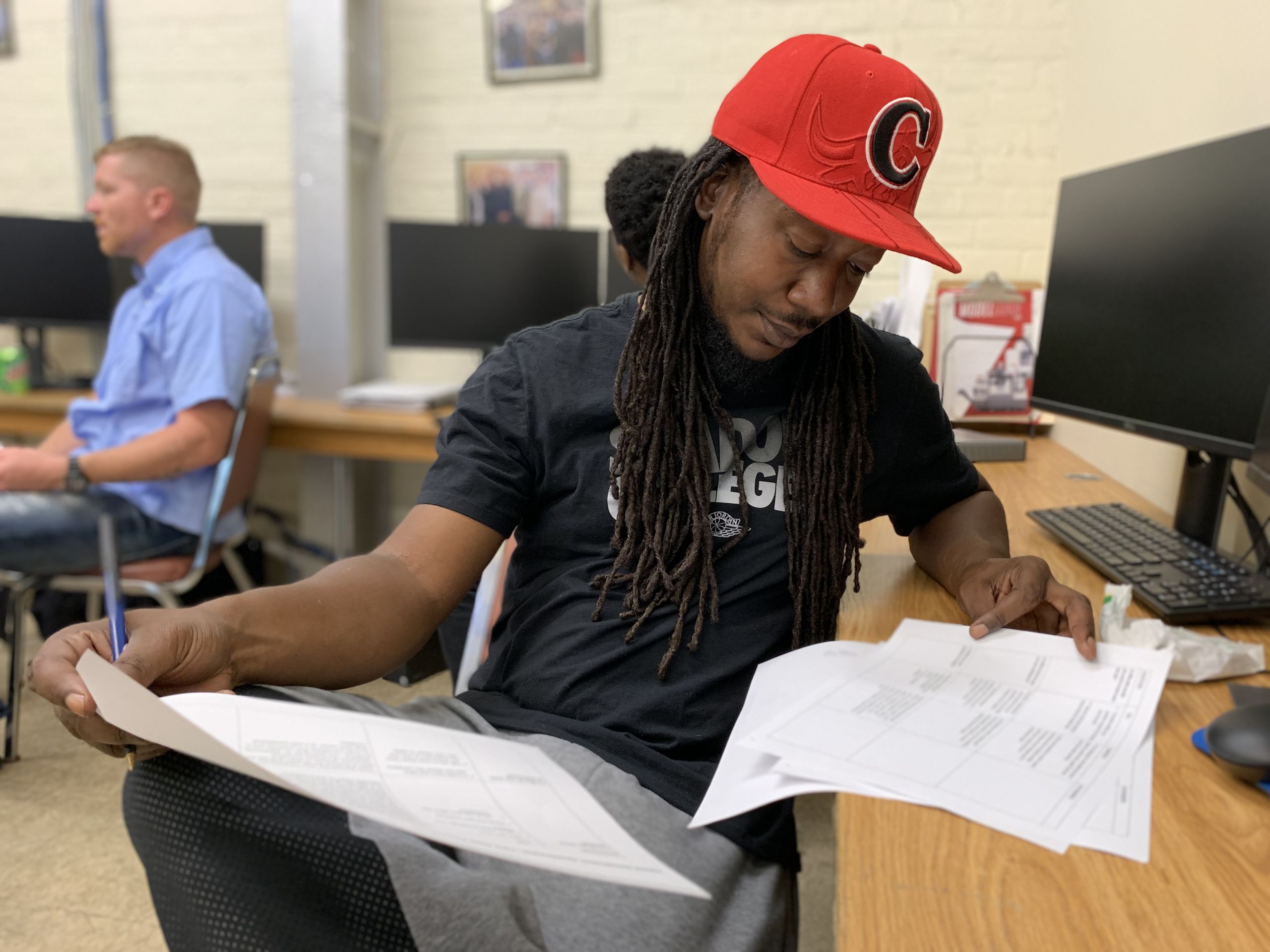 Loudon said another issue companies bring up often is the workers' lack of "soft skills."
"Technical skills get the jobs; soft skills keep them or lose them," he said. In JARC's "soft skills" training, instructors focus on things like attendance, attitude, employer expectations and work readiness. 
"A lot of our trainees have five-, ten-year holes in their work history — or even no work history at all," Loudon said, explaining that those periods of unemployment have resulted in an erosion of the soft skills that are crucial in the work world.  
JARC and similar programs also offer instruction on how to use CNC machines — mills and lathes that cut metal into parts — used by countless industries across the country.
"Technical skills get the jobs; soft skills keep them or lose them."
Swinney, of Manufacturing Renaissance, said that while training efforts of groups like JARC and TMA are laudable, teaching skills and credentialing workers should be baked into the public education system — and happen much earlier.
"By the time a worker is 19, 21, 22, they're looking for a paycheck — they're no longer thinking about a career," Swinney said. "One of the failures of the existing technical education program is that a lot of it is reserved for postsecondary education."
Mollie Dowling, executive director of OAI, a workforce development organization focused on the South Side and nearby suburbs, said community colleges should also work together to coordinate their efforts. 
"We're really striving to convene sector partnership groups that include multiple colleges, rather than having each college do its own industry advisory group," Dowling said. "However, there's still the challenge that they want to duplicate each other's services." 
Some manufacturing advocates say employers can do more to take on the skills gap: Instead of expecting workers to come with all the skills they need, they can offer more on-the-job training opportunities. But Dowling said it is a challenge to find companies who are not just "concerned with the bottom line."
"Most are not tolerant of the realities of poverty and what people are facing and what their histories might have been," she said. "I think people are looking to find an efficient worker, who comes with skills, who's ready to roll."
The image problem
Despite the many ways manufacturing has changed, experts said most people still view the industry as it existed decades ago.
To allay fears that manufacturing jobs are dangerous, dirty or dull, Dowling often touts "the influence of technology, automation and robotics" in the industry. 
"We're trying to convince schools and counselors and principals and superintendents and families and parents and students themselves that there are great opportunities in this sector," she said.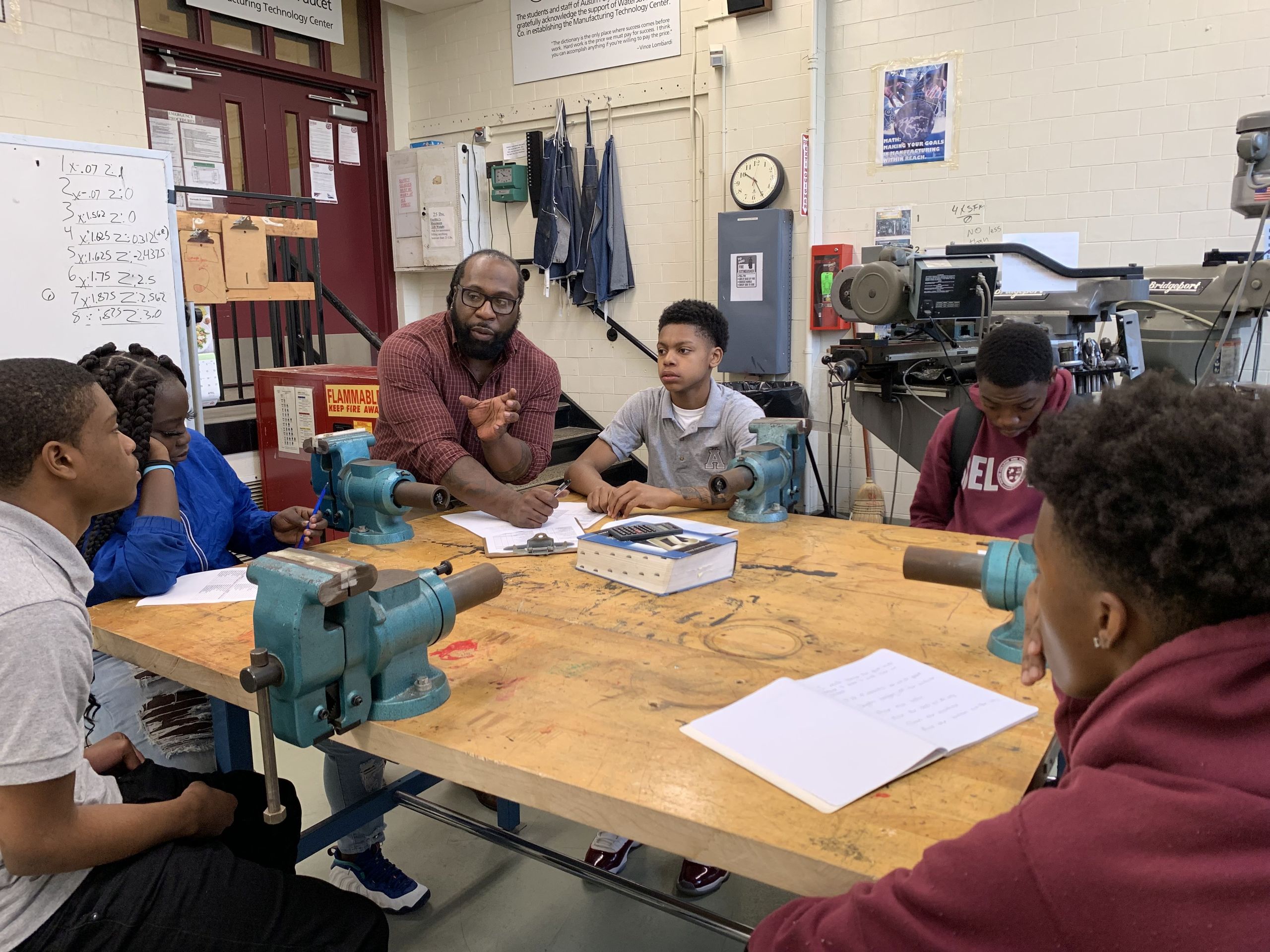 Brence Turner, an instructor with Manufacturing Renaissance, talks to students in the machining class at Austin College and Career Academy on the West Side in August. That same month, Chicago Public Schools terminated its relationship with the program, citing an outdated contract. (Esther Yoon-Ji Kang/WBEZ)
Brence Turner, an instructor with Manufacturing Renaissance, talks to students in the machining class at Austin College and Career Academy on the West Side in August. That same month, Chicago Public Schools terminated its relationship with the program, citing an outdated contract. (Esther Yoon-Ji Kang/WBEZ)
DeeDee Jones, an industry coordinator with Manufacturing Connect, Manufacturing Renaissance's youth program, said kids don't aspire to careers in her sector because they don't see them portrayed in media. 
"Things that they see on TV — doctors, lawyers, teachers, chefs, business owners — these are jobs the students want," Jones said. "We all know that everything is made [in a factory], but there's nothing publicizing careers in manufacturing."
For a number of years, Jones and her group operated out of an office at Austin College and Career Academy on the West Side. Manufacturing Connect staff mentored Austin students, trained them in CNC machinery, and connected them to summer internships in the sector. 
This fall, a few weeks into the school year, Chicago Public Schools terminated its relationship with the group, citing an outdated contract. The shop classes ceased, and the staff was asked to pack up and move out after 12 years in the building. 
In early October, Mayor Lori Lightfoot announced a new initiative called Career Launch Chicago that partners with corporations to provide apprenticeships in information technology, manufacturing and healthcare.  
"This program will give CPS students access to college-level coursework, allowing them to earn college credentials and participate in paid, work-based learning," Lightfoot said. 
David Robinson, director of external affairs with Manufacturing Renaissance, applauds the ambition of the initiative, but he's worried Career Launch Chicago is just another new program that doesn't consider the complexities of reaching young people and residents on the South and West sides. He also said a corporate apprenticeship program does not build on relationships with the small- to mid-size manufacturing firms that are actually in need of workers.
"A top-down approach is not going to work," he said. "We're not certain where [the city] will get the nuanced, best-practice approach to reach the population they say they want to help."
Other hurdles    
While most industry experts cite transportation, training and a lack of awareness of the sector as the main barriers keeping South and West side residents from manufacturing jobs, there are other significant challenges. 
While manufacturing is more forgiving of arrest records than many other industries, Dowling said drug use and drug testing "have been a huge issue for us, just because culturally among young people, marijuana has been such a socially accepted substance." 
She adds that even with the legalization of marijuana, most employers will still have the right to screen if there are safety issues to consider. And in manufacturing, often there are safety issues on the job.
"In machining, you're running a quarter-of-a-million-dollar machine," said Summerville, the JARC trainer. "If you've got drug charges on your background, what makes them think you don't do drugs, and you're not going to crash the machine?"
Another challenge is the lack of child care for employees — especially women — who have to work odd hours. 
"The question of child care is enormous," said JARC's Loudon. "You've got to find that magical job that will start at 4 o'clock and you've got to find that magical grandmother that will watch the kid five or six nights a week."
A comprehensive, regional industrial policy
Loudon says that if manufacturing as a sector is to be more inclusive of South and West side residents, employers, nonprofits, and government agencies need to "drill down and understand the barriers." He said efforts by groups like his are not enough to address the worker shortage in manufacturing and the unemployment woes on the South and West sides. 
Several manufacturing advocates said the region needs a comprehensive industrial policy. Such a policy, they argued, should bring all the stakeholders to one table to link economic development, infrastructure, transportation, zoning, tax laws, education and the workforce development system. 
They emphasized that such coordination is necessary because the stakes are that high.
While the sector itself has adapted with the times, the neighborhoods that once relied on manufacturing firms as anchors are still reeling from deindustrialization. When the factories closed, many businesses that were supported by factory workers were also shuttered. The social networks built around a common workplace — the factory floor — also dissolved, fraying the fabric of the community. 
"It was that crisis in manufacturing that gave rise to urban poverty as we know it."
"It was that crisis in manufacturing that gave rise to urban poverty as we know it," Swinney said.
Robinson grew up about five blocks from a steel mill that once employed thousands of residents. As manufacturing disappeared, Robinson watched his South Shore neighborhood slowly decline.
"Every morning at 5:30, you saw everybody that was on that shift get up and go to work," Robinson said. "[Manufacturing] was part of our lives and part of the superstructure that kept that community whole."
Esther Yoon-Ji Kang is a reporter for WBEZ's Race, Class and Communities desk. Follow her on Twitter @estheryjkang.